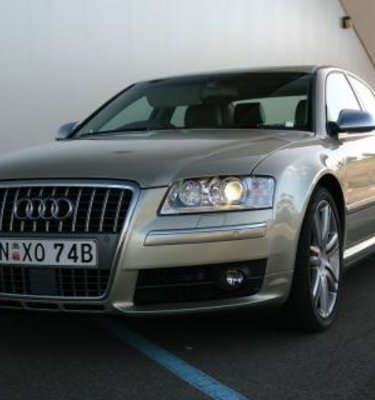 Looking for a deal on this car?
2008 Audi S8 Road Test
CarAdvice rating:
Recommended Retail Price: $259,900. As tested $269,500.
Options Fitted: Adaptive Cruise Control ($6,400), Reversing Camera ($1,200), Four zone climate control ($2,000).
- by Paul Maric
"One sneeze on the throttle and this bellowing Lamborghini V10 propels 2-tonnes of mass from naught to one-hundred in the time it takes to read this sentence."
As motoring journalists, people never pick us as the drivers of the cars we're in. That's why it's amusing to find people standing next to your test car talking about it, only to stare in shock and amusement as you unlock the door and drive away.
So it was a sunny Spring day and I'm getting some milk from the local supermarket. I'm dressed in tracky-dacks and an old t-shirt. I approach the beige S8 and spot a young child and his father standing next to the car. The boy says "Dad, look, it says 'V10'!" The Dad chuckles to himself and says, "It's not a V10 son, they've obviously just stuck the badge on to make themselves feel better about spending 200-large on a car."
I then slip through the pair, open the door, stick my finger on the fingerprint reader and turn over the 5.2-litre – V10. The father looks at me awkwardly, and realises that dirty noise exiting the engine is in fact the idling burble of a V10. As I drove off I could see him eating some humble pie, trying to explain to his son that he was wrong and that it was in fact a V10. You see, since Volkswagen Group bought Lamborghini, there has been a spate of part swapping between the companies under the VW Group hat – including Audi and Lamborghini.
As such, Audi raided the Lamborghini parts bin and found a V10 engine out of the Gallardo. They did some tweaking and ended up with a 5.2-litre capacity, tied to Audi's quattro AWD system. Suffice to say, if the noise doesn't awaken your senses, the super smooth power delivery of this V10 monster surely will.
Starting the S8 during a cold start has to be one of the coolest noises I've ever heard. All you can hear is the starter motor running for around half a second longer than a conventional car and once it does turn over, the exhaust note barks and burps until the engine is sufficiently warm for takeoff. The noise sends tingles down your spine, making you – and anyone standing around – rightfully aware of the stupendous powerplant under the bonnet.
The Audi S8 – and all of Audi's 'S' cars – are subtly loud. Unless you were a diehard Audi fan, you wouldn't pick the S8 from a regular A8. Upon closer inspection though, a few things become obvious. There's the massive 20" wheels, quad exhaust pipes and dual V10 badges, these are the S8's dead giveaways.
A multitude of luxuries exist in the cabin too. One of the S8's boasting points is the spectacular 1000W Bang & Olufsen sound system. Available as a $18,900 option across the A8 range, this ripper sound system is standard equipment in the S8. I've already covered the finer details of this sound system (click here to view my thoughts), but suffice to say, it's the best in the business – hands down. The level of clarity and supreme bass is second to none. You could be playing classical music or you could be playing the latest techno number, both result in ear massaging, high quality sound.
The S8 uses fingerprint recognition, along with a key proximity sensor to operate the vehicle. After setting up the vehicle, the driver simply approaches, grabs the door handle and sits down. Once settled and buckled, stab the fingerprint reader with the pre-programmed finger and the car fires to life – it's that easy. There are a theoretical infinite amount of driver settings for different drivers, as each drive has a unique fingerprint. Sure, it's more of a gimmick than anything – but you've got to admit, it's pretty cool!
So the whole time I've been harping on about the features. What's the thing like to actually drive? Well...in a word – disappointing. Having driven the rest of Audi's 'S' range, the S8 was particularly dreary in comparison. It's certainly no slouch, that's for sure, but on that same token it doesn't handle like a sports car should. Come into a corner with speed and the whole body wallows. The steering wheel feels too big in the hands and doesn't offer the same feel and response as its other 'S' siblings.
Dial up 'dynamic' via the adjustable air-suspension and the ride lowers and firms up dramatically. This helps the car sit more flat through the corners, but doesn't offer the handling you would expect of such a machine. It simply feels too large and can't be thrown around with confidence. This can only be expected though. The S8 is more of a luxury performance saloon than an outright road eater. So for what it is, it does a decent enough job – I guess that's what an 'RS 8' would be for...
The 20-inch wheels (shod with 265/35 tyres all round) aren't there just for show. An 18-inch braking system is employed to pull the S8's large mass up. Oh boy...does it do the job or what. The anchors always feel alive and when pushed to wipe off speed, they do so in tremendous fashion. The S8 also uses an electro-hydraulic handbrake to ensure the car doesn't move an inch when stationary. Carbon ceramic brakes can be optioned on the S8 for $20,000.
The ex-Gallardo engine used to power the S8 produces a hearty 331kW at 7000RPM and 540Nm of torque at 3500RPM. The sprint from 0-100km/h takes just 5.1-seconds – damn quick. The 6-speed tiptronic transmission does a wonderful job of taming the 5.2-litre V10's torque and uses paddle shifters on the steering wheel for instantaneous gear changes.
Drop the throttle off the line and the quattro AWD systems goes into hyper-mode to shuffle power around the wheels. The end result is back-wrenching delivery of power that seems fake in a sense that it moves a near 2-tonne weight with such haste and prowess. The noise that joins it is pure bliss to the ears. It's a controlled and subdued sound, but at the heart of it you can hear this V10 ping that just brings satisfaction to anyone around it.
Before you ask. Yes. A car like this has an options list... One of the options is a digital television tuner. This really irritates the bejesus out of me. It's fitted with an analogue tuner as standard equipment, surely the near flagship model should receive a digital tuner. Other options include reversing camera and electric rear sunshades, all of which should be standard fitment.
The test vehicle was fitted with optional radar cruise control and four-zone climate control. The former works well, but in my opinion is unrefined technology at this present time. It's impossible to drive with it in dense traffic and it immensely annoys other drivers as it constantly has to activate the brake lights when slowing down. The latter though, a perfect options for this car's target demographic.
I always get the same feeling when driving an A8. I always feel limited as a driver in terms of the things I can do – gadget wise. The other German competition – BMW and Mercedes – have such advanced onboard computers, they simply put the Audi unit to shame. The Mercedes unit fitted to the S-class – called COMAND –let's you program everything, even down to the lighting ambience in the cabin. iDrive in the 7-series will allow you to call your best mate without you even taking your hand off the steering wheel. The Audi system is very yesterday and doesn't feel at all advanced in comparison to its German rivals.
Priced from $259,900, the S8 isn't all that expensive when you consider the amount of equipment you get, the powertrain you get and how much its competitors cost. Fuel consumption is pretty reasonable too – 13.4-litres/100km. That's less than Holden's V8 SS Commodore.
Although it didn't get as many looks as I had expected, the Audi S8 was thoroughly enjoyable to drive. It didn't match up to my expectations when pushed harder than normal, but I can understand it's not entirely built for performance, but more a strike between luxury and performance, which I think it does incredibly well.
It's also well priced – in comparison to its competition – and looks brilliant. The fuel consumption is very reasonable and the features list endless. There really isn't much to complain about with the S8. If you're the discreet type who wants a highway cruiser, which can turn into a ball-tearer at the drop of a hat and don't mind spending a couple of hundred g's, the Audi S8 has your name written all over it.
Engine: 5.2-litre
Power: 331kW
Torque: 540Nm
Top speed: 250km/h
Safety: Electronic stability control- front air bags - side airbags - curtain airbags - front seatbelt pre-tensioners and load limiters.
0-100km/h: 5.1-seconds
EuroNCAP rating: 5-star
Turning circle: N/A
Fuel tank: 90 litres
Fuel consumption : 13.4 litres/100km
Fuel type: 98RON premium unleaded
Looking for a deal on this car?