MINI Australia has today launched the 2011 MINI range, boasting increased power and reduced emissions, distinct styling enhancements, additional standard equipment and an almost endless list of customisation options.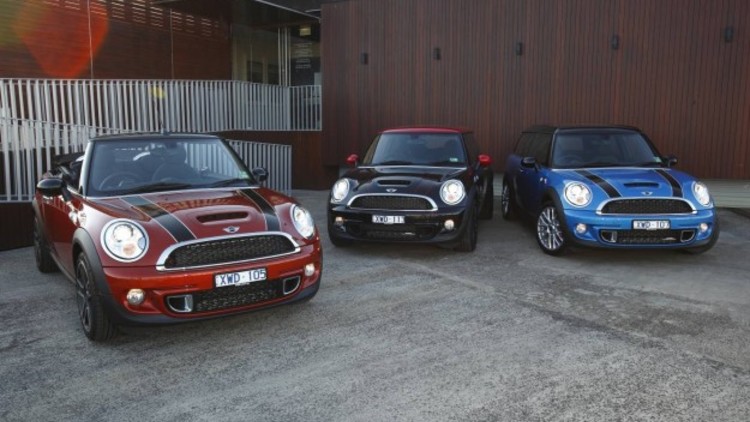 You need to be a bit of an enthusiast to visually pick the differences, but MINI insists the changes inside and out are many.
All dimensions have remained the same except for the vehicle's length, which has grown by 99mm. The short overhangs are maintained but MINI says the front and rear deformation zones are now larger for better pedestrian injury prevention.
The front fog lights now have three-dimensional "eyebrows", while a floating cross-blade in the low air intake widens the look at the front. The Cooper S benefits from two additional brake air ducts to guide more air towards the brake discs.
The MINI Cooper bonnet now matches the higher one of the Cooper D, a change prompted by EU pedestrian protection regulations.
Updated indicator surrounds are the only change to the car's profile, while the rear enhancements are also minimal, and include a broader licence plate recess, a wider opening between the two exhaust pipes of the MINI Cooper S Clubman, and chrome framing around the stacked taillights of the MINI Clubman.
The rear lights of all MINIs now benefit from LED technology and dynamic brake force display, which warns following vehicles when the MINI is braking particularly hard.
Inside, silver and black surfaces and chrome highlights abound, while the steering wheel, radio control knobs, luggage compartment roller cover and Club door seatbelt holder and have all been revised.
A list of optional extras too long to name includes new paint colours and design themes, roof and mirror options, wheel designs, headlight options, audio and navigation packages, upholstery and trim elements and other visual features, among many others.
2
The 1.6-litre unit – developed in collaboration with BMW – now develops 82kW of power and 270Nm of torque (up from 80kW and 240Nm). Accelerating from 0-100km/h takes 9.7 seconds while the top speed is 197km/h.
Output from 1.6-litre petrol unit (introduced in March) remains at 90kW in the MINI Cooper and 135kW in the Cooper S.
Australian pricing for the new 2011 MINI range:
Cooper – $31,500
Cooper S – $40,500
Cooper D – $34,750
John Cooper Works – $49,200
Cooper Clubman – $34,800
Cooper S Clubman – $43,800
John Cooper Works Clubman – $51,700
Cooper Cabrio – $40,200
Cooper S Cabrio – $48,600
John Cooper Works Cabrio – $57,300
[gallery order="DESC" columns="4" orderby="title"]