Hyundai has today officially launched the exciting Genesis luxury sports sedan which has taken the company a good four years and $600 million to develop.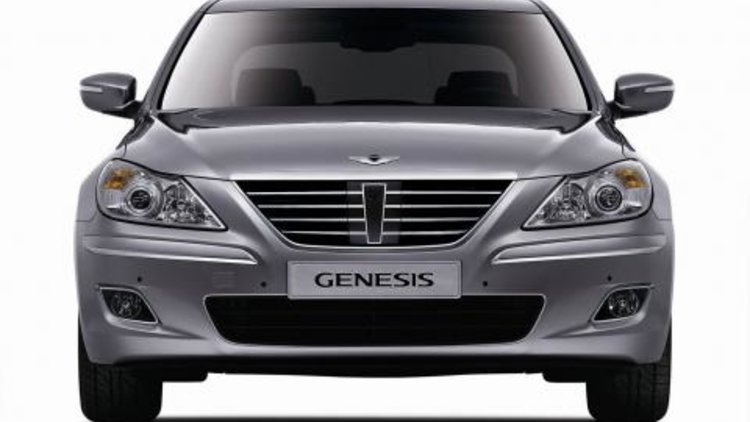 Hyundai is the first to admit it has used top-end luxury cars as a benchmark. The Korean company notes the BMW 5-series, Mercedes-Benz E-Class and the Lexus GS range as some of the cars that have inspired the Genesis.
Not that we can complain. Surely if Hyundai can make a car equal to its benchmarks, for even half the price, would you say no?
"Genesis is the pride of Hyundai technology and symbolises our determination to enter the highly competitive arena of luxury cars now dominated by the Europeans. Genesis will consolidate our position as the leader of the Korean auto industry and will pave the way forward for our leap into the global market," Chairman and CEO Chung Mong-Koo.
The first and most important change for Hyundai was breaking with a two decade long tradition and going for a rear-wheel-drive platform. The Genesis utilises a newly designed rear-wheel-drive platform with an almost perfect 53:47 front:rear weight distribution.
Many believe Hyundai will be the next Toyota, going after world dominance with nothing to lose, in order to do that though, the company not only needs to meet benchmarks set by the competition, but surpass them.
In order to better the competition Hyundai has deployed a few new methods to improve build quality, the most notable one is the use of adhesive bonding which is used to supplement the traditional body welding process. Hyundai now uses dual joining techniques—adhesive and welding— to ensure a more rigid body.
Hyundai says the Genesis' critical seams are joined using an adhesive coating which creates a high-strength chemical bond. This is then supplemented with traditional multiple spot welds to yield unmatched joint quality and body stiffness.
All this work means a good 12-14 per cent higher dynamic torsional rigidity than a BMW 5 Series, Mercedes-Benz E-Class or Lexus LS. Now there is something you don't read everyday!
The Korean specification Genesis comes standard with Electronic Stability Control (ESC), eight airbags, electronic active head restraints, ABS with Brake Assist and Electronic Brake Distribution (EBD) as well as Xenon high-intensity discharge (HID) headlights.
Powering this newly built chassis are three engine choices:
3.3-litre 192kW V6 with a fuel economy of 10L/100km
3.8-litre 213kW V6 with a fuel economy of 10.4L/100km
4.6-litre ~280kW V8 engine will be released later in the year.
Hyundai have utilised Continuously Variable Valve Timing (CVVT) on intake and exhaust camshafts as well as a Variable Intake System (VIS) for better efficiency and low and high RPM.
All engine choices are mated to an Aisin 6-speed automatic transmission that features an overdrive lock-up torque converter for improved highway fuel economy.
Taking a page out of technology generally more associaited with the Mercedes-Benz S-Class, Hyundai has installed a forward-looking radar in Genesis' Smart Cruise Control system. This enables the car to adjust speed to maintain a set distance from the vehicle ahead.
Entertainment is taken care of by a 30GB hard disk enabled entertainment system (CD/DVD/MP3 personal audio such as i-Pod) with mobile with Bluetooth connectivity and TV.
In another benchmark for Hyundai, the company is using Lexicon speaker systems - the only other car manufacturer that uses Lexicon is Rolls Royce! The Genesis is available with up to 17 speakers and a 12-channel 528W amplifier.
By now it should be clear that Hyundai has gone all out on the Genesis to prove a point, Korean can be good. The best example of the state of the art systems implemented is the Sachs sports-tuned electronic air suspension which raises or lowers the vehicle height to optimize aerodynamics and improve road-holding during high speed driving.
Five years ago if someone had told us that a Hyundai will be using Lexicon speakers with a rear-wheel drive V8 powered design, plus air suspension, we would have laughed uncontrollably - but here we are.
The United States, China, Middle East and Korea will get their hands on the Genesis before we do. The car will be available in three trim levels:
Hyundai expects to sell 35,000 Genesis units this year with 80,000 units planned for 2009.
Now that you've managed to sort through all the goodies, the big question still remains, when does Australia get the Genesis? Well, we should first be asking if we will even get the car at all.
"The Genesis is a great looking car and a very exciting prospect for Hyundai. If we were to launch it in Australia it would be post 2009." said Kevin McCann, Director Sales and Marketing, Hyundai Motor Company Australia.
As you can see the response is clear - "if we were to launch it...". But there is no reason to think the Genesis won't make it to Australia as it (and the sports coupe) will be the luxury halo car that Hyundai so desperately needs.
Perhaps the only reason it will be delayed is due to a shortage, from all that we have heard, the Genesis seems to be best Hyundai to date and the sales will surely reflect this.
Hyundai Genesis specifications