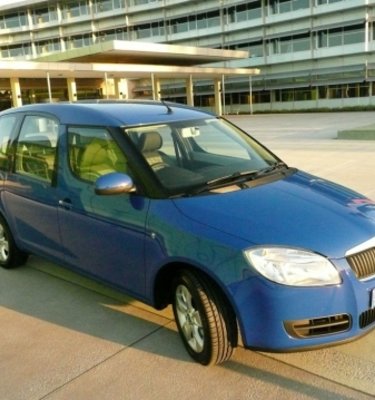 2008 Skoda Roomster review
2008 Skoda Roomster review
CarAdvice rating:
Model Tested: 1.9 TDI manual
Recommended Retail Price: $26,990 (1.6 FSI), $28,990 (1.9 TDI)
Options Fitted: None
- by Karl Peskett
What's the definition of cute? Ugly, but interesting.
Certainly by definition then, the new Skoda Roomster is cute. However it hasn't had the warmest reception, judging by the responses we got in our week long test drive. Men were indifferent, but women, without exception, said it was ugly.
Are they justified? Well it's certainly unusual. And it's designed for that reason. But here's the thing: Judging a book by its cover is a serious sin. Those who are critical will be the ones missing out.
You see, not only is the Roomster immensely practical, it's also brilliant to drive. And fun too. You know the old saying - "Looks can be deceiving", and in this case, it's certainly true. Although it has a tallboy stance, the Roomster's stability on the road has to be experienced to be believed.
In the same way that the Mitsubishi Colt Ralliart alters your perception about defying a high centre of gravity, the Roomster simply hangs on to the road, and doesn't roll anywhere near what you'd expect.
Not only that, but the chassis balance is very good as well. And we're not talking an out and out sports car, either. It puts some cars in its price bracket to shame. Plus the steering, although feel-deprived, is meaty and direct. No, I haven't gone mad. We're still talking about a little people mover. It's just that it takes what you think is going to be an average drive, and puts a smile on your dial. You'll be looking for excuses to take this little 'un for a drive, trust me.
Of course, this is all down to the fact that Volkswagen now owns Skoda. It means that there's a quality feel to everything, but more importantly, its cars drive well. No longer is owning a Skoda something to be ashamed of. The old joke about the skip bin no longer applies.
And buyers know it too. In discussing with Skoda who buys its cars, a spokesperson said that most prospective purchasers spend their time on the internet, researching. On this website, of course.
So they know that what powers this cute little car is either a 1.6-litre petrol, or 1.9-litre diesel. We used the diesel car for a week, and were surprised at the punch it has. In its native application in a Golf, it's adequate. But in the Roomster which weighs nearly 100kgs less, it's brilliant. From 1800rpm all the way to its 4500rpm redline, it pulls hard. Sure, we're only talking 77kW, but 240Nm is what hauls the load.
Loaded up with five people, it does a good job, and if there's only one, it could almost be called quick. The 0-100km/h time is deceptive though, because it just doesn't convey the rolling response of the new generation of turbo-diesel. Pity there's no auto or DSG. At the moment.
Still the fuel economy is outstanding, and after a few days of driving it, we were concerned the fuel gauge was broken. Nope, it really does run on the smell of the proverbial oily stuff.
The clearly gated manual gearbox mated to the engine is also easy and light, with the clutch being simple to push in, but bite is on the high end of its travel. Still, it doesn't stop it being a simple drivetrain to use. Keeping the car on the boil means shifting often and early, but in city traffic, the Roomster feels relaxed and composed.
Another relaxed placed to be is inside. The cabin has been built very well for a car priced in the high $20Ks, and even though some plastics are cheap, they've been textured well enough to hide it. A little bit more attention could have been paid toward every day use though.
One irritating example is the radio. When wearing polarised sunglasses, the LCD screen turns black. To see what you're selecting you have to cock your head at a 45-degree angle. Not a good look while driving down a freeway.
Still, the stereo is very clear, and only becomes floppy when under high bass load at loud volumes. For the target demographic, it will be more than adequate. As is the climate control aircon system. It does a sterling job of cooling the cabin, even on 40-degree days. Yes, it was a meteorologically verified 42 degrees when we tested it.
We also tested the claim that this car makes in its namesake. The space in the front is the same as most passenger cars these days, meaning well proportioned. But what's truly astounding is the room aft of there.
The Roomster, is just that - roomy. Three adults can comfortably fit in the back row, where leg and foot room is supremely generous. But would you take a look at the headroom. This little Skoda should be the official transport car for the NBA.
Then there's the boot, in which the parcel shelf can be mounted at two levels. There's also a flexible, small, semi-circular catchment bracket where small objects can be stowed, or it can be easily removed. At the sides there are small trays for sundry items, and tie hooks for shopping bags.
In the front door pockets, there's a small elastic band running its length, to hold maps and other items. The gloveboxes are spacious, and the centre stack actually has room under the stereo to house things. On the practicality front, the Roomster gets ticks all round.
It also rides very well, being Golf-like, with no float, no crash, yet nicely disciplined damping. It's slightly on the firm side with only one person, but as load is added, it softens up, and handles local roads with ease.
Where it differs from the VW norm is the brakes. Normally overassisted and snatchy, the braking could be described as parabolic. Initially there's nothing, but keep pushing and the stopping power increases, and continues to get better the slower you go. So when you slam on the brakes to stop, you'll be surprised at how much you will pull up near the end. Sounds strange, but it's the opposite to where your speed is washed off quickly at the start, and loses bite near the end. The main thing is they work, and fade is non-existent.
So, it rides well. It steers well. It handles well. It goes well. So what's not to like? Not a lot really. It's practical, cheap, and fun. And it's a great alternative to the soft-roader set. It's just a pity that most people won't see past its design. If they overlook its looks, this car will be in their good books.
2008 Skoda Roomster specifications
Engine: 1.9-litres
Power: 77kW
Torque:240Nm
Top speed: N/A
Safety: Dual front air bags - ABS
0-100km/h: 11.5 seconds
NCAP rating: N/A
Turning circle: 10.5m
Fuel tank: 55-litres
Fuel consumption: 5.5-litres/100km
Fuel type: Diesel
2008 Skoda Roomster review