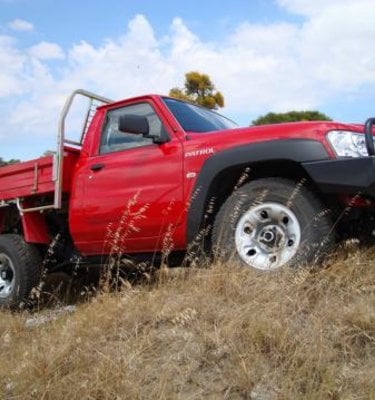 2008 Nissan Patrol Cab Chassis review
Current Pricing Not Available
2008 Nissan Patrol Cab Chassis review
CarAdvice rating:
Recommended Retail Price: $49,790 (DX Leaf), $50,180 (DX Coil), $52,890 (ST Coil)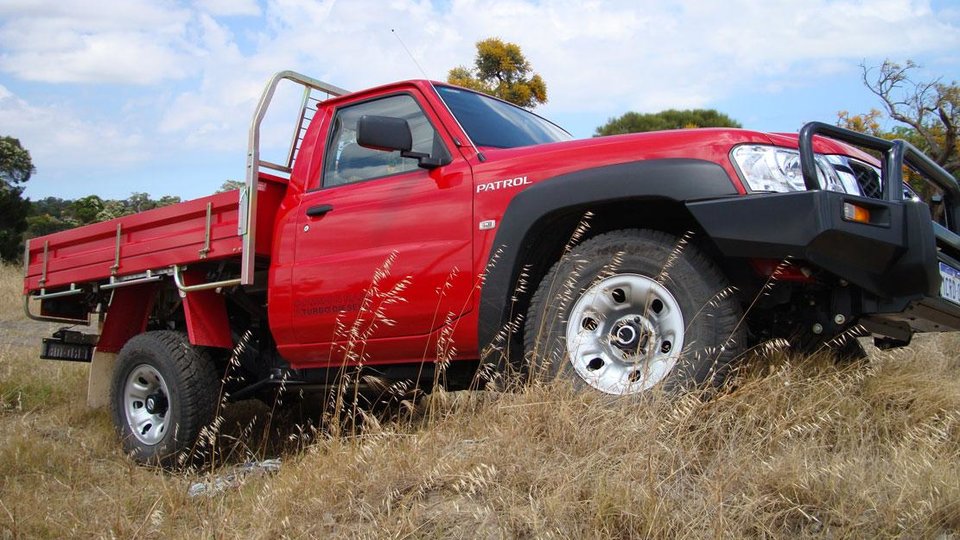 Options Fitted: Alloy Bull Bar - $1620, Underbody Tyre Hanger Chequerplate tray - $1997
- by Karl Peskett
As we walked in to Nissan's head office to pick up this week's car, the affable lady behind the desk, Tara, got up with the keys and said, "I'll just be two seconds; it's around the back."
No worries. Tara is so helpful and easy to get along with that we were happy to wait a little. She came around the corner, in the bright red, diesel Patrol Cab Chassis, that you see here. Complete with red tray and big bullbar, there was only one thing I could say to her. "This is definitely a country car."
Tara agreed. "It even comes with hay and seeds in the tray for you," she said. I thought she was kidding. But she was right. Fresh from a display at the Dowerin Field Day (click here) where Nissan was exhibiting, the Cab Chassis did indeed have farm fodder stuck in gaps in the tray. This was especially evident when I brought it home. Our garage started smelling like a shearing shed.
But this is no luxury grand tourer. It doesn't need to be elegant. It just needs to be practical. So practical it will be. Take for instance, the seats. Sure there's a certain amount of padding, but they're not exactly cosseting. The plus side is they're easy to climb in and out of. They're also covered in a cloth which can be readily cleaned after being caked with mud or dust.

One area where the Patrol Cab Chassis is simply outstanding is its range. Being turbo-diesel, fuel economy is decent to start off with, listed at around 11 litres/100km. Combine that with a 95 litre fuel tank and you've got about 850km to play with. But that's not the end of the story. There's a further 700km to be had once the sub-tank is brought into action. Yes, the secondary fuel tank is an amazing 80 litres.
In theory, nearly 1600km can be wrought from the two tanks. Of course filling up is going to hit you hard, especially with fuel prices as they are currently. If you run the Cab Chassis dry, expect a trip to the servo to cost you the better part of $290. Ouch. And that's a best case scenario. Get stuck filling up on the Nullarbor somewhere and you'll be looking at $320-350. Thankfully, because of the range, you won't be having to do that so often.

The Cab Chassis is certainly agricultural in its design, function, purpose and marketing. Even the sales brochure portrays a working dog on the back of this working ute. The Patrol Cab Chassis has no pretension. It fulfills its role with no apologies. It does its job with no luxuries. It has no refinement. But if you're a farm hand who needs to give his farm a hand, this just might be the tough-as-nails ute you're after.

2008 Nissan Patrol Cab Chassis specifications