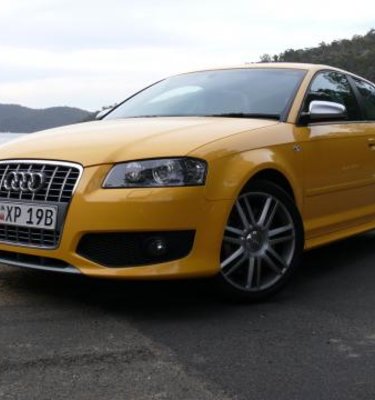 2008 Audi S3 Review
"Only those lucky enough to have driven the current generation S3 will know just how capable it really is"
Test model: 2008 Audi S3 in Imola Yellow
CarAdvice rating:
Recommended retail price: $65,500
By: Anthony Crawford
Options fitted:
Multifunction steering wheel with flat bottom, in 3-spoke design with S badge - $700 (it would have been nice to see this as standard kit but that aside – it's a piece of automotive art and a must-have item in a tuned up car like the S3).
Multi-stack CD changer – glove box mounted - $950 – (don't bother, the standard Bose 8 speaker unit is superb and glove box mounted CD changers are more of a nuisance than in dash changers. No direct MP3 jack is sorely missing.
Adaptive lights with dynamic cornering lights - $800 (go for this if you regularly drive at night)
Where it sits: Entry level into Audi's high performance "S" world of cars, the S3 offers buyers a complete package of blistering all round pace, and a truly bespoke interior fit out, more akin to higher priced Euro offerings.
I don't need to tell you that Volkswagen's Golf R32 is great performance buy, if you like it comfortably "hot". The V6 powered Golf has notched up enough awards from motoring media around the world that tell us so.
But if you happen to read somewhere that the R32 represents more bang for your buck than an Audi S3, you can dismiss that publication outright.
The S3 is a far more serious machine than the V6 powered Golf and plays in an altogether higher league. But don't take my word for it, go directly to your nearest Audi dealer and take the car for a proper test drive and I guarantee you'll come up with the extra dollars. If you can't, I'll lend you the balance!
It's not just the additional power and torque although, that certainly helps. But against the R32, the increase is only slight. The S3 has a far more potent weapon – weight or lack of it!
Too often, we forget to mention the power to weight ratio – that's the real secret to the kind of punch you get from behind the wheel of the S3.
You see, the R32 with the exceptionally fast shifting DSG transmission weighs almost 100kg more than the Audi, which tips the scales at a jockey-like 1455kg.
The S3 is a very quick thing. It conquers the 0-100km/h dash in 5.7 seconds and is speed limited to 250km/h. That's almost a full second faster than the R32 and clearly in front of BMW's 3.0-litre powered 130i Sport, which needs all of 6.1 seconds to complete the run.
Nail the throttle and the S3 pulls relentlessly through all six forward gear ratios thanks to a relatively flat torque curve. Even better are off the line starts, which are tyre spin free, thanks to "quattro". Not only that, the engine is oh so smooth and free revving with only fractional turbo lag just off idle. "Too easy" is one word combination that works for me!
It's a pity you can't get Audi's lightening fast S tronic twin-clutch gearbox in the S3 but honestly, the smooth shifting, close ratio six-speed box is a treat.
If you're after sports car bling, then you best shop elsewhere. I happen to like Audi's understated look, you can slip under the radar so to speak.
It's not that the S3 doesn't look special. On countless occasions at traffic light or pedestrian crossings, all eyes focused on the small red lined S3 logo on right side of the sports meshed grille. Its definitely got that 'don't mess with me look' happening.
There are a few other hints in and around the car, such as the brushed aluminium side mirrors, twin pipes, rear spoiler and diffuser. Inside, it's all about the flat-bottomed, S3 badged race car style steering wheel. A superb bit of kit although; the six-speed shifter and tachometer dial also carry the red-lined badge.
When I said, "factory tuned" in my header quote, I meant, "tuned" in the most professional sense of the word
If power to weight were everything, then BMW's 130i Sport, at an anorexic 1385kg, packing a 3.0 litre in-line six, would trump the S3. But it doesn't, not even close.
Audi understands two things very well. Turbocharging and FSI (direct into the combustion chamber injection) - Fuel Stratified Injection, if you want to get literal. Combine these two 'power up – less fuel' technologies and you get the kind of extraordinary success that Audi has had with its R8 and R10 Le Mans winning sports cars.But in the S3's case, it's a whole lot more than that. The gurus at Ingolstadt have pulled the glorious Golf GTI engine apart and reworked everything. Well, almost everything.
There's a new turbo that generates 1.2 bar of boost pressure, up from 0.9 on the base engine. There are pistons with stronger pins and connecting rods along with new bearings able to cope with the additional forces applied to the crankshaft. That's not all, the cylinder block has been reinforced and the head is crafted from a super lightweight alloy, able to resist extreme temperature build-ups over sustained periods. This is what factory tuning is all about.
And the whole thing – that's the entire engine and turbocharger, weighs just 152 kilograms!
While the S3's straight-line speed is impressive, its cornering ability is downright prodigious.
Pushed hard into our favourite 11km bend to bend snake run, and grip seems limitless. It's not safe or legal to properly explore the handling limits of this car on public roads.
Audi has never been into wide rubber, even on cars in their performance stable. But with this level of traction, I expected something wider than the standard fit 225/40s all round, especially on 18-inch alloys.
Audi's tried and proven quattro four-wheel drive system is one reason and superb chassis tuning, is another. Many of the suspension components are lightweight aluminium, which both optimises weight distribution and reduces unsprung weight.
Precise steering response from the smallest of inputs is essential for cars with this much talent and the S3 doesn't disappoint. Let me explain. Much like a racing car (yes I know the S3 is not a race car) you don't want to have to turn the steering wheel very much when negotiating chicanes and other tight bends. Same thing in a performance car, the smaller the steering input, the better it is for car control.
Taut, rather than stiff, is how I would describe the suspension settings on the S3. There's a high level of body rigidity, but never is the ride a bone jarring experience. If anything, the Volkswagen group have been highly successful in producing cars that offer excellent handling characteristics with a level of compliance few other carmakers can match.
You'll know from previous reviews I have written on Audi cars, that I'm a big fan of their interior fit outs. The quality of fit, finish and materials is at the top of the premium car segment.
Although the baby of the fleet in Australia, the S3 gives nothing away to Audi's luxury saloons and sports cars when it comes to cockpit design. It's what separates this brand from its most accomplished competitors.
Not only are the leather trimmed sports seats armed with enough bolster to hold you steady during the most spirited of driving, very few seats can boast such comfort, no matter what distance trip you care to undertake in this car.
Our S3 came with the standard fit black piano inlays but frankly; I'd prefer the 'no cost option' matt finished brushed aluminium or even the fine grey birch wood to this look.
All the driver focused aids are there, such as one-touch electric windows, integrated bluetooth phone in the centre console, auto dimming rear view mirror and light and rain sensors with 'coming home lights' for personal security.
It's a good thing the 'driver information system' includes a digital Speedo readout but better still, is the lap time display for track day work.
Also part of the standard inventory, are rear parking sensors, alarm system (incl immobiliser) heated electric mirrors, xenon plus headlights, dual climate control air and cruise control. Anything else might be considered superfluous in the S3, given its performance bent.
Safety, as you would expect in a premium brand performance car – is uncompromising.
Backing up Audi's famed quattro four-wheel drive, is Electronic Stability Control (ESP), ABS, Traction Control (ASR), EBD, Electronic Differential Lock (EDL) and hydraulic Brake Assist.
There's no shortage of airbags either. Front and side airbags for driver and front passenger along with SIDEGUARD head airbag curtain for front and outer rear passengers.
The spec sheet on the S3 states maximum luggage capacity with the rear seats up at 284 litres, which I can tell you with absolute surety, is large enough to carry a weeks shopping for a family of four. Fold the rear seats down though and load space multiplies to a massive 1100 litres, enough room for boards, bikes and luggage, literally.
That said I couldn't help thinking how many more S3's Audi could sell if a five-door version was also available.
"Audi's S3 has no direct competitors. No other car under $66,000 offers this level of performance, handling and craftsmanship in such a complete package"
2007 Audi S3
Engine: 2.0 litre in-line 4 Cyl with petrol direct injection and exhaust turbo-charger with intercooler with DOHC and VVT
Power: 188kW (252bhp) @ 6000rpm
Torque: 330Nm @ 2500rpm-5000rpm
0-100: 5.7 seconds
Top Speed: 250km/h electronically limited
Drive: Four Wheel Drive
Transmission: 6sp Manual (no auto)
Kerb Weight: 1455kg
Length: 4214mm
Luggage Capacity: 281L with rear seats up, 1100L with rear seats down
Body Style: 3 Door Hatchback
Seat Capacity: 5
Fuel Tank Capacity: 55L
Fuel Consumption Combined: 9.1L/100km
Wheels/Tyres: 18-inch alloys/225/40
Built in: Germany