One of my favourite cars as a kid was the Bolwell Nagari. The combination of rarity, fibreglass body and a whacking Ford V8 nestled under the bonnet was something I've always dreamed would be a match made in heaven. And it was Australian to boot, made by the Bolwell brothers in Mordialloc, Melbourne.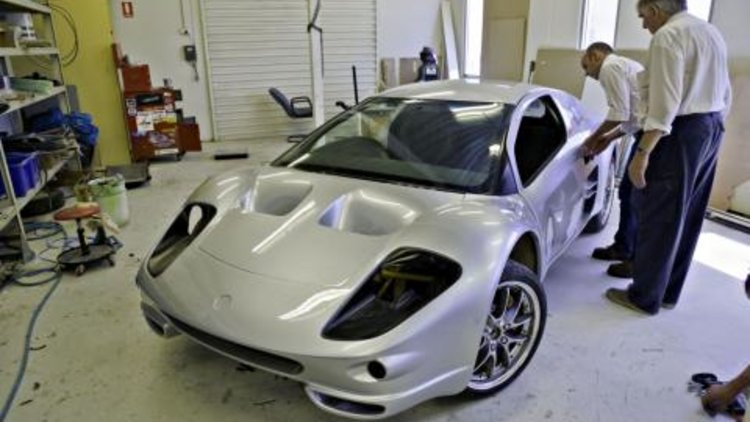 Mel Nichols' magazine story of driving the Nagari in the rain, drifting in third gear around long sweepers, and then having someone ask "So, how do you like the Lambo?" is etched permanently into my memory.
Well, Bolwell Car Company has released the first pictures of its new Nagari sports car.
Scheduled for its public debut at 5pm on 29 February at the Melbourne Motor Show, the Nagari is beginning final assembly at Bolwell's Melbourne factory. Three years have apparently been spent designing, refining and creating the new Nagari so that it can be used for not only a backroad blast, but also a trip to the shops.
In a nod to the original, styling cues have been incorporated, specifically the low slung, wedge look, and the buttresses from the rear window to the boot.
While styling keeps the classic look the spec sheet has been brought up-to-date. Bolwell says the new Nagari is a mid-engined carbon fibre composite monocoque coupe powered by a quad-cam, supercharged, 3.0-litre V6, whereas the original Nagari carried its 5.0 or 5.7-litre litre V8 up front in a steel backbone chassis clad in fibreglass.
The company is talking of a 0-100km/h time of 4 seconds, achieved through a classic combination of light weight – under 900kg – and the power of a supercharged Toyota V6, broadly similar to that developed by Toyota for the TRD Aurion.
CarAdvice will bring you all the juicy details once the Bolwell Nagari breaks cover.
For images and details on the old Nagari, head to the Bolwell Car Club's website.
2008 Bolwell Nagari - an Australian classic returns