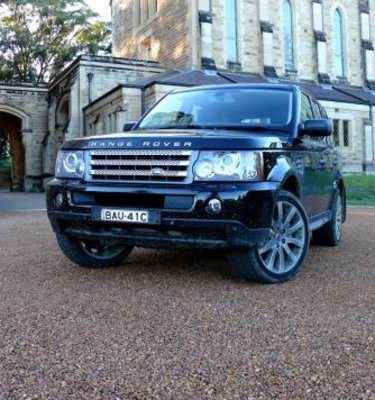 2008 Range Rover Sport review (TDV8)
2008 Land Rover Range Rover Sport TDV8 08MY Review
"Almost as quick as its supercharged sibling, but with staggeringly low fuel consumption, the Range Rover Sport TDV8 has been graced with one of the finest diesel engines on the planet"
Test model: 2008 Range Rover Sport TDV8 MY08
CarAdvice rating:
Recommended retail price: $108,900
Options fitted: This particular test vehicle was a tad overloaded with options.
Sunroof - $3000 (should be standard)
Personal telephone Integration System - $2,500 (over the top expensive and available through many portable Sat Nav systems)
Premium Navigation System - $6,100 (over the top – buy a MIO C720 portable Sat Nav for less than $700 – it's a faster processor than most in car systems.
Metallic Paint - $1500 (unfortunately a necessity on any Range Rover variant)
Active Cruise Control - $5000 (not tested)
Rear seat entertainment (DVD, audio etc) - $5,500 (over the top)
Front Park distance control - $850 (too expensive and should be standard on an SUV of this calibre
Television System - $1,500 (I'd go for this –especially if you spend your life as a taxi for kids)
Powerfold mirrors - $850 (should be standard)
Console cooler box – $750 (OK but it's too small)
Memory pack for driver's seat and mirrors - $1,100 (don't bother)
Adaptive headlights - $1,000 (if you drive a lot at night)
Premium ICE - $1950 – (I like my music and Range Rover have a history of top shelf sound systems, usually Harmon Kardon
Tow bar pack - $500 (yep)
Active Rear Diff - $1000 (only if you like to go off road and I don't mean dirt tracks)
20' Alloy wheels - $2700 (100% yes – you'll like it even more)
by: Anthony Crawford
Where it sits: The Range Rover Sport TDV8 is exactly the same price as the petrol powered V8, but god only knows why you would opt for that variant. It may as well be deleted from the range!
Entry level into a Range Rover Sport is a fair and reasonable $87,900 for the TDV6, which goes well enough and is kind to your wallet. Above the TDV8 is the V8 Supercharged at $136,900, a favourite of ours. When that Supercharger starts singing, it's nothing short of intoxicating for us petrol heads, but its thirst for premium fuel, could leave OPEC short of a barrel or two.
How the Land Rover guys are able to extract 200kW of power and a monstrous 640Nm of torque from a diminutive 3.6-litre V8 diesel is a complete mystery to me.
And it's not just the engine outputs which are impressive, it's the torque curve that blows your mind. Try 500Nm at 1500rpm - just over idle speed - and all the way through to 3700rpm. It's downright explosive on the fly.
And while the TDV8 soundtrack doesn't include the chorus of the supercharger whine, it does respond with a superb V8 growl, which should satisfy potential buyers who might be trying to decide between these two heavyweight contenders.
The published acceleration times do not tell the full story. Both these "Sports" are quick. The Supercharged version runs the 0-100km/h dash in 7.6 and the TDV8 in 9.2. But don't think for one second that the diesel won't nail your spine to the seat back because it surely does and I'll tell you why. Torque, pure and simple. 640Nm in the V8 diesel corner, and a paltry 550Nm in the V8 supercharged petrol corner. Those are some big numbers, but then these are some big vehicles.
I'm not quite telling the whole truth here, this engine has a couple of seriously capable variable –geometry turbochargers (with intercoolers), one per each cylinder bank, which are largely responsible for the almost instant throttle response you get behind the wheel of this SUV.
I said in my quote that this was one of the finest diesel engines on the planet. The fact is, above 1500rpm, you cannot tell from inside the cabin that this is an oil burner and it just gets better. Under hard acceleration, you will swear blind that there's a high performance petrol powered V8 under the bonnet.
But most V8's are thirsty. Not this one. I purposely drove this Rangie with a lead foot all week, and it was still showing an average consumption of 16.2L/100km and that folks, is beyond remarkable, when you consider the fun I had.
I am quite sure that the published fuel consumption figure (combined) of 11.1 L/100km is close to achievable under everyday driving conditions.
The TDV8 tops out at a commendable 209km/h, which I suppose is somewhat irrelevant in Australia, but great for those European readers wishing to fly via Land Rover Airlines between border countries.
The German built ZF six-speed auto transmission deployed in the Sport, has few peers when it comes to traditional automatic gearboxes. It is smooth, quick shifting and deliberate, with near perfectly placed gear ratios.
With a kerb weight just on 2742kg, this SUV generates considerable momentum especially if you happen to have your boot into the right pedal. It goes without saying, that some serious stopping power is required for those unexpected events.
While I have raved on at length about the Sport's powertrain, equal billing must go to the phenomenal (yes, phenomenal is the correct word) Brembo brake package, up front. The last time I can remember when I had this level of stopping power, I was driving an Aston Martin DB9 Coupe with the Sport package.
Big, tall, heavy SUVs are not supposed to handle well, the laws of physics see to that.
Turn this Land Rover into a corner at a reasonable velocity for the first time, and you brace yourself for some serious body lean. But there just isn't any, none at all. It's an astonishing sensation, accentuated by the so-called "command driving position" which curiously has you sitting up high, but at the same time, you feel enclosed like a sports car. It's hard to explain, but I can tell you it's unique to the Range Rover family.
This vehicle's talent for sports car handling is mostly the work of the highly sophisticated Dynamic Response system. What that is, is a number of electronically controlled hydraulic actuators (motion controllers), which continually adjust the roll stiffness depending on how hard you push the Sport into corners.
The real beauty of this system over standard anti roll bars is that you can still expect a comfortable level of compliance or ride quality.
Off road capability is what separates the men from the boys when it comes to high-speed luxury SUVs. Very few, if any, can successfully compete with the Range Rover Sport TDV8.
You see the range Rover Sport is more Discovery 3 DNA than Bona Fide Range Rover blood, even though looks might suggest otherwise.
It's not that the bean counters at the Land Rover head office suggested to the engineering guys to chop up a Discovery 3 and build us a Sport. No, nothing like that at all. In fact, the T5 platform was engineered from the outset, for both the Disco and the Range Rover Sport.
To put that into perspective, the wade depth limit for the "go anywhere" Land Rover Defender is a sufficient 500mm. The Sport has the ability to cross proper rivers at 700mm!
The styling is purposeful and aggressive. Especially with the optional 20-inch alloys and fat 275/40 low profile Continental 4X4 SportContact tyres, which provide truckloads of grip.
While I like the interior treatment in the Sport, it's not as luxurious as the Range Rover, but it's a couple of steps up from that which you find in the Discovery 3. More 'real' metal and wood trim throughout the cabin and a superb bespoke metal/leather shifter similar to that in the Range Rover.
The features list comprehensive enough but special mention must go to the brilliant Harmon Kardon sound system and the sports leather seats, which are supremely comfortable. Oh, and if you happen to drop the remote key fob in the water, don't panic, its water proof up to a metre or two!
There are a few cars and SUVs these days which have air conditioning ducts in the centre console bin or glovebox, so you can keep a couple of coke cans chilled. The Sport goes one better, and provides a console fridge, albeit on the small side.
Interior load space is as you would expect – large. Fold the split fold rear seats down and you end up with a van like capacity.
I suppose the one negative in this area, in the lack of a seven-seat option. Other than that, I can find few if any flaws.
"An enormously satisfying drive with outstanding fuel economy, the Range Rover Sport TDV8 deserves high praise"
2008MY Range Rover Sport TDV8
Engine: 3.6 litre 32-valve twin turbo diesel V8
Power: 200kW (272bhp) @ 4000rpm
Torque: 640Nm (472lb-ft) @ 2000rpm
0-100km: 9.2 secs, 0-60mph: 8.6 secs
Top Speed: 209 km/h (130mph)
Transmission: ZF 6-speed auto with manual shift capability
Four-wheel drive system: full-time four wheel drive with standard locking centre diff and Terrain Response
Fuel tank capacity: 84.1 litres
Fuel economy combined: 11.1 L/100km
Emissions: 294g/km
Turning circle: 11.48
Height: 1812 mm
Length: 4788 mm
Weight: 2675kg
Width/including mirrors: 1928/2177 mm
Max ground clearance: 227 mm
Wade depth: 700 mm
Max load volume: 2103 litres
Safety: Driver and front passenger airbags – head and side, full size driver and front passenger side, rear outboard passenger head, electronic park brake, Electronic Brake Assist, ABS –four channel, Dynamic Stability Control, Active roll mitigation, Dynamic Response.
Warranty: 3 years/100,000km
2008 Range Rover Sport review (TDV8)