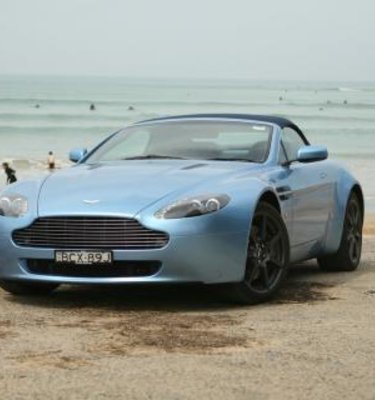 2008 Aston Martin V8 Vantage Roadster review
2008 Aston Martin V8 Vantage Roadster (Sportshift) Review
"For a car company to get the nod as the UK's coolest brand for the second year running, is a remarkable achievement by Aston Martin"
Test Model: Aston Martin V8 Vantage Roadster (Sportshift)
CarAdvice Rating:
Recommended Retail Price: $277,250 - although you can take the Roadster with the superb 6-speed manual from the renowned Graziano Transmissioni Group, for $269,000 (our choice).
Options Fitted:
Contemporary Paint finish (metallic) Glacial Blue: $1380 - (we all agreed this was the nicest blue we have ever seen and it set the car off beautifully)
Sat Nav: $4,875 - (It works well enough, but it's not touch screen, so the inputs take too long and is cumbersome to use)
Bluetooth Phone: $1380 - (works well)
Piano Black interior trim: $1380 - (we actually prefer the more modern looking and standard Gunmetal facia with Graphite interior fittings)
Wheels – 19" seven spoke with Anthracite finish: $4,165 - (one look at these and you'll need to tick this box)
Heated Seats: $825 - (a good thing on a cold night but they should be able to cool your behind too)
Xenon (HID) headlights: $1,385 - (they are a must when traveling at speed and probably should be standard on any Aston)
Cruise Control: $825 - (hardly and option and at this price!)
Auto-dimming rear vision mirror: $265 - (It should be standard but these days, a welcomed necessity)
Memory seats: $825 (I wouldn't pay this price but then that's me)
Alarm upgrade (volumetric & tilt sensors) $545 - (again, something Aston Martin should be providing as standard kit)
Where it sits: The V8 Vantage Roadster is top shelf in the Vantage range, but remains considerably less than the larger bodied DB9 Coupe.
Okay, I'm going to come straight out and say it. The Aston Martin V8 Vantage Roadster is currently the best looking drop top on the market. That's not just our collective opinion, that's all of Melbourne, across nine different suburbs from Toorak to Box Hill and all the way to Adelaide, South Australia.
The concern that generally comes with convertible versions of decent sports cars is the loss of rigidity and lack of chassis stability in comparison to their hardtop counterparts. Aston Martin has taken every measure to ensure this doesn't happen – or at least not to a noticeable extent. Built on an aluminium chassis, Aston Martin claims their roadster has the stiffest chassis in its class – quite a boast worthy trait if you ask me and it's one that we put to the test.
This time around, Aston Martin sent our test vehicle to Melbourne where we had a chance to evaluate its peak hour traffic behaviour, along with the way it handled, being thrown around bend after torturous bend on one of the all time drive routes in Australia – The Great Ocean Road.
After collecting the V8 Vantage Roadster from the outskirts of Melbourne's CBD, it was driven through peak hour traffic – with the roof down of course. Painted in stunning Glacial Blue – currently the only one in Australia with this colour – there wasn't one person who wasn't gobsmacked by this thing of beauty.
It took all of one minute for a crowd of no less than 10 people to come over and admire the V8 Vantage Roadster at a local café. Questions ranged from – "is that the V8 Vantage?" right through to "can I marry you." Those who weren't asking questions were staring in complete awe at a creation that can't be described entirely with words.
Sitting in the driver's seat feels strangely like sitting in a Porsche 911 Carrera. You sit deep into the car, thereby creating the lowest possible centre of gravity setting. That's no coincidence either. The guy who has finally brought financial success to Aston Martin, is a nice German man called Dr Ulrich Bez, who we think has synthetic oil running through his veins. One of his previous previous jobs, was overseeing the design and development of the 911 Turbo, along with other Porsche motor sport duties.
Behind the wheel it's all very familiar territory to the V8 Vantage Coupe. All the controls and features are in the same places, the only differences visible to the naked eye are the roof control button and the reduced storage space behind the seats.
The interior is all Aston Martin. Absolute attention to detail and hand stitched leather as far as the eye can see; headline the V8 Vantage's exclusive Savile Row-like tailored cockpit. The glove box is non-existent though – just large enough to fit the owner's manual. Who cares - right?
The boot also looked tiny. We were more than a little worried that our bags, computers and camera gear (including tripod) would simply not fit into the Roadster.
No need for panic at all, as it turned out. Between the boot and behind the seats storage, the car swallowed the lot, and with a little room to spare.
Turn the key and dab the starter button and it doesn't take long for a tingle to rush down your spine. With the roof down, the raucous V8 note is amplified ten fold in comparison to the Coupe, giving you a heightened sense of pleasure. Head north of 4000RPM and your ears are lovingly tortured with an engine note that contains enough ferocity to disturb the earth's gravitational field. It's a sound normally heard only on a racetrack and in many ways, defines the vantage as a true hard-core sports car.
Much like its Coupe sibling, the V8 Vantage Roadster is just as quick, reaching 0-100km/h in just 5.0 seconds. One of the things that astounded us all during the drive was the level of compliance and phenomenal rigidity felt while blasting through switchback sections of road. Roadsters just shouldn't handle this well!
Generally a convertible will have a feeling of flex and won't feel as agile or composed as its hardtop counterpart. The V8 Vantage Roadster on the other hand, feels just as good as the Coupe version in a straight line and through corners. Its uncanny how this car feels no different to the Coupe, no matter what speed you are doing.
On a private, but finite stretch of tarmac with the roof down, we nailed the throttle on the Roadster and comfortably nudged 214km/h while still able to hold a conversation about how good the car's mid to high range acceleration was. I know of very few drop tops that are as comfortable at speed as the Vantage. Stability was also rock solid with plenty of down force and no front-end lightness, whatsoever.
Response and feel from the steering is sublime, every grain of dirt on the road is felt through the front tyres, while only minute and precise turns of the wheel are required to point the Aston's nose in the correct direction. The turning ratio is quite tight, meaning that few turns are required to reach lock, which also means the driver's hands can remain in the same position even through the tightest of corners.
There's a tonne of grip courtesy of the extra wide 275mm rear treads. Jumping onto the throttle on the exit of a corner delivers reliance and plenty of composure. The body doesn't feel like it's about to step out and cause a ruckus, the tyres stick to the road and offer uncanny levels of traction – especially for a rear-wheel-drive roadster.
The pièce de résistance comes in the form of the braking package. No matter how hard you stomp on the anchors or how often you stomp on the anchors, there is always bite and rarely changes in pedal feel. This is thanks to the radial-mounted 4-pot monobloc calipers and 355mm front and 330mm rear ventilated and grooved steel discs.
Our V8 Vantage Roadster test vehicle was fitted with Aston Martin's renowned SportShift automated-manual gearbox. At full-throttle (also known as HyperShifting) gear changes occur in just 190ms, the result is a back pounding shift that feels ferociously quick and abrupt. In all honesty, a true enthusiast would opt for the traditional 6-speed manual gearbox. The SportShift automated-manual gearbox can be fussy at times and it's all too easy to induce a burning clutch smell when you attempt to park the car on a gradient.
I can't imagine it's easy to design a roadster that looks as good with the roof down, as it does with the roof up. That's almost an impossible task for even the most talented of designers. Aston Martin has come oh so close with the Vantage Roadster.
That said from Melbourne to Adelaide we chose the roof down, despite a stinking hot night with five billion bugs making a beeline for the Aston's Xenon headlamps. When we stopped for a quick fuel top up, you couldn't actually make out the grille for the bugs. Funny thing is though, not one of these critters found its way into the cockpit during their seven-hour onslaught.
When the heavens finally did open up around 10.30 pm, preceded by some overly large rain drops, we hit the roof button on the centre console doing 25km/h and in just 18 seconds, the three layer fabric roof was shut tight for our desperate journey across town, to a pizza establishment owned by a family friend, who agreed to keep his doors open for a very late, but well earned feed.
At that time of night, you've got to be careful with the throttle in the Vantage, for fear of waking entire neighbourhoods should you be anywhere north of 3500rpm.
After four incredible days in Aston Martin's finest, it came time to hand the car back to Aston Martin Australia. Perhaps we should have kept on driving all the way to Perth and just blamed it on a malfunctioning Sat Nav system!
We might just try something like that in the DBS, if we ever get our hands on it.
Click here for a gallery of all our Photos.
Anthony Crawford, Paul Maric, Alborz Fallah
2008 Aston Martin V8 Vantage Roadster review