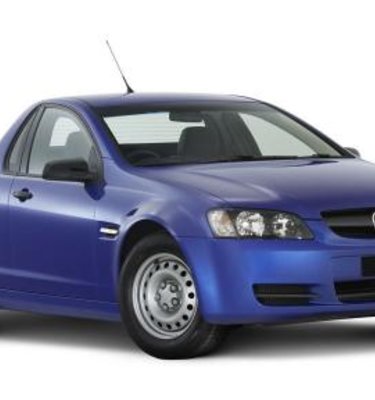 2007 Holden VE Omega Ute review
Current Pricing Not Available
2007 Holden VE Omega Ute review
- by Karl Peskett
"Oh my goodness!" he said.
"What is it?" I replied.
"That is amazing."
"What is?"
"I can't believe it."
Frustrated, I implored my passenger. "Could you just tell me what you're on about?!?"
"I can't believe I can stretch out like this." Okay then. Finally we get to the bottom of it. But the reason it was such a surprise for him, is his height. You see, Ian is 192cm tall. His seating position normally is so far back he drives from the rear seat. Well, almost. But his comment is a common thread when people jump into the VE ute.
Just about everyone has driven in a ute. And just about everyone realises that there's only so far back you can go with your seat. Then, of course, there's no room behind the seats for anything except a couple of post-it notes. Folded in half. And even that's pushing it.

Well, the tray isn't exactly massive, probably due to the fact that the cab is, but at least it's wide. The rear suspension has been totally revisited, to compact its dimensions and fit under the tray, without the shock-absorber towers eating into the room that a tradie craves. 1200mm sheets will fit between the tubs, and a tray length of 1900mm isn't too bad, but bikes and the like will be squeezing in.
Panel beaters will rub their hands with glee though, because the side of the ute, from the A-pillar to the tail-light is in one single piece. 3.7m of stamped metal will be difficult to recover in a crash. Of course this means less joins, and consequently a better fit and finish.
Finished in a blue-purple hue called K-Pow (oh, dear) the exterior stands out like the proverbial canine appendages. However the interior doesn't miss out, with a colourful, but subdued pattern on the altogether comfortable seats, which lifts the ambience from what could have been a cloudy day atmosphere.
The Omega ute's steering wheel misses out on the textured leather wrapping of the sports models, but doesn't lose any of the feel that VE specification brings to the table. Sure, it's not as crisp on turn-in as its larger-wheeled siblings, but it still progresses through the lock with tactility and yet lightness. Perfection.
As is the ride comfort. Of course, the commercial bent means stiffer suspension than the sedan due to its load carrying role. But the damping has been matched perfectly to the spring rates, meaning absorbency in harsh hits, and no chatter over ridges and potholes. It's not a sports model (the SV6, SS, and SS-V have that role) but still gives the keen driver a feeling of involvement sorely lacking from its rivals.
The funny thing is - and I'm going out on a limb here - is that it drives like a certain Japanese coupe. Everything - the gearbox, engine sound, braking, handling - feels like a muted version of Nissan's 350Z. And that's no bad thing, either.

The Aisin 6-speed manual isn't the lightest 'box around, either. Shifts can't be slammed home, it being fairly heavy and baulky in its gate action.
Still, the overall package is a good one. Consider that the masterfully tuned electronic stability control (called ESC by Holden) is standard. The air-con works a treat. The handling is precise and controllable. Unlike its show-pony brethren, the Omega ute will actually carry a decent amount of mass. It rides beautifully, and is solidly built. And at $30,990, it's right on the money.
So, it's got space, pace, makes a good case, and is priced to be in the race. In short, it's ace.