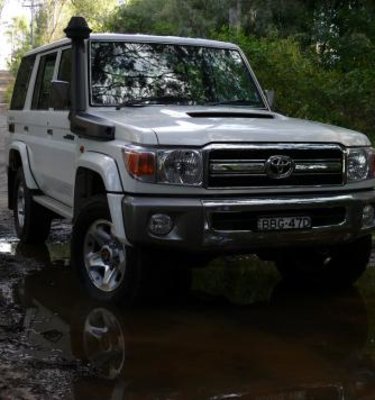 2007 Toyota LandCruiser 76 Series GXL Wagon review
2007 LandCruiser 70 Series GXL Wagon - review
"They don't come any tougher than a Toyota LandCruiser 70 Series. You could drop it off a building or leave it in Baghdad for a year, and it would still go"
Test Model: LC76 4 Door 5 seat GXL wagon with a five-speed manual transmission and 4.5-litre turbocharged V8 diesel.
CarAdvice rating:

Recommended Retail Price: $57,490

Options Fitted:
• Air Conditioning - $2640 (a necessity, but not what I would call a bargain and probably should be standard in the GXL)
• Diff Locks - $2735 (again, a must if you are using the vehicle in tough country but seems like an expensive option)
Price as Tested: $62,865
Where it sits: With kit such as floor carpet, remote central locking, power windows and power antenna, the GXL wagon is the Rolls-Royce of the series, but surprisingly, not the most expensive model. The famed Troop Carrier tops out the range.
The 70 Series range has been expanded to eight models, with three body styles. It's a little confusing but here's a simple model-by-model breakdown of the Series variants.
• Cab Chassis (LC79) 2-seat – Workmate ($53,490) GX ($55,490) GXL ($56,490)
• Wagon (LC76) 5-seat –Workmate ($53,990) GXL ($57,490)
• Troop Carrier (LC78) – Workmate (three-seat $58,890) Workmate (11-seat $59,990) GXL ($61,490)
You don't mess with a LandCruiser 70 Series. When it comes to hard core mechanical workhorses, this is one of the heavyweight contenders.
Talk about staying the course. From the moment the US government asked Toyota to build one-hundred Willys-spec vehicles, in the form of the Jeep BJ in 1950, Toyota has been in the off road business.
Back then there were few competitors, but none more able than Land Rover. They had the civilian off road market cornered, despite their dodgy reliability.
Hanji Umehara, the technical director at Toyota, liked the name Land Rover too (who wouldn't). He was desperate for a brand name, which sounded no less capable than the British marque. He came up with "Land Cruiser" and the rest as they say, is history.
Oddly enough though, for someone so concerned with getting the off-road image right and holding Jeep and land Rover in such high regard, it comes as a surprise, that both the Jeep BJ and the second generation 20 Series were without low-range!
Australia's affection with LandCruiser was forged in the brutal battle lines around mining sites and the enormous Snowy River project, where the first batch of 3.9-litre six-cylinder petrol 20 Series were delivered in 1959. But still, no low range!
Toyota finally got the message in 1960, when the 40 Series hit town with a larger 3.9-litre engine and low range was introduced as a LandCruiser staple.
Basic creature comforts such as air conditioning and a rear heater were introduced into the fifth generation LandCruiser known as the FJ60 Series. These were still very agricultural vehicles although, no different to what you would find in a Land Rover at the time.
In 1981 things were going very well for Toyota and LandCruiser sales topped the one million mark.
The 70 Series was introduced in 1984, with a range that included a soft-top, hardtop, utility, cab chassis and the famed troop carrier, which was probably adopted from the original US army Jeep, which had inward facing rear seats.
This latest 76 Series may have electric windows and air conditioning but believe me, it is still a hard core workhorse for the farm or better still, construction.
LandCruiser die-hards will applaud the carry over metal glove box, plastic vent on the rear guard and the overly simple chrome door openers. It sure doesn't say much for twenty-first century evolution!
Die-hards are right. I took the 76 down to my local shopping mall on Sydney's Northern Beaches for a quick Bunnings expedition and on my return to vehicle, found a bloke and his wife having a good old sticky beak. Of course, I asked the chap if he was right? "Is this the new one mate" "Yes mate, the new 76 Series wagon" which to be perfectly honest, apart from the extra doors, looked identical to the couple's older, two door Troop Carrier, at least from the outside!
He was such a passionate LandCruiser owner that I felt obligated to offer the guy a ride in the "newie'. He nearly fell over with excitement, with a grin from ear to ear. Of course, I offered his partner the same courtesy, but she seemed happy to let it be a bloke-only experience.
When I told him that under the bonnet was a spanking new 4.5 litre V8 turbo-diesel, it was as though Christmas had come early. The guy was in heaven. If I was I rich man, I would have handed the keys and registration papers over to him in flash, just to see the look on his face!
These are the kind of folks who built the LandCruiser legend in this country and Toyota have got a lot to thank them for.
It's by no means a quiet engine but it sure does pull. The Euro IV-compliant donk is a sophisticated unit. The 32-valve V8 puts out a not too shabby 151kW at 3400rpm and peak torque of 430Nm at 1200rpm. Pulling and climbing are what this vehicle does best!
First gear is incredibly short, so you may find it easier to move off the line in second, where there is ample torque to do so. Sheer habit prevented me from doing so as often as I would have liked, but it was definitely the way to go, if on level terrain.
The 76 Series might operate in a predominately man's world, but don't think for one moment that this 4X4 is hard to drive. It's not. You can move through the five speed manual gearbox as easy as you can in a Corolla – well, almost.
My point is, if your wife or partner wants to drive this glammed up workhorse, give her the keys! (I don't mean to be chauvinistic – really!)
And that's the real advantage of this five-seat wagon body. One day you're out in the sticks or down in an open cut mine, the next day you're heading into town in your best threads for a royal feed at the local Chinese.
I can't get over how high you sit in this thing – I found myself window-to-window, with truckies in their 10-tonne plus rigs.
Come to think of it, the 76 Series sounds like a 10-tonne rig. At least at idle. Once you're on the move though, engine noise in the cabin is more than acceptable for this category.
It's not exactly slow either. I can't find any 0-100km/h times in the press kit, but the 76 Series is more than capable of keeping up with city drivers in a hurry.
And don't worry about the fact that you can only get a V8 engine in the 76 Series. While power and torque might be up against the old straight six, fuel consumption has gone down, at least marginally, to 11.9 litres/100km (combined).
Steering is hydraulic power assisted and for a large vehicle I found the turning circle at 12.6m more than manageable in suburbia. Reverse parallel parking was also nothing to fret about.
General braking technology has come along way in the last ten years or so, and this 4 X 4 has not been forgotten. Try large ventilated discs front and rear, with twin pot and single pot calipers respectively. This wagon can stop as well as most modern sedans.
Of course, this being the luxury wagon version of the Land Cruiser workhorse family, you're more likely to see these performing city-based duties than any of the previous models. Watch out for some underground car parks though. This thing won't fit under all of them!
I can't tell you why, but I like the metal glove box. It has that "this will never break" feel about it. Let's hope Toyota never resorts to plastic. The die-hards won't buy it for that reason alone.
Believe it not (I'm speaking to those under 40 years) a manually operated electric aerial used to be a luxury item. Of course with a go anywhere vehicle like a 70 Series, it's mandatory to be able to control this function from inside the cabin, unless you want to replace it at $200 a pop, every time you go bush.
Another unique feature is the idle up switch for those icy cold mornings when the battery may be struggling.
The standard fit 4 speaker audio unit sounds decent enough and although only a single disc player, it is MP3 compatible.
Unlike the Cab Chassis and Troop Carrier versions, which come with hard wearing vinyl seat trim, the GXL wagon will have you backside perched on some salubrious and surprisingly comfortable, cloth fabric – just don't go near a coal mine and climb back in!
It's tall yes, but there's a grab handle for each door, along with decent width aluminium side steps, to make entry and exit not so difficult.
Storage inside the cabin area isn't bad either, with side door pockets and a centre console bin. Even with the rear bench seat up, there's a tonne of load space in the boot area and even more with the seat folded forward. It just doesn't fold flat which is a bit of nuisance.
For a heavy-duty four-wheeler weighing in at 2335kg (kerb weight) braked towing capacity at 3500kg is identical to Land Rover's Discovery and Range Rover.
With its hard-core workhorse reputation, I wasn't expecting much in the way of ride quality. The word harsh, would have best described my expectations, given the rigid live axle set up, front and rear.
Wrong. Potholes and speed bumps barely registered, and the off-road track we chose in Duffys Forrest in Sydney's north, grossly under challenged the 76 Series, with creek crossings and rock infested tracks, presenting nothing more than a kiddies playpen for this vehicle.
The driveline across the 70 Series range is a part time 4WD system with dual range transmission and manually adjustable freewheeling front hubs. A limited-slip differential is standard fitment except, if you opt for the front and rear diff locks, in which case, you won't need it.
Ground clearance for the wagon is 215mm (visually it looks much higher) and while this is not class leading (Land Rover Defender 314mm) but its on par with the Hummer H3 (216mm) and marginally better than the Jeep Compass (213mm).
With a roofline hitting 1940mm, I was prepared for some serious body roll into corners, at least on the bitumen.
Wrong again. While there is some weight transfer lean on turn in, it was far less than expected for a vehicle with these dimensions.
The LandCruiser 70 Series has been dragged, kicking and screaming into the twenty-first century and has fought well to retain its 'hard as nails' DNA.
The GXL Wagon will outsell its competition on the basis of one thing and one thing only. Toyota reliability!
By: Anthony Crawford
2007 Toyota LandCruiser 76 Series GXL Wagon review