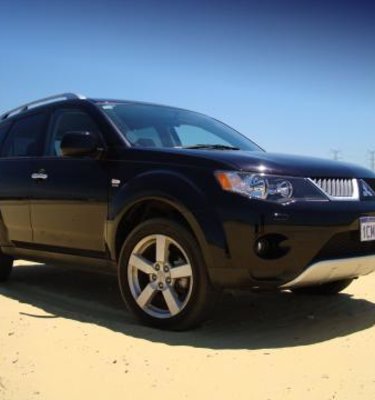 2007 Mitsubishi Outlander VRX review
2007 Mitsubishi Outlander VRX review
CarAdvice rating:
Recommended Retail Price: $43,490
Options Fitted: Pearlescent Paint - $350
- by Karl Peskett
Value for money. It's subjective, naturally, but who really wants to spend more than they have to? Isn't it what most people are after these days?
Yes, there are exceptions, like when you hang a tag off something and it has the name Ferrari printed on it. But even that's debatable, as some would argue that you get so much more with it – prestige, heritage and other non-tangible associations.
At the lower end of the scale we have the hotly contested midsized SUV market. And one of the players is staking its claim as a versatile, capable and cost-effective bush basher.
The Mitsubishi Outlander received an extreme makeover late last year which removed the stubby nosed, slightly awkward look and replaced it with cosmetically attractive and well balanced proportions.
The test car, a VR-X model, was finished in black pearlescent, which, apart from being hard to clean, gets hot, shows up scratches, and generally attracts every molecule of dust in the atmosphere. I like it.
Cast an eye over the whole vehicle, and you'll see that the fit and finish of all panels and plastics is quite good, with clean shut lines, and silver accents contrasting with the dark paint. The quality generally carries over to the interior with the only exception being the dashboard.
Like the new Lancer, the segmented plastic cheapens the appeal somewhat, especially the central top lidded bin which didn't sit flush with the surrounding surface. But the two-door glovebox arrangement works well, blending in so as you'd not notice the top flap. They're also a decent size too. The dash is clear, although the "Welcome" and "Good-bye" messages on startup and shutdown are a bit last century.
Looking around, and the rest of the interior suits the semi-lifestyle image. The seats are comfortable and supportive, with slight bolstering to hold you in place. Alcantara is the gift-wrapping of the moment, and each seat was trimmed as such. Rear seat room is fabulous, and all passengers can stretch out with ease. The one-touch tumble and roll rear seats expand the cargo area to Herculean proportions, too.
The switchable 4WD system falls easily to hand, and proved to be robust enough not to overheat, even on a 39 degree day in moisture-sapping sand. The auto mode is slightly superfluous however, as you'd be locking it most of the time anyway.
Thankfully the transmission is co-operative enough to allow you to hold each gear, while you use the paddle-shifters to upchange. Each pull of the paddle is complied with immediately, except for downshifts which would over-rev the engine. Two quick beeps are sounded to let you know the computer won't let you destroy your motor. How courteous.
But being able to hold gear without upchanging at the redline is exactly what you need in soft sand, and as that's all we have here in WA, it was nice to know that it would get through the hungry stuff without bogging down. In fact, road-pressure in the tyres was no impediment to forward progress, the Outlander being light enough not to sink down too far.
At 1560kg, on the road the 3.0-litre V6 can struggle to get the Outlander off the line, but once rolling, it's a fine performer. Outputs of 162kW and 276Nm could be construed as being a little light on, given the market's penchant for killer wasps. However it's the smoothness that really stuns. At idle, the engine is creamy smooth, and it's difficult to know if it's running.
But open the taps and a roar develops, all the while maintaining a vibration-free rise in revs. From about 3000rpm it's pulling nicely, but at 4600rpm the MIVEC cam timing changes, and a VTEC style howl cuts in, barking all the way to the limiter. Not that there's a huge surge in power, but you'll be flooring it, just to hear the transition.
But yes, if you do that all the time, you're fuel consumption will suffer. Thankfully it sips as well, with decent range possible from feather-footedness. You'll also need to take it easy on the brakes, too. They work reasonably well, if a little soft, but hard stabs at high speeds will see them fade into oblivion. This is unusual for Mitsubishi, as its car's brakes are normally excellent. Maybe a simple pad change would solve that.
Something that needs no attention is the absolutely booming Rockford Fosgate stereo. In VR-X trim, the gigantic boot (space for a 7-seat option, but the test car came with 5) is dominated by the caged subwoofer on the passenger's side. The bass that this thing generates is quite literally ground shaking. Yup, the doof-doof boys will be happy about the air that this thing punches out. It's not quite Volvo Dynaudio in the quality stakes, but it sure is deep and loud.
Dynamically, the Outlander is decent, too. Steering is crisp, and while it suffers from minor torque steer in 2WD mode, it's not rip-your-arm-off kind of stuff. Being a soft-roader, the ride is on the firmer side, rather than plush, but it also translates to decent road-holding. Sure, it will understeer and roll around, but it hangs on with a decent sense of neutrality. Of course, the standard stability control (ASC in Mitsu terms) reigns in any untoward behaviour, but it still allows enough slip not to upset the car's balance.
As a seven-seater, there's no doubt things would be a little squeezy in the back, but as a five-seater, this car is superb. It's no Forester in the handling stakes, but then it has a heap more room. As a package then, it's pretty hard to beat.
The beauty of the Outlander VR-X is you don't feel like you'd have to upgrade anything. It drives well, is smooth, efficient, roomy, practical, and gets off road when you want it to as well. You wouldn't need to change the stereo, you wouldn't need to alter the engine, you wouldn't need to have much more space. Put simply, there's little compromise.
The Mitsubishi Outlander is a damned good all-rounder.
And that's what I call value for money.
2007 Mitsubishi Outlander VRX review