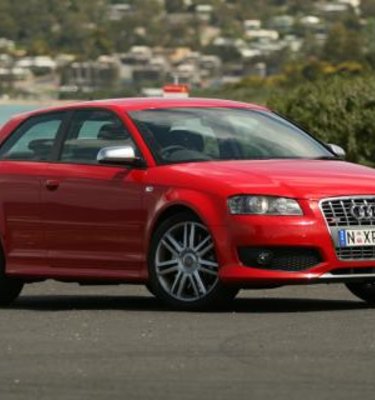 2007 Audi S3 road test
CarAdvice rating:
Recommended Retail Price: $66,500. Price as tested $75,950.
Options Fitted: Metallic Paint - $1,300; Adaptive Light, Active Cornering - $800; Sport Steering Wheel - $700; Silk Nappa Two Tone Leather Upholstery - $400; DVD Navigation - $5,300; CD Changer - $950.
- by Paul Maric
Looks can be deceiving. Although this two-door Audi looks much like any other A3 on the road, several inherent differences set it apart from the rest. Take the turbocharged engine for example, or maybe even the sophisticated Quattro all-wheel-drive system; these are the things that turn this seemingly sedate looking car into a bull that's just seen red.
One of the first things you notice when you land your rear in the driver's seat is the level of control and feel the driver instantaneously has. The shaved steering wheel fits snugly into the palms, while wrap-around race inspired seats receive a colour coded treatment to match the car's physique.
Turn the key and a rather dull and boring engine note sits there burbling away, nullifying the experience – at least until you start moving. The whole process is dead smooth and accurate; the clutch is perfectly weighed, as is the steering. Moving through the gears is a single finger job and little effort is required when you just want to just cruise along.
Drop down to second, nail the throttle and all hell breaks loose. The turbo rush hits early and damn hard. Based on the 2.0-litre turbo from the Volkswagen Golf GTI, the S3's motor produces an extra 41kW; bumping the power output up to 188kW, while 330Nm of torque arrives from 2500rpm, not relenting until some 5000rpm. Fuel consumption is just 9.2 litres per 100km on a combined cycle – amazing for a performance hatch of this calibre.
While harping wide-open-throttle in second or third gear, a menacing and angry note exits the exhaust letting everyone know this little rocket means business. At 5.7-seconds [Ed: Australia's 'de-tuned' version achieves 5.9-seconds] from 0-100km/h, the Audi S3 is far from slow.
Line up a set of bends and the Audi's character trait – the Quattro all-wheel-drive system – shines to its full extent. During testing, it became clear that after initial understeer, the system would counter by sending torque to the rear wheels, allowing the S3 to maintain tremendous pace through corners, while retaining maximum amounts of grip.
The 345mm/310mm brakes keep biting time after time – even after continuous torturing on the track. On top of that, the flexible electronic stability control, called ESP (Electronic Stability Program) by Audi, allows the driver to maintain maximum control with minimum intervention - crucial in this type of car.
Audi's $65,500 S3 is priced to compete against BMW's 130i. After lining up a 130i (with M-sport package) to drive back to back against the S3, it became quite clear that one vehicle was superior to the other. As tested, the 130i costs $66,500.
Although the BMW offered extremely precise and sharp steering response, it was let down by an engine that could have offered slightly more poke at the top end. Although the 130i has a decent lather of torque available from low in the rev range, once the S3 comes on-boost, it feels far livelier and slightly sharper than the 130i. The S3's infinitesimal turbo lag means that sharp and impulsive response is available on the exit of a corner, working in unison with the stellar Quattro all-wheel-drive system.
The 130i tested was fitted with a 6-speed automatic gearbox. The 6-speed is a ZF Sachs unit and offers very precise and predictable shifts when cruising along, while turning into a veracious unit when sport mode is selected. Steering wheel mounted pads also allow for manual shifting.
Cornering in the 130i is let down by run-flat tyres which exhibit a rigid nature during harder cornering. The hard tyre walls don't flex as a regular tyre does under exceptional load, as such, any bumps experienced mid-corner are felt through the wheel and chassis. Although these don't unsettle the car, they are detrimental to the overall package and put it behind the S3 in terms of handling dynamics.
After driving both vehicles, it's quite easy to declare the S3 the winner in the battle against Munich's finest 1 Series. The 130i simply can't match the S3's finesse and ability, partly due to the lack of all-wheel-drive, and a lively engine. This all may change when BMW drops the twin-turbo inline-six into the 1 Series in the future.
Standard S3 features include: Xenon-plus active headlight technology; high-end Bose sound system; 18" alloy wheels; dual zone climate control; high-performance brake system; sports seats; cruise control; central locking; 6-stack CD player; trip computer; lap timer and electric windows.
Standard S3 safety features include: Six airbags, including driver and front passenger, head airbags and side airbags; Electronic Stability Program, ABS brakes; brake assist and Datadot serial matching.
Audi's new S3 is an absolute wonder to drive. It can turn from a sedate daily driver into a wild beast; all in the time it takes your right foot to meet the floor. The driving dynamics and handling are second to none, making this the ultimate hot hatch.
Editor's Note: A correction has been made in this article due to conflicting information. The Australian spec Audi S3 achieves a 0-100km/h time of 5.9-seconds - instead of 5.7-seconds. This is due to an alternative intercooler fitted for hotter operating environments.