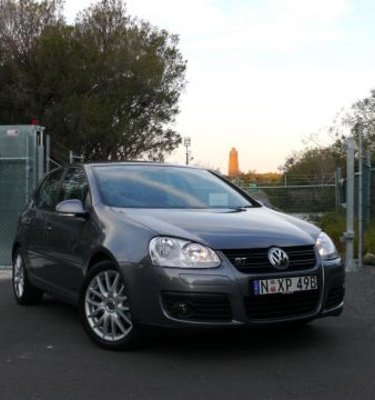 2008 Volkswagen Golf GT review
2008 Volkswagen Golf GT Sport Review
Warning: This is not an advertisement!
"Volkswagen introduced the world's fastest shifting transmission in 2003, which to date, has not been properly replicated by any other car maker or, F1 team. It's 2007 and Volkswagen introduced the word's most powerful 1.4-litre engine into their Golf GT Sport model, which to date, has not been replicated by any other car company"
Test Car: 2008 Volkswagen Golf GT Sport TSI with Direct Shift Gearbox (DSG)
CarAdvice Rating:
Options Fitted:
Metallic paint - $690 (a must and this price is below average)
Satellite Navigation & CD Changer - $3780 – too expensive and it doesn't support MP3 CDs. Buy a Mio C520 portable touch screen sat nav for less than $700 (they have the fastest processor). The stock standard CD player in the GT Sport is a good eight-speaker system.
Parking Distance Sensors - $790 (expensive for one set of sensors despite their convenience)
Alarm System - $590 (a must as standard kit is only an engine immobiliser)
Leather Upholstery - $2990 (forget it unless the company is paying – the standard cloth is more than satisfactory unless you have kids under 10 years old.
Recommended Retail Price: $37,290 – The Golf GT Sport TSI 5 Door 6-Speed Manual is yours for $34, 990.
Price As Tested: $46,130
by Anthony Crawford & Alborz Fallah
Where it sits: There are just on twenty-four different model variants in the current Golf line up, and the GT Sport TSI kicks off the performance end of the range. You can also get a GT Sport TDI with DSG for $39,790. Only the more expensive Golf GTI and V6 powered R32, sit above it.
I hope I'm right, in saying that this car has the world's most powerful production 1.4-litre engine under the hood. I'll need to back that statement up.
Butt there's no doubt the GT Sport is no ordinary petrol engine. It puts out 90.22kW (121bhp) per litre. By comparison, Porsche's made for track car the GT3 RS (over $300,000) puts out a paltry 85kW per litre (115bhp). Impressive.
The Golf has been a staggering success for Volkswagen. The current model, known as the Golf V, has clocked up over 2,306,000 sales since its 2003 launch.
But it's all about the engine with this particular Golf, nothing more and nothing less.
For a 1.4-litre five-door hatch, to accelerate from 0-100km/h in 7.9 seconds and reach 220km/h, is ground breaking stuff. If that doesn't sell you, then 7.2 litres per 100km might just seal it.
The only way you can possibly achieve the 125kW and 240Nm needed to deliver that kind of performance from a mass produced 1.4-litre engine, is with forced induction. That's either a turbocharger or supercharger.
Both systems have their problems. The supercharger is a belt-driven air compressor, which spins up from the moment you tap the accelerator and the crankshaft starts spinning. Result - more power, but potentially, high fuel consumption. The turbo on the other hand, is exhaust gas driven, but you need a certain amount of gas pressure to get the turbine working. Result – turbo lag, and, if you're punching it for prolonged periods, poor fuel economy too.
But if you work out how to successfully marry the two systems, you get something quite special. Meet the Golf GT Sport 1.4 TSI.
Are you with me? It's simple. A direct injection petrol engine, boosted by both a turbocharger and supercharger, powers the GT Sport. These "twin chargers" either work independently or together, depending on where you are in the rev range.
It doesn't seem like rocket science, but it is, if you want this kind of performance with a hybrid-like fuel consumption.
Behind the wheel, it doesn't feel that much slower than the GTI. And it isn't. Comparing both cars with the Direct Shift Gearbox (DSG) in a 0-100km/h sprint, the GTI wins by just 0.8 seconds and the difference in top speed, is a mere 15km/h.
One of the real delights of this twin charger system is that there is heaps of torque available from very early on in the rev range. This explains why the GT Sport can get away so quickly, with such a pint-sized engine.
When you need to jump on the throttle, you'll be rewarded with more than 200Nm from just 1250rpm, which makes this car such an easy thing to live with, day to day.
Modern turbo diesel powered cars (of the common rail variety) have similar performance characteristics to the GT Sport, such as the low down torque and minimal fuel consumption. But the downside is, the technology needed to get diesels to run clean and not spit out harmful particulates, is expensive, and it shows in the premium price oil burners attract over their petrol counterparts.
One thing you don't get with diesels though, is the ability to rev out to 7000rpm in all gears, if you wish. You won't harm the engine, but you can forget about 7.2l/100km fuel consumption, more like 10 plus!
The TSI is also clean. In fact, it produces less CO2 emissions than the Golf 2.0 FSI while at the same time, out gunning the larger engine Golf in just about every department. It begs the question, as to why on earth anyone would buy the 2.0 FSI, given the overall advantages of the GT Sport.
The answer is price, and price alone. The Sport, with the DSG transmission, is just over $5000 dearer than the 2.0 FSI with the six-speed auto. My guess is that when the TSI catches on, Volkswagen will dump the 2.0 FSI variants, all together.
Curiously, I've heard several people say that it doesn't handle the twisty stuff all that well. Rubbish. We drove the car on decent little racetrack and the Golf GT Sport is a contender.
It's suspension set up is certainly not as stiff as that on the GTI, but nor is it meant to be. But at 175km/h down the straight and into a hard left turn followed by a fast corner-to-corner stretch, the GT Sport was quick.
Steering weight and feel is near perfect, and brake fade was not existent after ten punishing laps with the right hand pedal mostly glued to the floor.
While Tony was busy Golfing in Sydney, I took my lipstick-coloured Golf GT up Mt Glorious here in Brisbane. There is something peculiar about telling your mates you have a supercharged and turbocharged car, it almost sounds fake.
But don't try to show-off the engine, you'd be lucky to find the turbocharger, let alone the supercharger. Easier then, to just take them for a drive.
The Golf GT is not like any other car on the road today, so if uniqueness is your sort of thing, and you love explaining how the engine works at a barbecue, this is the car for you. It also helps that it's comfortable, easy to drive and yet extremely good fun when pushed.
Around tight corners there is evident understeer given the front-wheel-drive setup, but corner to corner you'll have a hard time criticising the GT's handling. It begs to be driven hard and with body roll virtually unnoticeable, the GT can easily keep up with the rally kings.
If you want to compare, this is no 207 GTi and I wouldn't put it on the same level as the C30 T5 either, but it has four doors, it's practical and hardly uses any fuel, compared to the new WRX (now that the Rex is a Golf wannabe), would you rather tell your friends you've just bought the homeliest WRX yet, or a supercharged and turbocharged Golf?
Volkswagen generally goes for the subtle look with their performance models and the GT Sport is exactly that, the warm hatch approach.
You haven't been cheated in the styling department, nothing like that. It definitely looks tuned, with twin exhaust tailpipes and a set of 17-inch, nine-spoke alloys, sporting low profile 225/45 rubber, which looks anything but ordinary.
The body has also been lowered by 15mm along with a lower air intake and integrated fog lights. GT Sport badging front and rear along with sports grille.
From the inside the GT looks pretty much like any other Volkswagen, practical, but lacking a little bit of flair.
The centre console does a nice job, although the buttons can get a little bigger. As for the Sat Nav? Unfortunately, our new editor is stopping me from using more colourful words, but let's just say by the end of the week it was becoming extremely irritating.
It would state that I should "continue driving until further instructions", and then when I missed my turn, it would get angry. A very German approach to navigation - definitely not worth the near $4000 option. You can pick up a hand-held sat nav for a tenth of the price that will do a much better job.
The car lacks racing pedals, a sporty instrument cluster and could do with a little less plastic. The steering wheel has a sexy chrome GT badge built in, which looks great - for about two seconds.
Rear boot space is more than adequate for the weekend shopping and a short trip away.
Don't be put off by my hard criticism though, the Volkswagen is finished to perfection, no uneven edges, no signs of poor build quality. Everything fits, but it could do with more excitement.
There is noticeable road noise thanks to the performance rubber but with excellent handling and driving dynamics, it's a fair compromise.
"For a 1.4-litre five-door hatch, to accelerate from 0-100km/h in 7.9 seconds and reach 220km/h is ground breaking stuff. If that doesn't sell you, then 7.2 litres per 100km might just seal it"
By: Anthony Crawford and Alborz Fallah
[gallery=16]
2008 Volkswagen Golf GT review