Volvo is determined to improve its image worldwide. The company is well aware that in order to survive the next 50 years, the "Volvo-driving soccer mum" image needs to be replaced quickly, with something like this: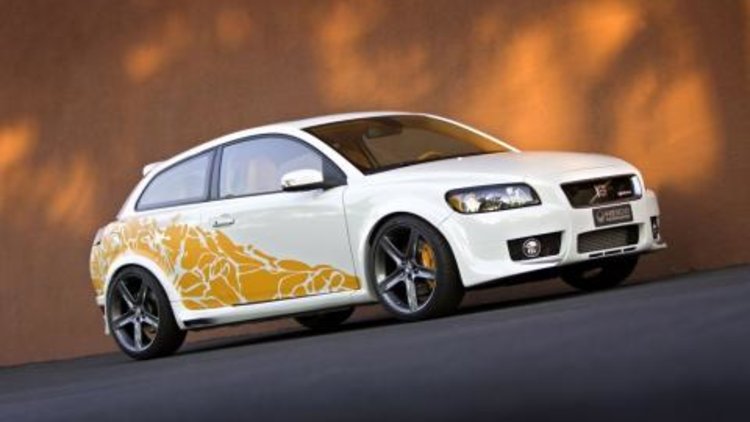 In the last 5 years the Swedish manufacturer has produced one excellent model after another, yet many buyers are still having a hard time seeing Volvo as a youth-orientated sports brand. So at this year's Specialty Equipment Market Association (SEMA) tradeshow, Volvo has brought along four modified versions of its vehicles, plus a hot rod.
Volvo XC70 Surf Rescue (SR)
First in line is the XC70 surf saver, not exactly a performance car with its 3.2-litre engine, but the all-wheel-drive Volvo rides atop a 5-inch-lift suspension, oversized tyres and heavily modified body panels. Packed inside is a full compliment of life-saving equipment and custom rescue surfboards.
Heico Sportiv S80 T6 High Performance Concept (HPC)
Next in line is the Heico modified Volvo S80 T6. Powered by a 261kW E85 bioethanol T6 engine and driven via an all-wheel-drive system, the S80 shows Volvo's commitment to bioethanol fuels, while from the outside, a unique 7-layer "metal effect" paint scheme gives the Volvo a halo feel.
It doesn't stop there though, the interior has also been changed with a fully custom Mystic Blue leather design with an aluminium centre stack.
Heico Sportiv C30
Another work by Heico, the C30 is pushed along by a 224kW powerplant, but this car is not all about power and performance.
The orange designs on the outside, lowered stance, a fully custom body kit with integrated spoilers and larger air ducts as well as quad exhaust tips give this little Volvo something to yell about.
Caresto C70
Caresto have put their minds to tuning a C70 convertible, the result? Power output has been increased from 162kW to 207kW.
Caresto Hot Rod
Leaving the best till last, the Caresto Hot Rod may not look like a Volvo, but it is built primarily using Volvo parts, including the 223kW V8 engine.
[gallery=14]