The US military last week sponsored a race to find the best self-driving robotic car. The Defence Advanced Research Projects Agency Grand Challenge drew 36 entries, out of which only 11 made it to the final held last Saturday. The winner? Boss, a self-driving Chevrolet Tahoe that took home the $US2 million first prize.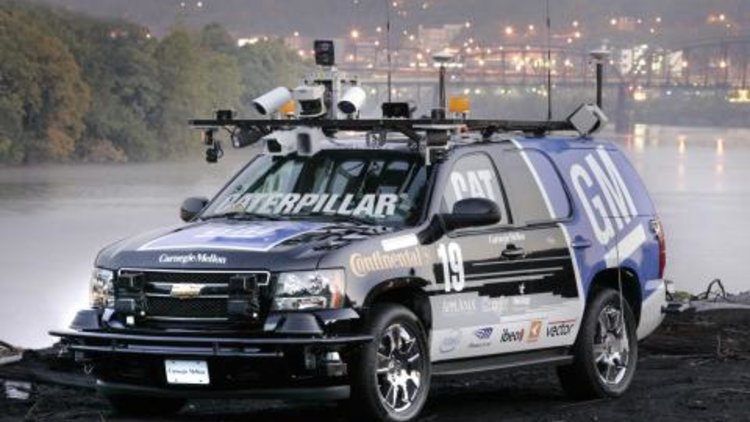 Tartan Racing from Carnegie Mellon University in Pittsburgh, Pennsylvania designed Boss with the help of engineers and technicians from General Motors.
The race involved driving through a 100km urban course with absolutely no human control and no prior knowledge of the route. The vehicles had to reach the finish line using software and technologies such as radar, lasers, sensors and GPS.
The course included the other robotic cars as well as additional cars driven by humans. According to the BBC, the rumour on site was the human drivers had been placing bets on who would be hit first!
In order to insure the cars would not turn on their masters, each was followed by a human in a pace car equipped with a kill-switch that could instantly turn the car off if it started acting erratically.
Nineteen tasks were completed, ranging from pausing at intersections and driving around roundabouts to parking and merging.
The US military aims to develop autonomous cars that could find their way around a future battlefield, meanwhile GM is hoping for everyday cars capable of driving themselves. GM's vice-president for research and development and strategic planning, Larry Burns, said developing cars that drove themselves was a key objective.
"Imagine being able to talk on the phone, eat your breakfast, handle your emails, and leave the driving to the vehicle, that would be pretty phenomenal. It's going to a big breakthrough. It's technology that's on the way to 'having cars that don't crash." he said.
Dr Burns believes cars capable of driving themselves could be on the road by 2015.
Eight years is a big claim! Either way, we sure hope the thicket of cameras and tracking equipment stuck to the top of Boss can be packaged a little better.
Self-driving vehicles 8 years away?