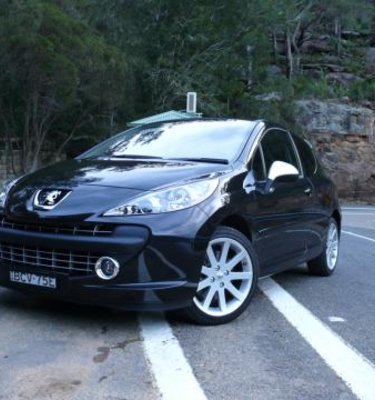 2007 Peugeot 207 GTi Review
2007 Peugeot 207 GTi Review
"Astonishing balance and grip through corners and no slouch in a straight line either - Peugeot's 207 GTi is a brilliant drive and on my shopping list"
Test Model: 2007 Peugeot 207 GTi with five-speed manual (no auto in the GTi)
Options Fitted: None – standard spec is choc-a-block full of goodies. I suppose I'd have to consider the panoramic glass roof with sunblind for only $1000.

Recommended Retail Price: $33,490 – a hot hatch bargain.
Where it sits: Just $2000 on the GT price of $31,490 and top shelf in the 207 model range. Do yourself a favour and go straight to the GTi. Honestly, I'm not sure why the GT exists at all.
CarAdvice rating:
- Anthony Crawford
Like rock stars and movie actors who are only ever as good as their last gig, car companies lucky enough to create a cult classic, face a similar problem. How to make a great car better without ruining the driving experience, model after model.
Peugeot's big time hit was the 205 GTi, first released in 1984 as a 1.6-litre and later, as a 1.9-litre unit. It was unquestionably the best styled and best performing hot hatch of the day, with superior on-road manners to any of the competition at the time.
Performance credentials for the GTi particularly the 1.9-litre spec, were quick even by today's standards. Off the line launches would see 0-100km/h in 7.6 seconds, and flat out was an impressive 204km/h. Not bad for a 96kW (130bhp) powertrain!
Not only did the 205 GTi hit the spot with the punters, but on the world rally scene, the car achieved God-like status with the Finnish driver Ari Vatanen, behind the wheel of the phenomenally fast 205 T16 (watch it take out a Porsche 911 rally car as though it was standing still) Vatanen and Peugeot won a string of victories in the World Rally Championship in the mid eighties.
The replacement to the 205 nearly didn't happen. Peugeot management were convinced that the super mini category was dying and that there would be no replacement.
They called it wrong. Competitive sales in the category actually increased, so Peugeot got to work and released the 206 in 1998.
The warmed up 206 GTi with 2.0-litre power, was added to the range in 1999 and was good for 210km/h but it was only marginally quicker than the 205 GTi. The petrol heads within Peugeot were not entirely happy, so in 2003, they came up with a tuned version, called the GTi 180 (for hp). This car ran the 0-100km/h dash in a respectable 7.4 seconds and topped out at 220km/h.
So successful has the 206 model been for Peugeot (over 5 million cars sold) that the car is still in production, which is said to continue until 2010, despite the 207 being launched in 2006.
Personally, I thought the 206 GTi fell short of the 205 GTi with regards to sports styling and if anything, lacked aggression.
Not so with the 207 GTi, Peugeot have built a cracker. It does everything you ask of it, and then some.
The problem with this job (I'm not complaining mind you) is that you only get a week in each car and that's nowhere near enough time, when it comes to the 207 GTi.
Where to start! Well, there's no Nancy boy styling in site. Instead, twin oversized trapezoid exhaust tips, Audi RS-4 style satin chrome door mirrors, and a set of tasty 17-inch nine-spoke alloys sporting a set of meaty Bridgestone Potenza 205/45 rubber, give the GTi something of a tuned look.
Once inside the car, you'll be blown away by the front racing style seats, trimmed in Alcantara, leather and cloth. They are simply the best all round sports pews available in any car, regardless of the price.
There's more Alcantara on the door trim and on the bucket style rear seats, which are also designed to provide individual side bolster. How could you not like this car (and no – I've never even received a key ring from Peugeot)
Instrument dials are chrome trimmed and the leather covered sports steering wheel, which can be adjusted for both height and reach (don't buy a car that can't) is a grade above the norm.
The metal gearshift knob is a treat, as are the aluminium pedals, which are perfectly placed to hone your heel and toe shifting routine.
The level of luxury kit in this $33,490 hot hatch exceeds my expectations.
Here's what I mean; auto headlights on function, rain sensing wipers, headlight delay security, directional headlights, cruise control and speed limiter, electronic park assistance (rear only), one-touch electric windows with anti-pinch function, auto dipping rear view mirror, electric and folding heated door mirrors, tinted glass, a heat reflective windscreen, dual-zone air and a front loading five disc CD autochanger, to name BUT some of the what this car has to offer in addition to its on-road performance - which I'll get to shortly.
Propulsion is via a potent little 1.6-litre high pressure turbocharged unit putting out 128kW and 240Nm of pulling power, more commonly known as torque.
It may not seem like much, but let me assure you, the 207 GTi can happily wipe the smile off many a driver of larger capacity rides.
The engine note although subtle, seems to idle slightly faster than your average hatch and suggests some performance tampering under the bonnet.
Shifting into first and nailing the throttle in the GTi is far better therapy than any anti depressant you might be taking. But the real fun starts when you move into third, with your right foot held firmly on the floor.
You see, all 240Nm are on tap at just 1600rpm and remain so, until you hit 4500rpm! But I'll let you in on a little secret. There's an over boost facility, which is activated in third, fourth and fifth gear, which ups the torque output to 260 wonderful Newton Metres.
Straight line speed and acceleration will surprise you, as will the ease of gear shifts with the exception of first to second, which tends to be a little notchy, for my liking. You only get five gear ratios to play with (the norm in this class of car) and frankly with all that torque available, a sixth cog would be superfluous.
But you wouldn't take the GTi to the drag strip; you'd take it anywhere where there are bends, lots and lots of bends. The 207 GTi does corners like Paris Hilton does bell boys. Pure talent.
Alborz raved about how quick the Volvo C30 T5 could wrap up our 11km twist fest but I beg to differ. I think the GTi is faster through corners and with less fuss.
The C30 T5 is a favourite of mine too, but through this bendy section, the Dynamic Stability and Traction Control was going nuts on the Volvo but aboard the GTi – it was rare for the ESP to go active.
You can literally feel those magnificent Bridgestone Potenza REO50 tyres biting into the hotmix and arming the 207 with Velcro-like traction in almost any situation, even in the wet.
It's not just how quick you can push this car from corner to corner either, it's the ride quality that impresses me equally. The suspension is firm, but at the same time compliant, over most surfaces.
There is one problem we found though. At high speed, on poor road surfaces (that's very poor), things can get a little bouncy through the body. Australian racing legend and tuning guru, Kevin Bartlett says it could be that the shocks and springs have not been tuned to those particular conditions. That certainly sounds plausible although, I'll ask for a more thorough explanation from Peugeot Australia.
Steering is electric power assisted and precise and accurate, while driver feedback allows for rapid directional changes. This car goes where you point it and it does so with supreme confidence.
Peugeot is never short on safety in its cars, but here's something you may not have heard about.
Working in concert with the Electronic Stability Control (ESP), the GTi employs some new technology called Steering Stability Program. The system applies a level of torque to the steering column, which induces opposite lock when traction is lost in certain situations and can effectively reduce stopping distances by up to 10%.
I feel I've written enough on this car but I'm just not finished liking it yet!
Within the ESP and SSP systems, the GTi is fitted with the full compliment of active safety features including; ABS, EBFD, EBA, ASR and CDS, which pre-detects any understeer or oversteer.
Airbags total six, but safety is built into the 207 platform with impact absorption padding inside the doors along with high levels of impact force distribution borrowed from the larger 407-model range.
This is one safe hot hatch.
The European New Car Assessment program (Euro NCAP) awarded the 207 GTi, five-out-of-five stars for adult occupant protection, four stars for child occupant protection and three stars for pedestrian protection.
Performance at any level usually has a trade offs. Poor fuel economy is usually number one on that list. Not so with the 207 GTi. This car is a miser by any standard. We drove this French beauty hard all week, and were gob smacked at just how frugal it was. 7.2l/100km combined cycle sounds about right.
Almost forgot about the practicality aspects of the GTi. If you live in suburbia and have 2 kids (or not) no problem. There's decent rear leg and headroom for four adults, so even more space for kids. The luggage area is deep and sufficiently large enough to accommodate several soft bags or a pile of groceries.
"If you can't drive a manual then for God's sake learn. If you don't, then you will surely miss out on what I consider to be one of best drives of 2007 and easily the most livable performance package on the market"
Note to Peugeot.
Please produce a road going version of the 207 Super 2000 and drop a few off down here in Australia. Let me know when you want the deposit!
2007 Peugeot 207 GTi Review