As disappointing as the official Pontiac SEMA entry was, this G8 has raised a few eyebrows around the place.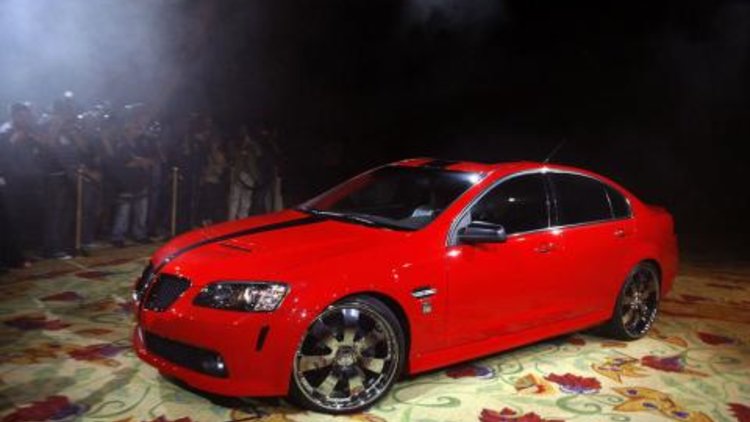 How does 373kW sound? Loud and proud. But the G8 seen here isn't an official Holden or Pontiac entry. This one belongs to rapper 50 Cent, who kindly asked New York-based tuning house, Unique Autosports, to endow the Seppo-Commo with one-of-a-kind mods.
Will Castro, owner of Unique Autosports, took delivery of a standard Pontiac G8 and then started work.
The list includes:
· An all-new Spies Hecker Torch Red exterior paint job accented with a bold Ebony graphic that mimics the shape of Pontiac's "dart" insignia; the graphic runs over the top of the car, starting at a point on the front fascia
· Twenty-two-inch chrome wheels from NC Forged that have a deep-dish, seven-spoke design
· Low-profile Pirelli Scorpion Zero tires
· Dark-tinted tail-lights
· Tinted glass with Llumar film
· Custom "50 Cent Unique Autosports Edition" exterior badging
· Borla stainless steel exhaust system
In addition, the standard donk was replaced with an affordable LSX 427ci (7.0-litre) V8, but with internals as used on Corvette Z06's 7.0L LS7 engine. Items such as a forged steel crankshaft, lightweight titanium connecting rods, racing-derived aluminum cylinder heads and a complete LS7 intake/throttle body/fuel injection system were implemented.
It was then dyno tested to reveal more than 373kW. The badge on the engine cover states proudly 550hp (415kW).
"The most interesting aspect of the project is what we didn't do to the exterior," said Will Castro. "We didn't add a body kit, spoilers or lower the car. The G8 has the right stance and appearance, so we only accented the original form with details that made it unique to 50 Cent."
"A first-class audio system was a must for 50 Cent, and this one rocks the spot," added Castro. "In fact, the G8 itself just-plain rocks and makes a great platform to build a custom, high-performance street car."
Summing up his car, Fiddy stated, "Partnering with Pontiac has given me the opportunity to create something truly unique – a customized performance vehicle I am really proud of. The G8 is like none other and it pushes the boundaries of what people think a car has to be."