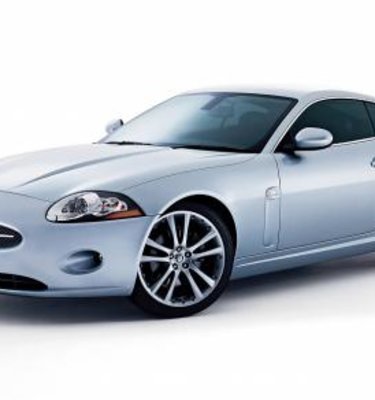 2007 Jaguar XK Coupe Review
2007 Jaguar XK Coupe Road Test
CarAdvice Rating:
Recommended Retail Price: $199,900
Options Fitted: Senta wheels - $3000.
- by Karl Peskett

It is beautiful. Yes, very beautiful to behold. Ian Callum deserves a huge pat on the back for this one. But is it the automotive equivalent of the proverbial bimbo? Very easy on the eye but with no personality and substance to back it up?
The Jaguar XK had been a long time coming. After numerous concept cars, showing us the direction that Jaguar was heading, finally pen was put to paper and the result is stunning. After the Aston Martin DB9 and V8 Vantage, this is arguably one of the world's best looking cars.
In fact, in May 2006, Ian Callum received the Jim Clark award for his work on the XK. That is the second Jim Clark award he has received - the previous was awarded for his design on the DB7 - and makes him the only twice honoured recipient of the award.
Pen and paper, clay models, computer images - all easy stuff for manufacturers. When the car is to be made in aluminium, however, challenges are plentiful. Russ Varney, Chief Programme Engineer explained that "as a team we worked from day one to ensure that the all-new XK delivered on every target set for the vehicle.
In the case of the aluminium monocoque body structure, it delivers great advantages in terms of weight and strength." It still seems heavy at 1595kg, but then it's not exactly a stripped out track-day sports car. It still has lashings of leather, a hand stitched dashboard and centre console, plush carpeting and a spare wheel (albeit a space saver). And that all adds weight.
The weight doesn't seem to affect the handling too much. The distribution is fairly even, being a 52/48 split front/rear. When turning quickly into a low to medium speed corner, the front resists the change with initial understeer, but keep your foot buried - with the DSC off, of course - and the rear pushes through to induce oversteer, which is easily contained with a quarter turn of opposite lock.
In fact, on a track this car can be a lot of fun, with drifting there for the taking. There's a bit of wheel twirling going on, but for the most part, it's predictable and controllable.
When you decide to calm down a bit and not wear out the tyres, it flows from apex to apex very smoothly. It's balanced, with the only blot being the lack of feel from the steering. Although accurate, it's too light for a sports tourer, but it does load up a bit at higher speeds. The steering wheel itself is lovely to hold, but could do with some ergonomic supports or some ribbing for you fingers to sit on, behind the wheel itself.
Interestingly, an option is to have a heated wheel. The small touch-paddles mounted onto the wheel itself, give excellent control, with near instant gear changes. It won't let you hit the rev-limiter though, but of course, Jaguar would say that is there to save the engine. Full-throttle upchanges from the ZF six-speed box are seamless, and even in daily driving the 'box responds willingly and smoothly. It's a great match to the engine, which is essentially a carryover from the last XK.
With a power output of 224kW at 6000rpm and 420Nm of torque at 4100rpm, it is a slightly peaky engine. 85 per cent of torque is available from 2000rpm to 6000rpm, but it certainly pulls a lot harder from 4000rpm all the way to the redline. And gulps down the premium unleaded doing it too. I would have expected a bit better economy from a small V8, but then, buyers of a car like this are hardly worried about fuel prices.
But it's disappointing in its acceleration. I mean, just look at it. It seems to be going a million miles an hour just standing still. Yet it still can't crack the 6 second barrier from 0-100km/h. Poor form...
The test car came with 16-way adjustable seating, which was comfortable, supportive and allowed you to find the ideal driving position. The rear seats however... well, you have to ask, who designs these things? I don't envision a mass of legless Jaguar interior designers (except on a Friday, down the pub) getting around.
A friend's 12 year old son managed to contort himself into the seat, but then couldn't fit his feet onto the floor. He had to lay across the two seats with feet on the cushion of the seat opposite (shoes off, naturally). What's worse, is that the seatbelt goes from the centre out to the side of the car, making a medieval rack seem like a back massage. Please Jaguar, just give us more boot space or luggage space behind the seats and dispense with the ridiculous "+2" designation.
For the front passengers, leg room and head room are fine. In the middle of the dash is the sat-nav and vehicle settings which is wonderfully designed with tough-screen capabilities. There's plenty of detail and a myriad of settings for the techno-geek in anyone, but it's much, much easier to work through than BMW's stupid iDrive. The satellite navigation is also one of the best I have encountered, being continually accurate, even in tight city confines.
The adaptive damping with the clever acronym CATS (Computer Active Technology Suspension) seems to work reasonably well with a nicely controlled ride, until you hit a sharp ridge or bump. It can be caught off guard by some of our local roads and then crashes slightly. Bear in mind though that the test car rode on Senta 20 inch wheels, which don't exactly make it easy to get the best ride, so maybe the standard 18s would fare better.
Tyre noise was also quite good with only a mild roar on coarse-chip bitumen, however tramlining is quite apparent. The brakes are very good, with excellent feel and the ABS holds off until absolutely necessary. Linked with the steering is also an adaptive headlight system which self levels and points around corners. So there's plenty of technology apart from the outdated engine.
Think about the pedestrian bonnet deployment system. The front bumper has sensors behind it, which in the event of an impact with a pedestrian, set off pyrotechnic charges. This lifts the rear edge of the bonnet up enough so that the unfortunate soul doesn't end up being speared by hardpoints in the engine bay. The shape of the car also acts as a wedge, meaning the impactee may be carried over the car. It's probably safe to say that I couldn't find a volunteer to try it.
The sensors are also apparently smart enough to recognise the difference between a pedestrian and a concrete bollard. Again, I didn't try that either. By including this system in the XK, Jaguar is one of the first manufacturers to meet Phase One of new European safety legislation. Of course, that means that it costs more to produce. Which brings me to the cost of the car.
A starting price of $199,900 gives the impression that you get a lot of car for the money. 4.2 Litre V8, all aluminium coupe body, touch screen Sat-Nav, leather interior, 6-speed automatic with paddle shift, rear wheel drive - it all seems like an impressive package. It sort of is, but that price tag still looms large in my mind. When you can get an Audi RS4 for $30K less, which trumps the Jag on quality, practicality, acceleration, braking, power, handling and even fuel economy, it just seems like you are paying for the badge.
And then there's the resale/depreciation woes. Plus, if you pay just a little bit more, you get the XKR, whose engine makes it all seem worthwhile. Of course, your $200K is buying you a car which is far, far superior to the old XK and the RS4 isn't quite as good looking (in traditional proportions). But is that enough? When you're out driving the XK, and you get the stares and wonderment that come from onlookers, maybe.
To illustrate: After having a hankering for some fast food, we made our way through the tight driveway of the local golden arches. Upon emerging from underneath the sheltered drive-through, three young boys riding on their BMX bikes looked on in amazement.
"Cool", "Look at that," were some of the cries. One turned to me and shouted, "What is it?"
"A Jaguar XK" was my response. They pondered that for a moment. A question was fired at me.
"Are you rich?"
Then it all made sense.
2007 Jaguar XK Coupe Review