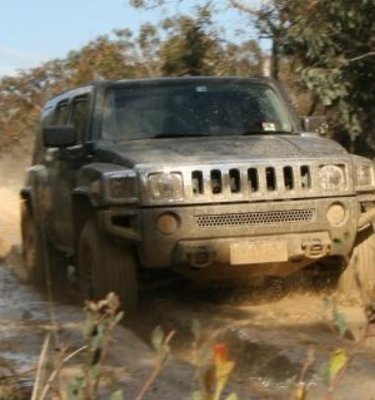 Looking for a deal on this car?
2007 HUMMER H3 Review
CarAdvice rating:
Recommended Retail Price: $51,990 - $59,990.
Options Fitted: None fitted.
- by Paul Maric - Photos: John Marx & HUMMER
Nine out of ten people pointed their fingers and turned their heads, while the remainder simply shook their heads. This is the type of reaction you can only get with one car, the all new HUMMER H3. Classed as a mid-sized SUV, the HUMMER H3 demands a presence unlike any other vehicle both on and off the road.
Climb into the cabin and a respectable interior is on display. A classy gauge cluster with digital display offers an upmarket feel, while a metallic-look fascia backs the centre cluster. Insert a CD and be prepared to test your ear's boundaries. Deep levels of bass and adequate treble make the HUMMER's sound system one of the best in the business.
Although there is a great deal of plastic used around the interior, it doesn't feel cheap or tacky. The fit and finish, along with the build quality is quite impressive for an American vehicle like the HUMMER. Visibility from the driver's seat is rather average. Reversing is a trivial task – especially when you consider the lack of reverse parking sensors as standard equipment (available as dealer fitted option). The A-pillar is also quite large, limiting visibility in traffic.
Under the bonnet, a unique 5-cylinder petrol engine headlines the HUMMER's act. At 3.7-litres in capacity, the engine produces a respectable 180kW and 328Nm of torque. Weighing in at just over 2.1-tonnes, the base H3 model tested used a respectable amount of fuel, with 14.5-litres/100km being the fuel use average for the four-speed automatic version.
At highway speeds there is noticeable wind noise and tyre noise, but the ride is impressive, with the suspension soaking up even the roughest of bumps and holes in the road. The steering is rather numb and lifeless around centre, but improves as more lock is added.
Without a doubt, the HUMMER's main calling card is its off-road ability. With high and low range 4WD modes, the H3 isn't all just looks when it comes to leaving the black-top. During testing, the HUMMER was able to traverse any terrain thrown at it, including steep hills and gravity defying slopes. The 216mm ground clearance, coupled with well endowed approach and departure angles allow the HUMMER to tackle even the toughest of terrain.
The pricing was a common point of discussion between passengers and onlookers. Not one person guessed the price – or was even within remote proximity of it. Priced from $51,990 for the manual H3 variant, the price tag undercut average guesses by some $40,000! Nobody was able to believe such a competent and sizeable vehicle could be so affordable.
Available in three models – the H3, H3 Luxury and H3 Adventure – prices start from $51,990 and finish at $59,990 for the automatic H3 Adventure.
Standard features in the base model include: Auto dimming rear vision mirror with inbuilt compass; cruise control; power windows; central locking; fog lights; alloy wheels; CD-player, electric side mirrors; full-sized spare tyre; ABS brakes and Electronic Stability Control (ESP).
Coupled with traffic splitting looks, loads of features and plenty of presence, it's hard to fault the HUMMER. When you look at the pricing, it undercuts its competitors substantially and offers second to none 4WD'ing ability. Despite what some people say, the HUMMER is also relatively efficient and environment friendly in comparison to some of the overpowered V8 sedans sold on the market. The all new HUMMER H3 serves its purpose, and serves it well.
With 22 incorporated dealers nationwide, there is absolutely no reason I wouldn't recommend checking out the HUMMER H3 if you're serious about off-roading, or just want to make an impression, it's hard to ignore the new H3.
Looking for a deal on this car?