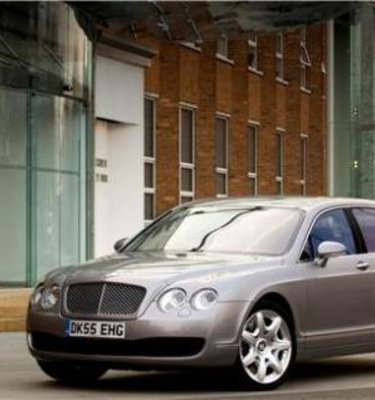 2007 Bentley Continental Flying Spur Review
Looking for a deal on this car?
2007 Bentley Continental Flying Spur Review
CarAdvice rating:
Recommended Retail Price: $358,000 (model tested)
Options fitted: Four seat model, no charge.
- by Karl Peskett
It seems that, in the automotive world, keeping grudges would not be a clever move. Damaging to prospects of unification, recalling the past politically can hinder growth that would only be of benefit in the long term.
Walter Owen Bentley, or "W.O." as he was affectionately known, used to manufacture engine components for the British Sopwith Camel - an aircraft of dubious maneuverability - used extensively in World War 1 when the British were fighting the Germans.
Some have said that W.O. would turn in his grave if he knew that it was a German company that now owned the rights to his British namesake marque. But look at what Volkswagen has achieved. Along with the re-invigoration of the Arnage, the VW Group has introduced the Continental GT, Continental Flying Spur, the Azure convertible and the new Continental GTC convertible.
Bentley has been bailed out a few times. The brothers Bentley won Le Mans in 1924, 1927, 1928, 1929, and 1930 - taking the first four places in 1929. Yet despite their apparent success, financial difficulty ensued. In 1931, just before Bentley was to close the doors, Rolls-Royce stepped in and bought the Bentley name.
After years of being built side by side at Crewe in England, Rolls-Royce gradually let Bentley slip, until most recently, Volkswagen came to the rescue in 1998. The synergy was effective, allowing British craftsmanship to combine with German engineering and reliability, producing a car that even W.O. would have been proud of.
Bentley has been very careful to stick to the formula that made the company famous - extremely powerful yet smooth engine, luxurious interior, predictable, sporty suspension, and road presence. In 1952, Bentley introduced the R-Type Continental, a two-door coupe which was followed in 1957 by the Continental Flying Spur. Echoing this, in 2002 the Continental GT was released, followed in 2005 by the Flying Spur.
The Continental Flying Spur was developed and designed in parallel with its sibling, meaning that the same traditions carried throughout. According to Bentley, the design brief was simple - No compromise. "The Continental Flying Spur is a brilliant example of how to match world-beating technologies with renowned craftsmanship," says Bentley chairman Dr Franz-Josef Paefgen.
"It is a performance car but not at the cost of comfort, and as such represents a unique proposition - a sumptuous and spacious four-door Grand Tourer with the heart and soul of a high-performance coupé."
That heart has an interesting story. First developed for the VW Phaeton, the 6 Litre W12 engine was taken apart and re-engineered to suit the Bentley image. No paltry 300 or so kilowatts was going to do the trick for the Brits. The solution? Twin-turbos, thank you very much.
The addition of forced induction promptly bumped up the power to a colossal 411kW or 552hp in the old money. Torque was lifted to a staggering 650Nm, but the most interesting part is the amount available at 1600rpm – all of it. The torque curve does not drop off for the entire rev range. Turbo lag? "Excuse me, this is a Bentley. We don't have to live with such a compromise." This is evident, too, the moment you put your foot down. No matter which gear, no matter what revs, the Flying Spur just surges forward with a huge shove in the back. Throttle position is irrelevant, as the powerband is 4500rpm wide.
Probably the most fascinating developmental phase of the motor, is the durability testing. Tests which see the W12 prove its worth, would decimate a garden variety engine. For example, to demonstrate the powertrain's ability to withstand extremes in temperature, the engine is put through prolonged thermal shock cycling.
This involves running the engine up to its peak internal temperature followed by an immediate draining of the coolant. The coolant is replaced by ice-cold fluid in order to create the quickest possible temperature difference, before the engine is re-heated up to maximum temperature again and the process repeated several times.
Another test involves abuse of a different kind. The engine is switched on and revved to 100rpm past the redline from cold and then left there, continuing to run at 6200rpm for 100 hours. Meltdown should ensue, however another test is arranged. The motor is tortured by being cycled through an advanced programme of accelerations, decelerations and steady state running at all points in the rev range for 500 hours non-stop. That's a few hours short of three weeks of continuous running, 24 hours a day. Reliability then, is not an issue.
Quality, is also not an issue. The interior is a sumptious mix of woods, leathers and metals, blended to create a cabin that can only be described as opulent. The wood veneers for instance, are real wood - unbleached Burr Walnut, with the choice of four other woods, should sir so require. It is laser cut, before being lacquered, machined and polished by hand. It is then applied to the dashboard fascia, front and rear consoles and the tops of all four doors.
The interior uses 11 hides to cover almost all surfaces - even the roof lining is of bovine extraction. The leathers are imported from Northern Europe where the insect free environment promotes higher quality skin. Sitting in the seats of the Flying Spur is like slipping into butter, such is the softness. The seats also contain both heating and cooling, the cooling accomplished by the air-conditioning system.
Uniquely, on the four-seat specification - as the car can be ordered in both four and five seat models - the rear chairs can be reclined, and on all seats a massage function can be activated, employing an addictive rolling action, up and down your back. And if you thought a Caprice had room in the back, hop into a Flying Spur. The rear seat and leg space is enormous, but then, you would expect that from a car that has a wheelbase of 3065mm.
Approximately 5 hours is taken to double-stitch the steering wheel by hand, which is accomplished by two needles simultaneously. The wheel contains controls for all functions needed, and is textured enough for grip, but soft enough for comfort. Every luxury is included, as is expected. Uniquely, the door mirrors are linked to the rear-view mirrors, and are self-dimming. This is a big plus at night, when hordes of drivers have their headlights incorrectly adjusted.
The driving position, with 16-way adjustment for the front seats, is naturally comfortable, although the dual split armrests can elevate your elbows a little too high. Housed in the centre console is the infotainment system which is complete with electronic handbook, satellite-navigation, television, 12 channel sound system, and ride height and damper settings. It's best to leave the damper control on the softest setting as it gives you the nicest ride. On a car that is designed to carry passengers in such luxury, the firmest sports setting seems a tad harsh.
However, the damping and aerodynamics come into their own when at speed. On a closed section of country road for the test drive, we wound the big Bentley up to over 200km/h. Where a HSV and FPV have felt floaty and nervous, with a distinct lightening of the front end, the Continental Flying Spur was solid, stable, confident. No skipping over bumps or twitchiness, the Flying Spur took it all in its stride. Thank the combination of underbody diffuser, integrated bootlip spoiler and air suspension which drops the ride height by 20mm at speed.
No wonder the Bentley sales manager shot me a stare of horror. He recoiled in offence when I called the Flying Spur a limo. "Ahem, Bentleys are sports cars." Whoops, sorry. But you could be forgiven, because under ownership of Rolls-Royce, the Bentleys of days past were basically just that - Rolls-Royces. Change the front end a bit, a few badges here and there and you have a Bentley. Nowadays, the brand has gone back to their heritage, with appearances at Le Mans again, and extensive involvement in driver training, with Derek Bell being the chief instructor. After all, you're driven in a Roller, in a Bentley YOU drive.
And it shows, with the Flying Spur exhibiting excellent handling, verging on understeer only a terminal speeds, and immense grip from its all wheel drive system. Steering feel for such a heavy car - 2475kg- with power assistance is commendable, with nice weighting, but it's not extremely chatty, just meaty. In fact, the dynamics for such a huge beast are excellent.
It's easy to get carried away, as the Flying Spur deceives you into thinking the car is much, much smaller. You almost feel like flinging it from corner to corner, like an SS Commodore, but a length of 5.3m will make you think again. Given room, the heavier front end makes its presence felt, but then you look at the speedo and realise that you're cornering 30-40km/h faster than anything else. Yes, Bentleys are sports cars. In the same way a sledgehammer is a can opener.
Braking is also awesome with the world's largest production front discs (405mm) clamped by whopper eight-piston callipers. Pedal feel is superb and progressive, but then with a top speed of 312km/h, it's sort of expected. As is the brilliant ESP, which stabilises the car, in a most reassuring way, especially under hard braking.
The 195 mile per hour V-max makes the Continental Flying Spur not just a fast mode of transport, but the world's fastest four door production car. An interesting fact, is that on full throttle, the six-speed ZF paddleshift automatic only changes into 6th gear at 275km/h. Something to tell your mates (fellow transportation initiators) at the pub.
There are a few details that let the Flying Spur down a little. The steering wheel, paddles behind the wheel, indicator stalks, etc all come from the VW Touareg. A familiar sight to Volkswagen owners also, is the middle instrument display screen. Even the font is the same. Further evidence of some cost cutting comes from the lack of TV screens on the headrests of the front seats - something that is standard on a $70,000 Holden Caprice. Yet on this luxurious speed blitzer that costs $360,000 plus on roads, it's not even an option.
Overall, it is a fantastic drive, with enough ability to fulfill any role. Limo or not, the quality will impress, and the effortless speed will put a smile on your dial. Money well spent? Well, it's hard to think of much better for the price. Although not a track-day car, it is more involving than the Audi A8, and Mercs S-Class. 0-100 in just over 5 seconds? Quarter mile in mid 13's? Top speed 312km/h? Roll over W.O. Roll over.
Looking for a deal on this car?
2007 Bentley Continental Flying Spur Review