In 1953 a Peugeot 203 piloted by Ken Tubman drove over 10,000km from Sydney up towards Townsville, Mount Isa, Darwin and back through Alice Springs, Adelaide and Melbourne to beat 191 other contestants and win the very first Redex Trial.
The Redex Trial become somewhat of a phenomenon, gaining enormous media coverage and setting the benchmark for vehicle performance testing in Australia for years to come. Driving 10,000 km these days isn't exactly seen as a tough challenge, but back in 1953 not only was there practically no hotels along country roads but the cars themselves were not designed to travel such long distances in short periods of time. Peugeot's victory was the start of its long and rich history in Australia.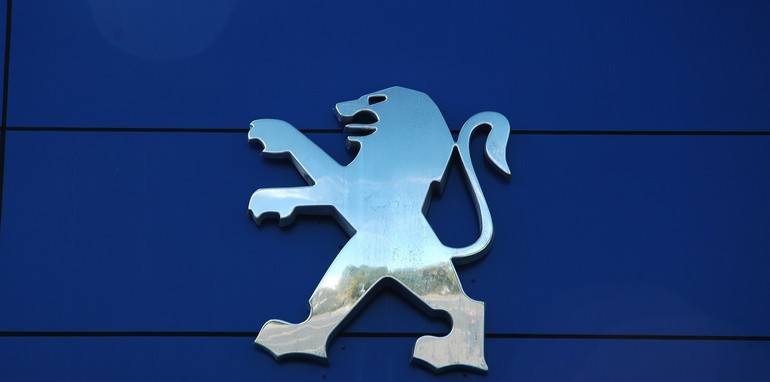 Some 57 years later, 2010 marks Peugeot's 200th anniversary. The company regards itself as the world's oldest existing motor car brand, having built its very first car in 1889. Nonetheless it had been trading in other segments since the 1700s and is one of the most recognised brands in the world today.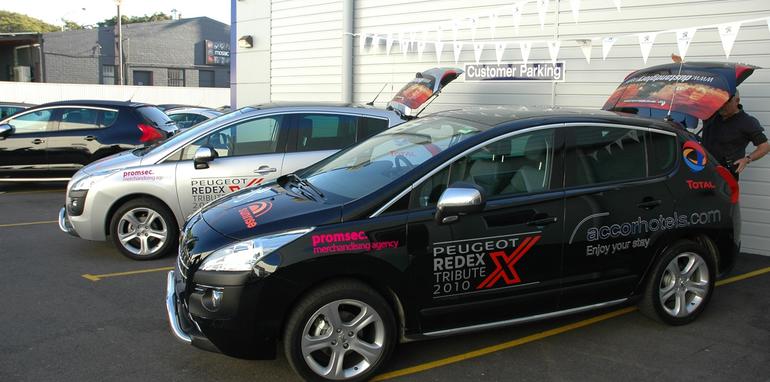 To celebrate it's rememberable achievements the French company invited a group of journalists to retrace most of the original Redex drive in the company's new Peugeot 3008. It's not often you get to drive from Brisbane to Townsville for no other reason than to simply relive an event. So then, it was time.
Day 1:
Sunday morning. 6.30 am. Location: Brisbane. Destination: Rockhampton.
Brisbane is its usual self this time of the year. A little chilly but not enough to be a nuisance. We left the Novotel hotel in the CBD and headed to a park directly across from the head office of Virgin Blue in Brisbane's northern suburb of Bowen Hills. Here we were expecting to be overwhelmed by a crowd of diehard Peugeot fans, overjoyed at seeing the new 3008 and hearing about our Redex re-run. Nonetheless as the time went by we realised it was a crowd of just one Peugeot nut. It's fair to point out Sunday mornings are not the ideal time to meet anyone.
From here we drove a few hundred metres down the road to a Peugeot dealership in Fortitude Valley. Greeted by Greg Paddles and his team, we stayed for a brief breakfast before starting our journey to Rockhampton. Before we began the cars needed to be refueled. The idea of this drive wasn't necessarily to drive economically but given there were two cars and three motoring journalists involved, the battle to use less fuel was on (how times have changed!).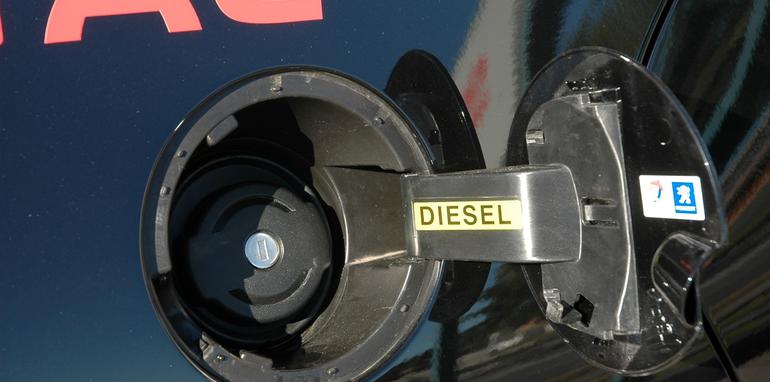 If you haven't done so already, read Anthony's Peugeot 3008 Review. The 3008 is one of those cars that has to be driven to be appreciated. From the outside it's less quirky than most of Peugeot's current models which might mean it will appeal to more buyers. However if there was any model in the company's lineup that I would've picked for a 8,500 km drive over 15 days, this would've easily been it.
Cars were checked, filled up till the first 'click' and we headed north on the Bruce highway. Our two drive vehicles made use of 1.6-litre diesel engines that produce 80 kW of power and 240 Nm of torque. Not all that much considering the 3008 isn't exactly a tiny car. Despite its figures on paper the 3008 is capable around town but can struggle to overtake at highway speeds. Nonetheless it wasn't so much the engine that stole the limelight but the (deep breath) 6-speed electronically-controlled semi-automatic gearbox with Electronic Gearbox Control (EGC).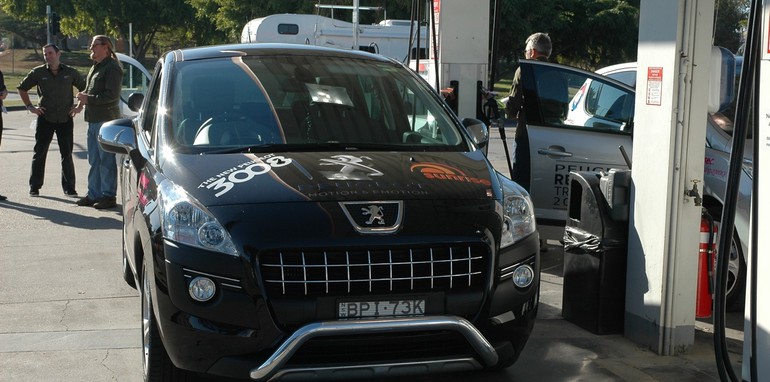 The gearbox is essentially a manual box in its design but without a clutch pedal. You can either leave it in 'automatic' whereby it will do the changing for you, or you can use the paddles to shift. Don't get this mixed with a regular automatic gearbox that has paddles, it's nothing like it. Peugeot sees it as an alternative to the traditional automatic gearbox which is still available with the bigger 2.0-litre turbo diesel 3008 or the smaller 1.6-litre petrol variant.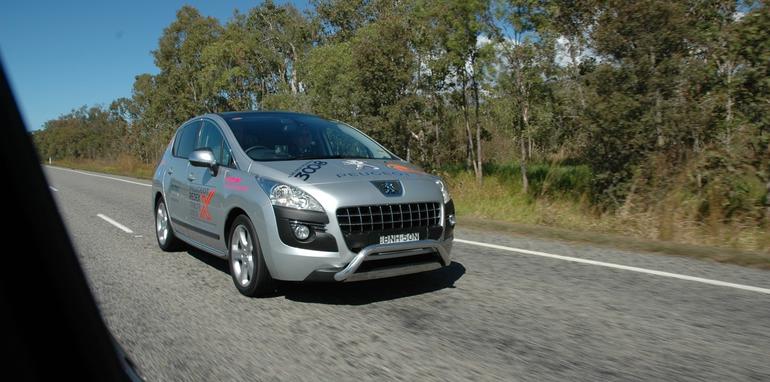 If you're looking at buying a Peugeot 3008, the pick of the lineup is the 2.0-litre diesel with the 6-speed automatic gearbox. It's smooth, powerful and changes gears in a delightful manner. The EGC on the other hand, makes the process of a gear change far more complicated than it ought to be. Given it's essentially clutching in, changing gears and re-engaging the clutch, exactly as you would in a manual, it's a somewhat cumbersome process. Personally if it was a choice between an EGC or a proper  manual in the 1.6-litre diesel, I'd just prefer to change gears myself. But enough on the gearbox, you do eventually get used it.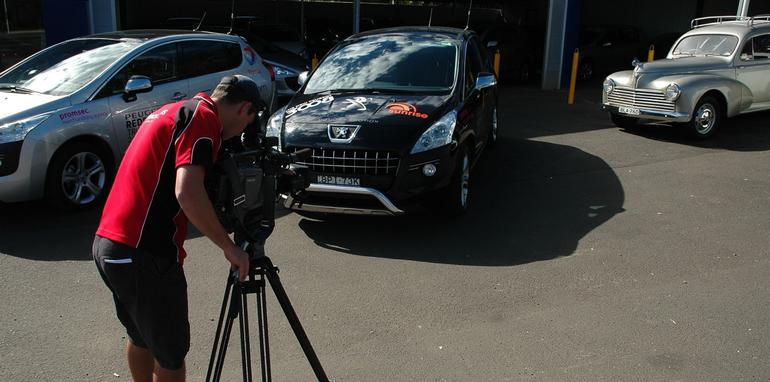 An hour and a bit out of Brisbane we suddenly came across a Channel 7 camera crew who were filming our progress into Nambour, which just happens to be home to one of the cosiest car dealerships in Australia. Gerald Cullen and his team had brought out a selection of classic Peugeots from a 404 that was drive by Peter Brock to the ever so popular 203.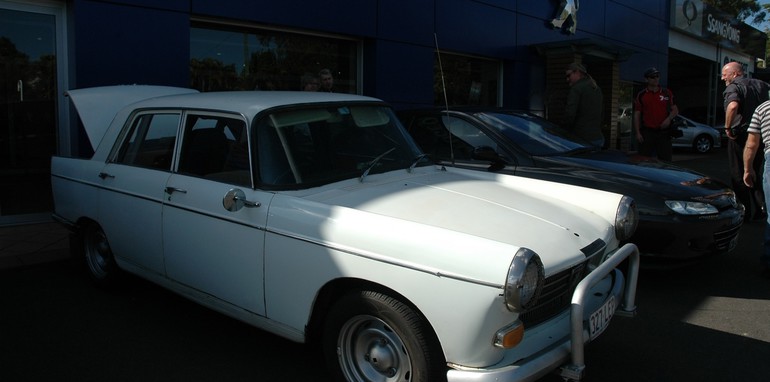 If you're like me and have little to no appreciation for classic cars, then think of it this way: if any of today's cars are still running in 50 years time, you should be truly amazed. The general consensus that they don't build them like they used to certainly seems to apply to modern cars. No doubt modern cars are significantly safer, faster and better at everything than their ancestors, but given the level of technology that resides under the bonnet and all around the cabin, the likelihood of something going majorly wrong over a few decades is plausible. Do you still use your laptop from 1999? Didn't think so.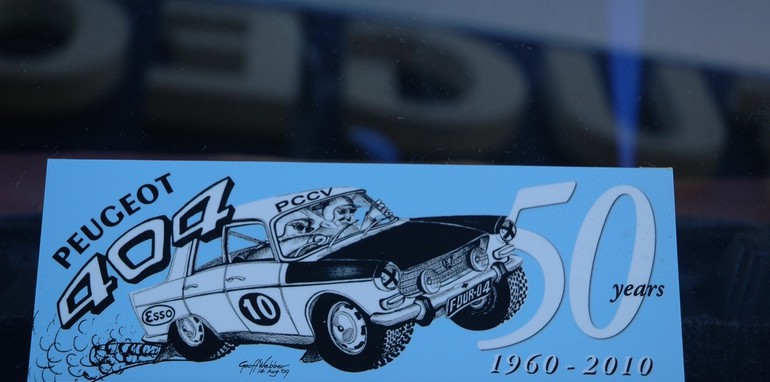 Don't think of this as a negative though, it's good that cars these days are not designed to last 50 years because technology evolves so fast that you should ideally find yourself in a new car every five or so years for the added safety and performance.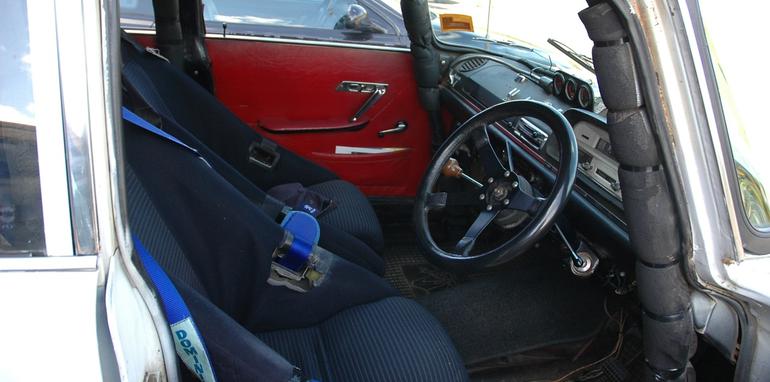 As that thought lingered in  my mind we approached Bundaberg. Now here is a town that you'd never expect to find a Peugeot dealership, but alas, a family owned business since the 50s, West Car Sales has been selling quirky French cars on and off since the 70s and by all accounts has built up a reputation for genuine and honest customer service.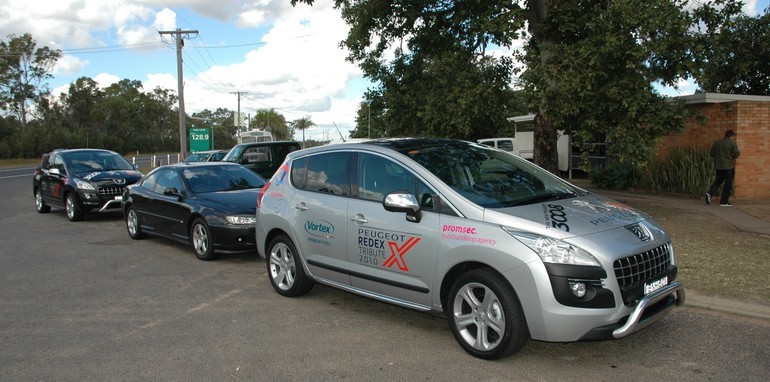 He also happened to be only Peugeot dealer with Redex memorabilia.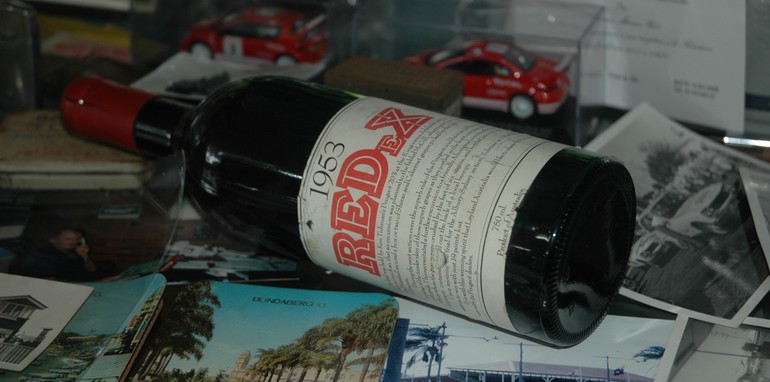 From Bundaberg to Rockhampton we cruised along at 110 km/h, nervously aware of the 'happy gun' speed cameras as the locals called them.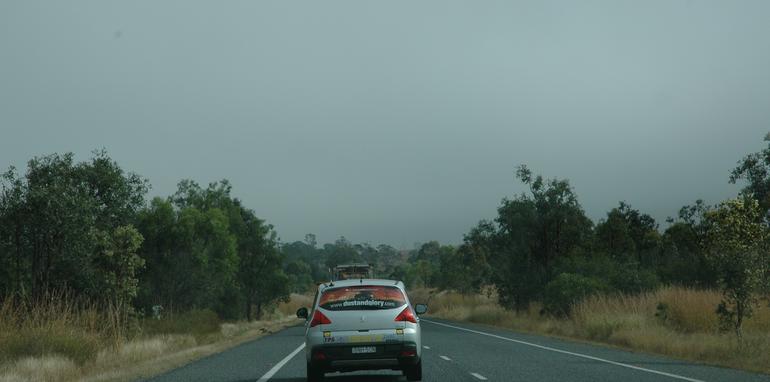 I'd been to Rocky (as they say) before and had enjoyed the town's culture and sights but this visit depicted a place that was fast asleep. Shops closing down, no locals on the streets past 8pm and only two restaurants visibly open at night. if I had a tumbleweed I'd make good use of it in Rocky. Nearly 700 km were covered and our average fuel economy for day one was around the 5L mark (according to the car's trip computer). To the 3008's credit, the 12 hour day was spent in luxury and comfort – although my co-driver may have been trying to conserve fuel, I was simply driving it as I would normally.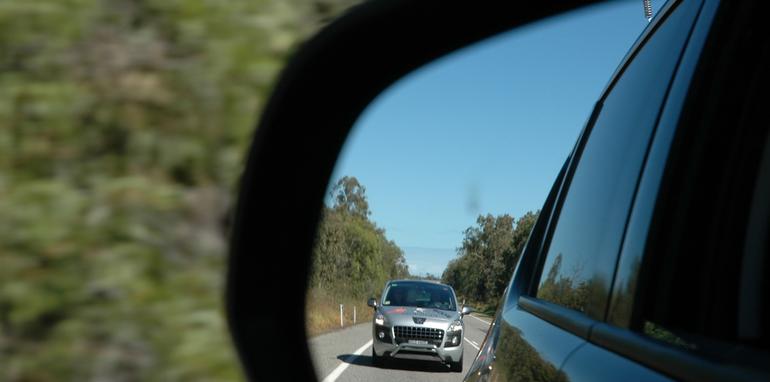 No complaints regarding the car's ability to eat up the long highway kilometres smoothly and without issue.
Day 2:
Monday morning. 6.30 am. Location: Rockhampton. Destination: Townsville.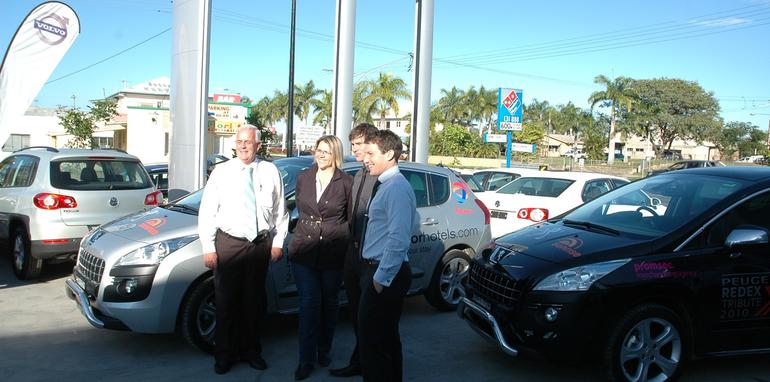 We began our day with a visit to Rockhampton Prestige Cars, a multi-franchise dealer taking care of Volkswagen, Citroen, Peugeot, Isuzu and Volvo. From here we had a solid one way ticket to Townsville stopping along the way at MacKay and Bowen. Interestingly MacKay had grown into a tropical metropolis, lively with young people and full of life an energy, a stark opposite to Rockhampton.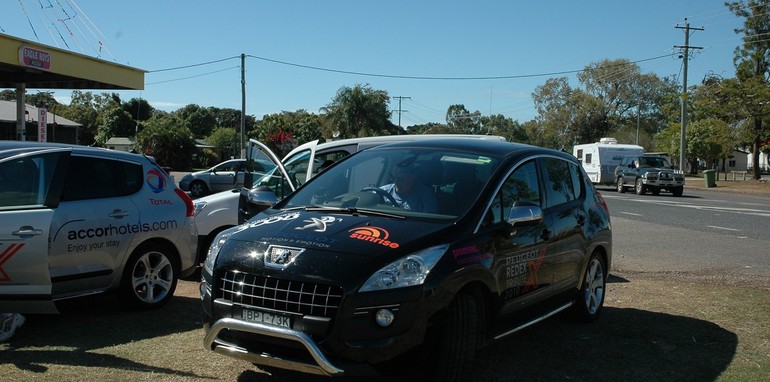 As the day went on, I slowly realised that although we had driven nearly 1,500 km, none of us were tired, agitated or 'over it'. The 3008 is going to need clever marketing to make a big impact but it will only need prospects to sit behind the wheel for a short journey to realise just how refined it really is. A silent, pleasant cabin combined with luxury seats, a perfect driving position and enough interior compartments to store pretty much anything makes it the perfect car for a small family. Just make sure you get the 2.0-litre with the 6-speed automatic.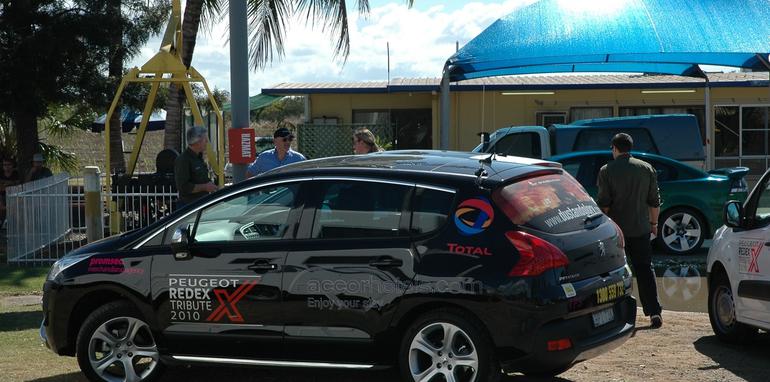 Our fuel usage for today was closer to the 5.4L/100km mark, not that we were worried. Our average speed was over 100 km/h and we managed to travel more than 700 km quite easily, so the figures were rather respectable.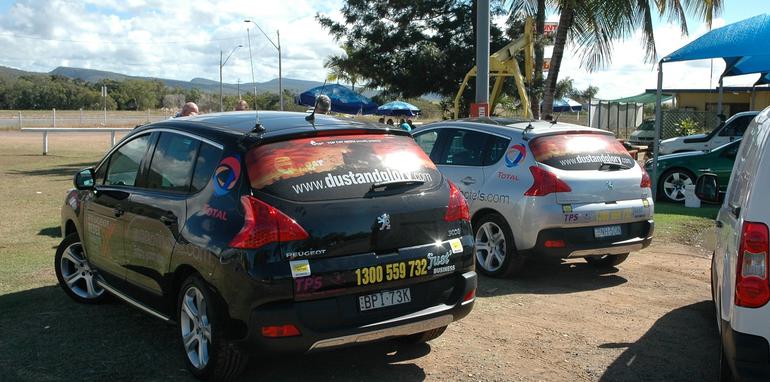 The local reception for the Redex branded Peugeots was interesting, many were curious as to what we were doing, not shy to come up and ask questions. Perhaps it's time there is another proper Redex-like durability trial in Australia? Something like the Global Green Challenge but just for reliability?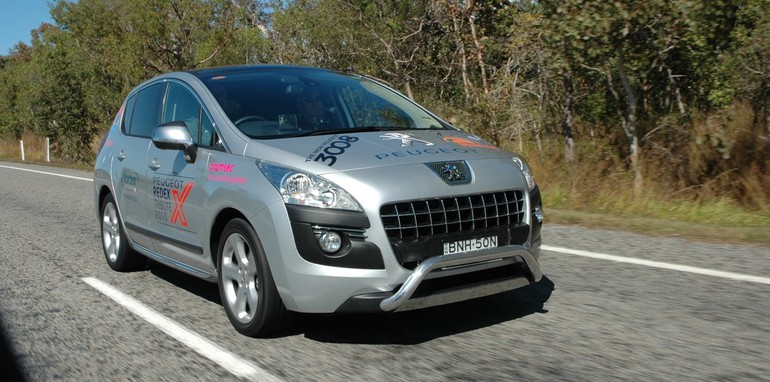 The trip was a testament to how far the automotive industry has come. Not so long ago such a long journey would've been risky and most likely cause any car mechanical problems, not so. Modern cars such as the Peugeot 3008 can travel thousands and thousands of kilometres without missing a beat.
The two Peugeot 3008s and their support car are still currently touring Australia, making their way back towards Adelaide, Melbourne and back to Sydney.  If you happen to see them drive past you, make sure you wave.