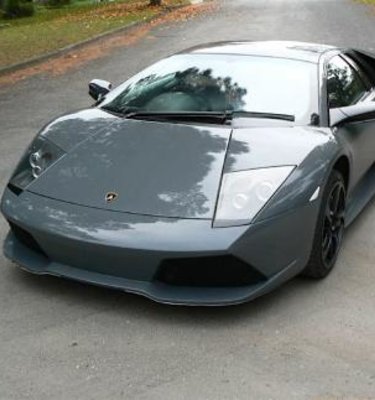 2007 Lamborghini Murcielago LP640 Review
$
136,810
–
$
162,690
Dealer
2007 Lamborghini Murcielago LP640 Review
"At over 330km/h Lamborghini's ground hugging missile, the LP640 Murcielago is faster than many light planes"
"I don't drive, I just fly low" was what I read on the license plate of a Red Chevy Corvette while at school in Los Angeles some time ago. Right slogan, wrong car!
That line should have been trademarked by Automobili Lamborghini S.p.A. years ago, and reserved for Lambo's V12 space ships.
Lamborghini (namely Countach, Diablo, Gallardo) has always been the number one poster brand in the automotive world, easily eclipsing Porsche, Ferrari and Maserati for prime real estate on the walls of teenage boy's rooms and garages of grown up men.
2007 Lamborghini Murcielago LP640 Review
I've had a personal fascination with the Lamborghini Muira for many years now, given its place in history as one of the world's most stunning supercars. This obsession led me to do some silly things in my youth. None so silly, as the purchase (with my ever willing partner the ANZ bank) of a worked BMW Alpina 5 Series that had literally been track trashed to death, all because the guy who owned it, promised me a ride in his 280km/h Miura P400S. I did the deal and got my ride of course, wouldn't you?
Lamborghini Australia was kind enough to hand us the keys to the Godfather of all reasonably priced supercars, the Lamborghini Murcielago LP640.
We would have preferred a bright orange car for the sheer pose value but what we got, Grigio Telesto (translated Telesto grey – for any non Italians), transformed the car into an alien stealth ship that probably evaded police radar, given its all up height of just 1135mm.
2007 Lamborghini Murcielago LP640 Review
Looking at the Murcielago up close, its inconceivable that the guy that who started it all, Ferruccio Lamborghini used to build tractors for a living.
For my money, the LP640 will turn more heads than any other car on the planet. It's a colossal machine and to be honest, a little bit intimidating as your eyes take in the massive 6.5 litre V12 engine and the impossibly wide tyres.
It's not just the 335/30 rubber on the rear corners though, which come to think of it, look every bit as wide as those on a current Formula One car.
This Lamborghini measures 2058 mm across, and that's 68 mm wider than a Rolls Royce Phantom! Mind blowing.
Believe it or not, the big Lambo is an entirely practical car, when it comes to speed that is. Everything about the design of this car has but one purpose in life, maximum velocity with superglue-like grip and stability.
2007 Lamborghini Murcielago LP640 Review
The outer skin would be completely smooth if not for the multiple air intakes all over the car. These are vital for cooling various key components. The side intakes are huge, particularly that on the left hand side, where it feeds cool air to the oil radiator.
When the temperature gets too hot these intakes, which are thermostatically controlled, actually open up, allowing more air into the ducts. Awesome stuff.
To hit anything near 300km/h, an engine needs to develop huge power and torque outputs. Producing 471kW at 8000rpm and 660Nm at 6000rpm, the Lamborghini V12 powertrain has what it takes.
Incidentally, the LP stands for "longitudinal posteriore" and the 640 as you might have guessed, is the horsepower output, for the benefit of those hoards of cashed up folks in the US.
Climbing into the driver's seat for the first time is another surprise. It's easy! Not what I was expecting at all. The scissor doors open with a Star Wars-like hiss and allow a wide entry into the cockpit.
We fire up the V12 monster and quickly adjust the side mirrors, which could feature in a design museum all on their own. Works of art.
I'm expecting the clutch to feel like a fully laden leg press machine at the gym but again, surprise. It's no harder than an R8 Clubsport, as I shift the gear lever into the first gear gate and off we go. I'm pretty certain that you could hit 130km/h in first, maybe more. Power delivery is not harsh though, I'm starting to think anyone could drive this car with some degree of competence.
2007 Lamborghini Murcielago LP640 Review
The race car-like suede like steering wheel is superb and I don't want to go back to a leather wheel – ever! Seriously, I don't know why cars such as the M3 or RS4 don't provide a wheel similar to this.
Highway ahead. Let's see what this thing can do. I flatten the pedal in second and get a triple shot of adrenalin as 471kW boosts me to 100km/h in about 3.4 seconds. This lambo has barely woken up.
It's difficult keeping this car on its 110km/h leash. Too damn difficult. I'm accelerating in third and shifting into the fourth gear gate, but the sensation of speed has slowed and there's little if any noise inside the cabin. It's too quiet. I think we're going preeetty quick now.
If you're lucky enough to be in Europe and need to travel at 300km/h plus, make sure it's in a Lamborghini LP640. The way this car pulls in 6th gear is staggering, the benefit of near 700Nm of lovely torque. High-speed travel in the Murcielago is effortless.
I can't say that we explored the lambo's grip and cornering talent due to a mostly rain soaked surface which would have been treacherous to say the least. Although the car employs permanent four-whee drive (VT) it's a mechanical system with no electronic intervention.
Our car was fitted with the optional ceramic carbon brakes with ABS featuring electronic brake control (DRP) and thankfully, traction control (TCS), which kicked in several times during standing starts. Again, with the rain it was impossible to experience the fade free braking from the carbon ceramics. Next time.
Ground clearance is race car quality low, but driveways and speed bumps are kept at bay via some ingenious electronics. Just tap a button on the console and up she goes. The body is raised instantaneously via the electronic air suspension system allowing safe passage.
Whist the interior offers most of the standard luxury kit – the LP640 needs more of the Audi touch inside the cabin. It's not much of a gripe but for a car costing just on $600,000, it's expected.
"Lamborghini remain the superhero of sports car design. Their cars are beyond desirable – they are must have works of art for those lucky enough to afford them".
By: Anthony Crawford
2007 Lamborghini Murcielago LP640 Review