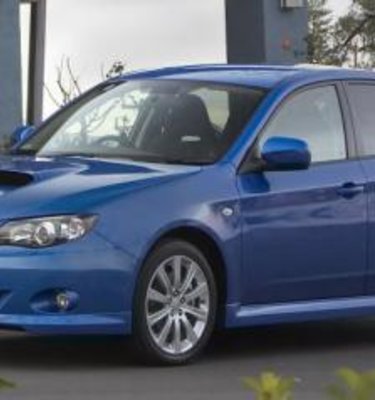 2008 Subaru Impreza WRX Reader Review
Looking for a deal on this car?
2008 Subaru Impreza WRX Reader Review
Test Model: 2008 Subaru Impreza WRX
Price: $39,990
Performance: 169kW - 320Nm - 0-100km/h in 5.8 seconds
Our reader review of the 2008 Subaru Impreza WRX comes from Mr Dan Brown, a long time Subaru and WRX enthusiast. As the former President of the WRX Club of QLD, Mr Brown is a known and respected figure in the WRX community. He has recently taken delivery of a new MY08 WRX and we caught up with him to find out what he thinks of his latest Subaru.
---
I would have to admit that I am a bit of a Subaru person. When the MY08 WRX arrived in my garage a few weeks ago, it became the fourth WRX that I have owned and the sixth Subaru (previously owned a GT and XT Forester).
My previous WRX was an MY04 and was heavily modified to a 2.5-litre engine (originally a 2.0) pushing 250kW at the wheels with over 550Nm of torque. The issue with this car was that it was too nice a car to be driving every day and impractical for the wife to drive, so it had to go.
When first pictures of the new WRX appeared on the net, I felt the same as the rest of you, the car did nothing for me, the once mighty WRX looked too conservative and it seemed nothing like Subaru's traditional shapes.
However with the new front grill for Australia, I warmed to the car a little more and decided it was worth a test drive. It is interesting to note that the front grill is one specific for Australia only. All RS and WRX models have to be painted and fitted with this grill upon arrival, thus if you are purchasing one of these, make sure you check the paint on this carefully. It may also explain why people are experiencing 1-2 week delays on cars that are in the compound!
The car I test drove was a WR blue demonstrator and I immediately warmed to the car once I saw it in the flesh. The front was a definite improvement and the whole package was much more appealing. The initial test drive left me so impressed that I came back to discuss a deal. Following some discussions I was pleased to confirm my purchase of a WR Blue MY08 WRX.
It arrived only a week later and having so far covered more than 500km, I can tell you a few things. The performance of the new WRX is very impressive. Powered by a 2.5-litre boxer engine, it produces 169kW and 320Nm. Having driven the MY06/07 models, there is definitely a lift in available torque down low and the car feels more "energetic" in any gear with improved throttle response. The gearing is slightly higher than before, but the change is welcomed.
Subaru says the new rex can scream from 0-100km/h in 5.8 seconds, which is 0.1 second faster than the MY06/07 but on par with the MY03/05.
Driving along in 5th gear the car cruises at just a fraction over 2500 RPM at 100km/h (very similar to the ratios of the old Classic GC8 WRXs). This makes for a much more pleasant highway driving experience.
The gearbox has also improved. It has a more precise shift-feel and generally seems more confident. One fault I have to mention is the fly by wire electronic throttle control. Since its introduction in the Impreza range in 2006, it hasn't done much for true enthusiasts. Infact, I believe it's a hindrance to the WRX.
There are a number of reasons that Subaru has done this, to achieve better emissions and to manipulate the performance of the car. The result for the driver is that despite what you might be requesting from your right foot, the bottom line is that the ECU will make up its own mind, thus particularly from idle, the car is not as smooth and also some inputs can be a little rough.
Bring me back a good old fashioned cable any day! The system also creates a number of issues for tuning as throttle inputs to the ECU are not linear.
There is no denying the MY08 WRX is very quiet. The exhaust design has changed significantly. Instead of the old straight through system, the new system now twists from the cat back to be perpendicular to the rear of the car. The cat at the centre of the system is huge and there is virtually no noise from idle what so ever.
The car is whisper quiet on the road and it is a pity that there is not even a hint of a rumble as there used to be in the older versions. I can see a huge demand for after market exhausts to give the car some much needed rumble and character.
What has impressed me most of all, is the handling dynamics of the new rex. The car is definitely the softest WRX yet. It rides bumps like no other rex I have owned and no longer rattles. This has, obviously, compromised handling a little with noticeable body roll.
Nonetheless, it's a good compromise between comfort and handling and perhaps shows the rex has grown up a little bit. I know some view the WRX as an enthusiasts' day to day car, but it seems with the new range, Subaru has left all the hardcore bits for the new STi and aimed the WRX for those looking for a balance of comfort and performance. Either way, I have been pleasantly impressed with the car's handling capabilities so far.
There is a very short coil spring on the front and a long thin spring setup in the rear. The result is a very neutral car, probably the most neutral WRX yet. When pushed, the car squats well on the road and holds the line commanded by the driver. Over cook it a little and there would appear to be a tendency to oversteer rather than the traditional understeer so commonly prevalent in older generations.
This oversteer will particularly occur if you were to lift off mid corner. The MY08 also comes with VDC (ESP) as standard. The "off" button is underneath the steering column on the driver's side. Like similar ESP systems, you can push it hard into a corner and the car brakes for you as well as cutting throttle input when it detects traction loss. But if you were going to go for a mountain run, you'd turn it off!
Essentially, handling is softer and easier to live with on a day to day basis, but still a fun piece of kit on a Sunday run. It will be interesting to see what impact suspension modifications will have. At the time of writing, Kings Springs has no idea when they would have a set available, but AVO are already stocked with aftermarket springs.
Moving on to the brakes, although a slight downgrade from previous model, the brakes feel confident and good enough for the everyday owner, but if you were serious about performance, you'd upgrade. It is disappointing that Subaru has gone cheap on the brakes by going back to unfinished callipers instead of the nicely painted Subaru ones we had on the previous generation.
Tyres on the new WRX also scream of bean counters having their way. They are now Yokohama Advans. They are 205/55/17 and this is 10mm narrower and 5mm higher than the previous model. Don't get me wrong, feel and comfort levels are high, but this is quite a small footprint, particularly when you consider they are the same footprint as a Mazda SP23. The direct competition, the Mazda MPS 3 uses 215x45x18!
The interior is quite different to the previous model with some subtle changes. The car definitely doesn't have the same interior class as the Liberty and continues to be a little disappointing in this regard. The seats for this model are very thin in the back and very high backed. They are comfortable, but nothing like the support of the original shape. It has been a disappointing decline over the generations.
New interior features for MY08 include gauge synchronisation on start up (i.e. gauges go to full position and back) just like the previous STis. Finally there is some permanent illumination of the instrumentation, but it is red and a little tacky, the odometer panel is very Korean and quite cheap! The stereo is a 6 stack in dash with an audio input socket in the glove compartment for iPod or other MP3 devices. This is a positive feature, but unfortunately there is no charging capacity.
There are two central cup holders which are handy and there is a non-slip surface just in front of the gear box lever. Overall I would describe the interior as comfortable and well appointed, but not overly luxurious or interesting.
There is noticeable improvement in the interior width of the car and in particular, much more leg room in the back. Finally there is a telescopic steering rack! But boot space is rather disappointing. There is very little space available and with some child restraints in place, I doubt there will be enough space left for much else.
Subaru has finally ditched the god-awful Brandt alarm system in the new WRX. Meaning there is no longer any key pad for you to punch in your PIN code. There are now three immobilisation positions including one behind the instrument panel to make it even harder for thieves to take away your baby. I am just pleased to not have to worry about the anti-hijack mode ever again!
There is a key pad mounted to the inside of the fuse box which can be used for programming. There are some pretty cool functions if you are interested.
Overall I have been very impressed with my new beast. It is quick, nimble, but also presents that balance of comfort and performance that many owners are seeking. Plus it has many pleasing feature improvements over the old model.
Being the Subaru enthusiast that I am, I have already made plans for the car, such as wheels, springs, exhaust, UNIQ, Cold Air Intake and Blow Off Valve. I am sure you will hear about that in due time.
I am pleased with my purchase and looking forward to seeing the true potential of the new car , more so, I am keen to see what Subaru has planned with the upcoming STi, but for now it's up to Tin Can Bay!
Looking for a deal on this car?
2008 Subaru Impreza WRX Reader Review