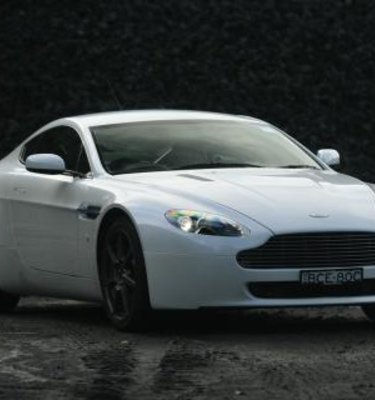 2007 Aston Martin V8 Vantage Road Test
2007 Aston Martin V8 Vantage Coupe (Sportshift) Road Test
"Nothing prepares you for the race car like howl the Vantage produces when you nudge 4000rpm. This is the car that James Bond should be driving"
Test Model: Aston Martin V8 Vantage Coupe (Sportshift)
CarAdvice Rating:
Options Fitted:
Paint – special colour: $6,950
Wheels – 19" plus Anthracite colour/finish: $4,165
Sat Nav: $4,875
Heated Front Seats: $825
Xenon (HID) headlights: $1,385
Bluetooth phone: $1,380
Cruise Control: $825
Auto-dimming rear vision mirror: $265
Memory seats: $825
Alarm upgrade (volumetric & tilt sensors) $545
Recommended Retail Price: $253,250
Price as Tested: $275,290 – Other than paint and wheels, I really do think that the rest of the so-called options have no right to be called such.
Where it sits: The V8 Vantage is the baby of the Aston Martin range. It's also the most affordable and offers a truly viable alternative to Porsche's 911. The Sportshift feature is an automated manual transmission that allows super-fast automatic shifting or manual shifting via paddles. It's been introduced into the Vantage model range to attract new buyers to the brand.
As Motoring journalists we generally get each car we test for a week. With automotive exotica such as Aston Martin and Lamborghini – you're lucky if you get the keys for a day, if at all!
When the man from Aston Martin said we could have the latest V8 Vantage with the new Sportshift transmission for a few days, we couldn't hit the eject button fast enough. Alborz flew in from Brisbane and Paul from Melbourne, armed to the teeth with camera and video gear.
Aston Martin calls the V8 Vantage "the world's most desirable sports car," that's no sales pitch, just indisputable fact. It doesn't matter what angle you care to view the Vantage from, the rear, the side or front on, the styling is drop dead, Oh My God.
Our test car was what I'd call an unusual colour, at least for an Aston. Morning Frost White with a Bitter Chocolate interior. What set the car off though, was a set of 19-inch 5-spoke Anthracite wheels. Stunning.
The V8 Vantage is a muscular car by nature, but in this colour combination – it looked as if UK based high-end tuning company, Masonry, had warmed it up.
If I won Lotto and won it big – there are several cars I'd need to purchase before the house. A Porsche Turbo or GT2, Ferrari 430 Scuderia, Audi RS4, etc, etc. But none of them have been blessed with the perfect form of an Aston Martin V8 vantage. It is truly a work of art.
If you thought scratching the car was what we were worried about, think again. Before we were handed the keys, a 20 minute rundown was required so we could exploit the gearbox to its full potential.
One thing we were told on several occasions was that it was not an automatic gearbox, in fact, we were to treat it like a conventional manual gearbox.
This meant that whenever the brake pedal was released, the car would slip the clutch to move the vehicle forward, this wasn't an issue on flat roads, but sitting on a hill, special care was taken to avoid clutch issues.
We were also presented with Hypershifting. Introduce the throttle to the floor and the car shifts gears at its full potential. Shifts occur at near 7,000RPM in less than 200ms and acceleration feels ballistic to say the very least.
After becoming acquainted with the car and its delicacies, we hit the highway to see how well behaved the V8 Vantage was. Despite sports suspension, the V8 Vantage's compliance at highway speeds was remarkable. Dips and abrasions in the road were soaked up with little fuss, while the sports seats offered constant support and comfort.
The gearbox offered a somewhat love-hate relationship when trying to drive under most conditions. During hard driving, it would shift with utter brutality and slam through gears with no relent. But, during slow speed manoeuvres – such as parallel parking and reversing – it proved to be quite a pain.
Initially it felt as though too much thought was required to drive the car, but by the end of it, we realised the importance of patience. It seemed the more we drove the Vantage, the more we understood the gearbox.
If Hypershifting isn't your cup of tea, you can switch to the manual mode – controlled via the steering wheel mounted paddle shifters – and the V8 Vantage turns into a totally different machine.
Shifts are almost instantaneous and throttle response sharp. Grab the small, race oriented steering wheel and the experience moulds into one of a true sports car nature.
Our test bed was a private road nested within a spectacular rain forest. Come into a tight bend at speed and the feedback through the steering wheel mimics that of a go-kart – direct, tight and heavy.
A tight steering ratio means that only small steering inputs are required to twist the Aston's front end, while rapid stabs of the paddle shifters command the gearbox.
Driving the Vantage evokes a whole list of emotions, fear is one of them. This car defies the laws of physics. No corner, no bend, nothing feels untameable in this. You can push all you want, but there is still more left.
Body roll is literally non-existent, no matter how hard you push the car into a corner, the body remains dead flat and composed. Traction from the 19" Bridgestone Potenza RE050A tyres is exceptional. Even under full throttle acceleration, traction is maintained.
The slotted front and rear rotors maintain braking pressure, even after torturous and constant applications. Spacing between the brake and accelerator pedals allows for left foot braking, along with enough room to rest feet during highway cruising.
One problem we encountered during driving was the position of the key and key fob. The knees of all three drivers continuously made contact during regular driving, which became a bit frustrating after some time.
On a slightly more embarrassing note, we spent no less than 10 minutes at the service station looking for the fuel cap release. Hidden away on the right hand side of the driver's foot well, the tiny button eluded us for some time until it was found.
No doubt one of the V8 Vantage's most redeeming features has to be the sound track that exits the rear pipes. At 4,000RPM the V8 Vantage alters its persona in an instant. Keep the throttle buried and the noise will simply tear ear drums.
Bystanders look on in utter amazement (and at some points, disgust) as you nail the throttle past them. This has to be one of the loudest cars on sale at the moment. It literally hurts your ears (in the best way imaginable) when the V8 Vantage tears past north of 4,000RPM.
Under the bonnet, a 4.3-litre V8 sends power through the rear treads via a 6-speed clutch-less manual transmission. The engine produces some 283kW (around 380Bhp in the old money) and 410Nm of torque. 0-100km/h is achieved in 5 seconds flat.
For so long now, the 911 has held the crown of the perfect day-to-day track car, and while this may true in many regards, the Vantage betters it with style and a sense of exclusivity.
Unlike the DB9 – the Vantage is a pure two-seater. The low slung body with its wide track, sitting on huge 275/19's Bridgestone Potenzas, looks hard-core and all business.
For a minute there I was thinking that why not four exhaust tips instead of two before I slapped some sense into myself and agreed that two is perfect!
And if we thought it couldn't get any better in the looks department, we thought wrong. Switch on the parking lights, and a single row of brilliant white LED's come alive down the side of each front headlight assembly. It looks positively alien, as the sun starts to fade into darkness.
Aston Martins can stir one's soul like maybe only a Ferrari can do. Even then, Aston has about 30 years on the Italian marque.
After two days of intensive driving and camera work with the Aston – we pulled into that famous Sydney Hamburger joint close to the Tom Ugly's Bridge to refuel. A well dressed gentleman parked his Alfa 159 and wanted to know if it was a DB9 we stepped out of – "no mate – it's a V8 Vantage," He then replied in a rather serious tone, "I'll have to get one those."
I'm sure he thought the Alfa was a great looking car, that is, until he laid eyes on the Vantage. Such is the desire for this car.
I've never considered myself odd in any way, but I found myself in the garage several times late at night, just soaking up the lines on the V8, much like those admiring artwork in a gallery. It's a damn shame it had to leave the garage though!
Inside the Vantage it's very DB9. The superb hand-trimmed sports seats (these have to rate as the world's most comfortable performance pews) are near identical to its big brother, as is much of the truly bespoke interior fit-out.
The detail in this handcrafted machine is extraordinary.
The cut glass starter button and aluminium crafted air con dials, are testament to the fact that Aston Martin has successfully married old world quality with new world design and technology. You won't find any robots on the assembly floor at Gaydon. Not a chance.
As serious a sports car as the Vantage is, there's a reasonable degree of practicality too. Thanks to the rear hatch design, a full 300-litres of luggage space behind the front seats means weekends away are more than comfortable.
MY08 cars which are about eight weeks away, will have some welcome additions to the standard fit out and include; New centre armrest with cubby box, iPod/MP3/USB direct connection into audio system and steering wheel audio controls. However, a new Bluetooth (via phone book not voice) system will again be optional on the Vantage.
The roof-mounted antenna will be replaced by a windscreen mounted radio version and the passenger seat will get height adjustment in the new car.
"Push hard enough, and the V8 Vantage can take you to places where only angels dare tread. Such is the extraordinary balance and rigidity built into the car. It's every bit as good as we had hoped for."
--
Anthony Crawford, Paul Maric and Alborz Fallah
2007 Aston Martin V8 Vantage Road Test