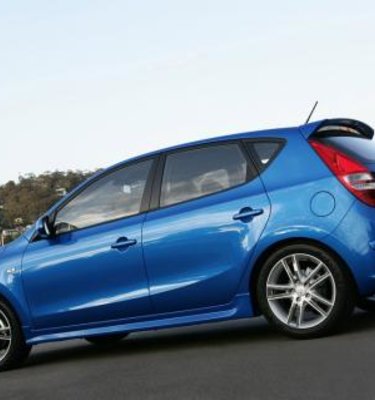 Update: Hyundai i30 Review
You could mistake the Hyundai i30 for a new Sports version of the A Class Mercedes-Benz or even a new variant of the BMW 1-Series. However, it's the newest installation from Hyundai.
If you've never thought of owning a Hyundai motor car before today, you might want to take little look see at the Hyundai i30 hatch from the award winning Korean car company. This review of the Hyundai i30 convinced us that this company is the one to watch over the years ahead.
Awards you say? Yes, stacks of them. German Auto Zeitung Magazine in it's "2006 Qualitats Report" voted Hyundai "Most Reliable Brand", The exhaustive JD Power & Associates Initial Quality Study: ranked the carmaker 3rd among all nameplates behind Porsche and Lexus and in Australia, reliability and cost of ownership have brought Hyundai a host of accolades from the likes of Wheels Magazine and NRMA.
The small car market is the toughest sector in the world to compete in with just on 37% of all cars sold slotting in to this category. Hyundai needed to produce an exceptional car to have a half a chance with products such as the recently launched Mitsubishi Lancer.
My guess is they have succeeded. I'm betting that the i30 will go straight to the top of the charts and yes that's a big call, but the combination of styling, materials, equipment, drivability and affordability, are of a level not yet seen in this category, to my knowledge at least.
There are three spec levels on offer; SX, SLX and SR powered by a 2.0 CVVT petrol unit mated to either a 5-speed manual or 4-speed auto transmission. And if you are diesel savvy, you'll be exceptionally pleased with the 1.6 CRDi powered i30 and its hill demolishing 255Nm of torque.
At this stage the CRDi is only available with a 5-speed manual box and in SX and SLX trim levels. We're told a 4-Speed auto is literally around the corner and will be available from late December/early January.
I sure would like to see an SR badge with the CRDi though or better still – a proper high performance version of both engine variants in the not too distant future.
You can't help but like the way this car looks. There's a lot more Euro styling than there is Korean in the i30, and it shows.
The well sorted Volkswagen Golf, Mazda 3 and Ford Focus are said to have served as the benchmark vehicles for the i30, but as far as I'm concerned, they threw in an A-Class and a 1 Series for good measure.
The result is one very good-looking hatch, inside and out.
It's a well thought out car inside too. For starters there's an iPod interface allowing you to plug your MP3 directly into the car's sound system. And you won't even need a USB cord. Every i30 comes with one in the centre console. Not only that. The car's audio head unit can control both volume and playlists – a huge plus and not available in many prestige cars.
The standard fit remote folding key fob looks remarkably similar to that found across the Volkswagen range and is a nice touch.
The driver and front passenger seats are particularly good, offering comfort and sports style side bolster. A massive improvement over the Elantra.
Steering is both height and reach adjustable, which in my book, is essential if you are to find the perfect driving position. The SLX and SR versions win a nice thick leather wrapped steering wheel, while the base model SX gets not so handsome plastic model which looks worse than it is to hold.
With over twenty storage compartments throughout the i30 – a family of four is well catered for, including an air-conditioned glovebox, able to chill at least two bottles or cans.
Air conditioning with Pollen filter is standard as are a host of other features such as; power windows and mirrors (heated), ABS with Electronic Brake Distribution (EBD), driver and front passenger airbags with Electronic Stability Program (ESP) and Traction Control (TCS) standard on the SR but optional on both the SX and SLX.
On the SX – you would need to go with the SX Protectz safety pack, which includes driver and front passenger side and curtain airbags. With the SLX, you would only need to option ESP with TCS, as the full compliment of airbags is standard fitment.
First off the rank was the 2.0 CCVT petrol SLX with the 4 –speed auto and running on 16-inch alloys shod with 205/55 tyres.
With 105kW peaking at 6000rpm and 186Nm of torque at 4600rpm it's not the most powerful in class and as a result, it needs to work hard from a standard start. Once moving and into third gear, it's a much more pleasant drive. The engine note adopts a relatively quiet composure but with plenty of go for highway cruising.
The car feels incredibly well planted while the steering weight is near perfect. Suspension has been tweaked by a world renowned handling and ride guru, who carried out substantial testing on Australian roads which I've been reminded, are far worse than the UK's much criticised "B" roads.
Even over bitumen starved roads there's no jarring through the car's body whatsoever. All bumps and potholes are largely eliminated with this suspension setup.
We gave the i30 a little punt through a nice twisty stretch and just to see if the guru had done his/her job. Yes, in a word. The balance between between ride and handling is spot on.
The brakes are also worth a mention. The pedal feel is confident with excellent stopping power via ventilated front discs and solids at the rear.
We were itching to get behind the wheel of the 1.6 CRDi and all good things come to those that wait.
First off – buy the diesel. Yes, there's a premium of $2500 over the equivalent petrol car but the increased driveability and low down performance of the diesel, is worth every dollar.
And if we're talking fuel consumption – it's a no contest. While the 2.0 petrol isn't bad at 7.2-l/100km, how's 4.7-l/100km sound!
• i30 SX 2.0 Petrol manual - $18,990
• i30 SX 2.0 Petrol auto – 20,990
• i30 SX CRDi man only - $21,490
• i30 SLX 2.0 Petrol man - $23,490
• i30 SLX 2.0 Petrol auto - $25,490
• i30 SLX CRDi man only - $25,990
• i30 SR 2.0 Petrol man $26,490
• i30 SR 2.0 auto - $28,490
"Hyundai is backing a winner with the i30 – and we can't wait for the CRDi Auto"