Love it or hate it, the all-new Hummer H3 has finally made its way to Australia. You might have seen a few private-import Hummer H2s going around, but starting this week GM will begin sales of the new, smaller and more civilised HUMMER H3.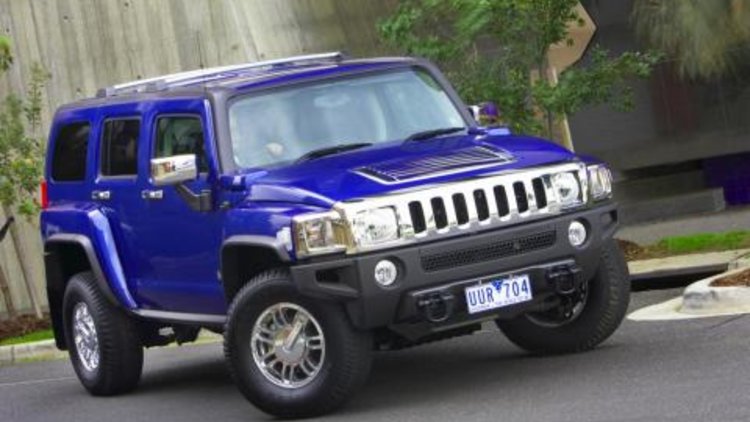 When we say, GM will begin sales, it's a bit of an understatement, the company has already taken over 400 pre-launch orders since the car's preview at the Brisbane Motor Show earlier this year.
Assembled in right-hand drive at GM's South African facility, there is no denying the Arnold Schwarzenegger of the road has an instantly recognisable on-road presence that many of its competitors have unsuccessfully tried to mimic.
Being in the frontline of countless U.S. led invasions, the Hummer brand is easily one of the best recognized worldwide. However in some parts of the world, Hummer buyers are often regarded as insecure or compensating individuals, but Director of GM Premium Brands, Parveen Batish thinks otherwise.
"Australians are clearly excited by the HUMMER brand, and we're finding our buyers are confident, independent minded and embrace the H3 for bringing a sense of fun and adventure to their lives," he said.
We have to agree with Mr Batish, like most premium brands, stereotypes are typical and expected. Many think similar things of Ferrari/Porsche owners, failing to realise the true motoring passion that most of these buyers have.
Undoubtedly some Hummer owners will be middle-aged soccer-mums hoping to force their way through traffic with their car's agressive on-road presence, but many will be long time Hummer fans finally able to buy their dream car. Besides, with ads like this, who can argue?
There are considerable differences between the military style Hummers and the city-friendly H3. GM calls the H3, the brand's economical and manoeuvrable mid-size SUV, we shall reserve judgement on that until Tony drives the car at the official launch on Wednesday, but with a 11.3 meter turning circle it betters many other mid-size SUVs.
Compared to its bigger brother the Hummer H2, the H3 is 39mm shorter in length, 171mm shorter in height and 73mm narrower. Of course GM has worked hard to ensure the car maintains its menacing and agressive road manners, which seem to sell the H3 regardless of all else.
Australia is only getting one engine choice for the entire Hummer H3 range, the Vortec 3700 engine, a 3.7 litre in-line five cylinder petrol unit with dual overhead cams and variable valve timing. On paper it seems like an interesting and somewhat underpowered choice for such an aggressive SUV.
The unit produces 180kW (5,600rpm) and 328Nm (4,600rpm) using 95RON premium fuel. Thankfully 90 per cent of peak torque will be on tap between 2,000 and 6,000rpm. Fuel consumption for combined highway and urban cycle is rated at 13.8 litres/100km for the manual and 14.5-litres/ 100km for the automatic.
There will be three variants of the H3 available in Australia,
Entry level H3 - $51,990
Ultimate off-road H3 Adventure - $57,990
Highly specified H3 Luxury - $59,990
The H3 entry level and Adventure models will be available with a choice of either a five-speed manual (standard) or four-speed automatic transmission. The automatic is a $2,000 option on these models, but comes standard on the H3 Luxury.
Safety is taken care of by dual front airbags with passenger sensing system and curtain bags, as well as StabiliTrak® stability enhancement system, traction control, ABS and dynamic rear proportioning brakes, all of which come standard on all H3 variants.
We know what you're thinking, yes it's big, agressive and demands attention, but it probably falls over the second it goes off-road. Wrong. Shock and Horror, the H3 actually has some respectable off-road capabilities.
"The H3 has proved itself in some of world's most challenging environments from Australia's Rocky Track to the famous Rubicon Trail," Mr Batish said.
The standard and Luxury H3 variants use a Borg-Warner standard transfer case with a crawl ratio of 45.1:1 in manual form, and 36.8:1 for automatic. The off-road ready H3 Adventure, however, comes standard with a super strong crawl ratio of 68.9:1 in manual transmission, and 56.2:1 in automatic.
All variants are driven via a full-time 4WD, with three different settings. Everyday driving is engaged via 4 High Open mode with 40 to 60 per cent front-to-rear torque split. Presented with slippery surfaces, 4 High Lock mode comes in handy with torque split locked at 50:50 front to rear and drive is transferred to the front or rear wheels as needed.
For those daring to take their new and shiny Hummer off-road, 4 Low Lock mode enables a set of totally different gear ratios. For H3 and H3 Luxury the transfer ratio is 2.64:1 while the H3 Adventure boasts a transfer ratio of 4.03:1, the most aggressive in any GM production vehicle.
The model lineup is below:
H3: $51,99011 (manual) $53,99011 (automatic)
Features: Cruise control, electro-chromatic rearview mirror with eight point compass, power windows, fog lights and halogen headlamps, five 16 x 7.5 inch alloy wheels, remote entry with panic alarm, single in-dash CD, cloth seats and 60/40 split rear seats.
H3 Luxury: $59,99011 (automatic)
Features: All features from entry model plus automatic transmission as standard, leather seat inserts, electric heated front seats with eight way power adjustment, leather wrapped steering wheel, exterior chrome package including door handles, roof cross bars and mirror caps, six-disc in-dash CD Monsoon sound system and glass sunroof.
H3 Adventure: $57,99011 (manual) $59,99011 (automatic)
Features: Manual transmission as standard (optional automatic), the same level of specification as the Luxury model (excluding sunroof), adding a fully locking electronic rear differential and heavy duty two-speed transfer case with a super low range ratio of 4.03:1.
There are currently 22 Hummer dealers Australia wide, so if you're interested, be quick, because by the sounds of it, there is going to be a long queue.
Check back Friday for a first-steer on the Hummer H3.
2008 Hummer H3 Specifications