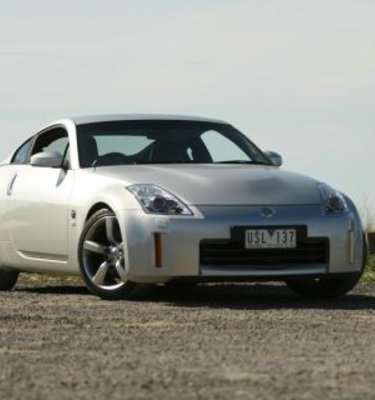 2007 Nissan 350Z Coupe Track Road Test
Looking for a deal on this car?
2007 Nissan 350Z Coupe Track Road Test
CarAdvice Rating:
Recommended Retail Price: $67,990 - 6sp Manual.
Options Fitted: None.
- by Paul Maric
Although the changes to the new 350Z are hard to spot, the main – and most important – lies under the bonnet. Power has risen by 9kW to 230kW and torque has also ventured north by 5Nm, now producing 358Nm of torque. Along with increased power output, several discreet styling changes have also been issued, one of the most visible being the bonnet bulge which is required to house the more powerful, next generation engine.
Step inside and immediately you feel encased and low to the ground – in line with how proper sports cars should feel. Don't consider the 350Z if you're often hauling kids or pets, two seats is all you get in the 350Z Track – the rear seats have their rights removed in place of a stabiliser bar. You can also forget the glove box, which has its storage relegated to cubby holes behind the driver and passenger seats.
Despite the interior's sporty feel, there is an air of cheapness to the dashboard and door trims. Plastic materials dominate the interior, making the asking price a somewhat farfetched proposition. That is of course until you turn the key.
It took a bit of poking and prodding to get the seating position right, I found that the steering wheel couldn't be pushed high enough to sufficiently clear my knees, hinting that this car isn't made for those with a high BMI...
Our test vehicle was fitted with a 6-speed manual 'box. Getting used to the Zed's brutal clutch takes a bit of work – lending to the fact this sports car isn't built for posers. Everything about the driving position, along with operation of gears and clutch is race-like. There is perfect spacing for heel-toe manoeuvres and the throttle response is rapid and thoughtful. The Track version receives 4-pot front and 2-pot rear Brembo brakes and 18" performance tyres all round.
Head to the track – or your favourite mountain stretch – and be prepared to be amazed. The heavy steering is dead accurate and offers ultimate in-corner response with a near perfect steering ratio. Turn in to a corner and the lack of body roll is stupendous. Although power is sent through the rear wheels, grip is seemingly endless. Changing direction rapidly offers pinpoint accuracy and rarely falters the driving line.
Drop the anchors before a corner and straight line composure is kept, as is the non-existence of brake fade. My only gripe lied with the all too intrusive Electronic Stability Program (ESP). It would cut a big chunk of torque being sent to the wheels and in some circumstances it would brake wheels to stop even the slightest loss of traction. The system needs to allow more foreplay before stepping in.
The 350Z range includes both Coupe and Roadster (convertible). Priced from $62,990, the Track version of the Coupe costs an additional $5,000, whilst the Roadster starts at $73,990, with the Track version a no cost option.
An array of standard features fill the 350Z, including Bi-Xenon headlights and a stellar sound system. Safety features are also common place, including ESP, ABS, dual front airbags, side impact and side curtain airbags.
Suffice to say, the 350Z is the ultimate track weapon – hands down. This thing simply does not relent when pushing through a series of intense bends. It requires sufficient man-handling to get going too – which in the case of a true sports car, I actually admire. If, like me, you never thought much of the 350Z, take one for a test drive, it will absolutely blow you away. Respect to the Zed.
Looking for a deal on this car?
2007 Nissan 350Z Coupe Track Road Test