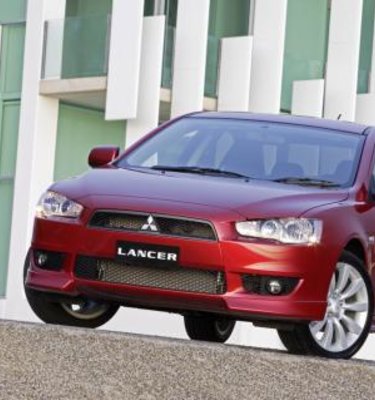 2008 Mitsubishi Lancer First Steer
2008 Mitsubishi Lancer – First Steer
"The new Lancer is the most accomplished small car I've driven in years and easily sets a new benchmark in the category"
Mitsubishi are about to release a new weapon and it's not the EVO X. I'm talking about the 2008 stock standard Lancer range. That's the ES, VR and VRX.
Style wise, it knocks everything else for six. In Red or Silver and in VRX guise, you'd be forgiven for thinking you just saw the EXO X on the road; such is the resemblance.
Price and equipment wise, it only gets better. At just $20,990, the entry- level ES model will have the rest of the small car field in damage control.
Here's why. Active Stability Control and Traction Control are standard across the entire Lancer range. And it doesn't stop there when it comes to safety equipment.
All Lancer models also come with Dual Stage driver and front passenger air bags, Driver knee airbag, side and curtain airbags (optional on the ES but standard on VR & VRX) and ABS with Electronic Brake Distribution and Brake Assist.
That's the active safety systems accounted for, at least in part, but occupant safety is literally built into the Lancer's body structure which Mitsubishi call Reinforced Impact Safety Evolution or RISE. The system not only deflects energy loads in severe side and rear crashes, but also protects the fuel system if you get hit from behind.
The list of goodies even in the base model is surely class leading, but opt for the VR and VRX at $25,290 and $28,990 respectively, and the standard kit reads like an options list for a European prestige car.
We grabbed the first manual transmission car we could get our hands on, which happened to wear an ES badge. It's a five-speed box, which slips easily through the ratios and is mated to an all-new 2.0-litre 16-valve MIVEC engine.
Power and torque outputs of 113kW and 198Nm are near identical to the larger and less green 2.4-litre MIVEC engine that it replaces.
Once warmed up on a good stretch of uncrowded country road we dropped the right pedal and held the gear ratios to a gentle 5000rpm and the Lancer was moving with some urgency as we shifted into fifth.
Most ratios are well spaced although, I felt second gear was a little long in the tooth (no pun intended). Third through fifth though, are magic, and highway cruising at peak speed limits is effortless.
Cruise control is standard, via simple steering wheel mounted buttons and was highly responsive to all inputs.
At 100km/h we were averaging between 5.0-6.0L/100kms (that's 91 octane unleaded) and engine noise was barely noticeable over insignificant wind and tyre noise. Put those extraordinary figures down to the smaller capacity powertrain.
Ride and handling are first rate with a generally smooth and compliant ride for driver and passenger even over poor road surfaces. We hit some blind dips in the road at a rapid velocity and were expecting the car to bottom out. Not a chance.
Front suspension is a MacPherson strut layout as per previous generation Lancer although, reduced weight and enhanced rigidity means all new components.
On the back – a new multi-link rear suspension ensures the sort of ride comfort you would normally expect on a more expensive and perhaps larger car.
Apart from the enhanced ride qualities – this is a much more rigid car than that which it replaces. How's this for stiff.
Torsional rigidity is up a massive 56 per cent and bending rigidity increased by 50 per cent. But here's the stat makes it all good. The new Lancer exceeds body stiffness of the current Lancer Evolution 1X and that's downright astounding.
Steering is precise although no more so than the previous Lancer which didn't need fixing in any way. However, at speed and into some nice curvy stretches, the boost could have been reduced – slightly.
The old Lancer interior was rubbish. They knew it and we knew it.
Mitsubishi have listened well though. The interior fit out on the new car is inline with more expensive Japanese cars although, some plastics are a little on the hard side.
Overall though, the cockpit is a nice place to be, with an upmarket/sporty feel with metallic/carbon-fibre look trim and switchgear.
The ergonomics are well thought out, with the exception of the handbrake lever, which is awkward to pull up. Seats all round are supportive, comfortable and well bolstered. It's a wider track and longer car than the superseded model, so there is plenty rear legroom and headroom for those up to 190cm or a little over.
For those of you who fear a manual gearbox – shame because this is a good one – all is fine. You can opt for the CVT – which stands for Continuously Variable Transmission, which is a form of auto transmission without gears if that makes any sense.
It's a clever system of pulleys and belts, which requires no conventional gear changes, just a smooth power delivery right through its ratio range. It's also a system, which generally offers better fuel economy than a standard 6-speed auto, as its always high on the torque band, so the throttle response is usually quicker. The only time that doesn't hold up is if you need to floor it from a standstill, which is a protracted affair.
In-gear acceleration is where the CVT shines. If your travelling along at a lazy 3000rpm and need to overtake a dirty great B-Double as was required on our test drive, then in less than a second, you'll see the tacho hit 5500rpm and you're gone!
Next up was the VR, which is distinguished by its 16-inch alloys and small boot lip spoiler and a host of interior upgrades, which it shares with the top spec VRX.
You pick up some upmarket features such as; Automatic climate control, Auto headlamps, rain sensing wipers and a better sounding audio unit with 6 disc changer and six speakers.
Although the 16-inch alloys on the VR feel better, into and out of the bendy bits – it's essentially the same mechanical set-up as the ES albeit slightly heavier at 1320kg up from 1295kg.
Naturally we saved the best until last. The VRX sits on some tasty ten-spoke 18-inch alloys shod with Advan 215/45 rubber. There's also an EVO style rear spoiler along with a few other subtle design highlights.
If you choose the CVT transmission you find a set of magnesium paddle shifters that look frighteningly similar to those found on a few very expensive cars we have driven.
Sport-tuned suspension and larger 16-inch brake discs front and rear round out the performance/handling bits.
You won't need to use a key with the VRX either. Just carry the key fob on your person and the car will unlock for you and then just turn the starter as if it were a key and off you go.
You'll also pick up an easy to use Bluetooth hands free phone with voice recognition and steering wheel controls, which will make life easier.
Options are a must with Mitsubishi – particularly those on offer with the VXR. The Rockford Fosgate 650 watt, 9 speaker (massive subwoofer in boot) audio unit is yours for just $750. Similarly, the sunroof option for the VR and VRX is only $1600.
No question that the VRX felt the most planted on the road and the car you would most like to own in this range budget permitting.
Brakes were more than responsive on the ES and VR but they were better on the VRX pulling up well at high speed although the drive route did not afford an opportunity to test brake fade.
"When you factor in price points, driveability, styling, features and safety spec across the Lancer range – Mitsubishi had better start recalculating their Lancer supply numbers – up"
BY Anthony Crawford
2008 Mitsubishi Lancer First Steer