The world's most successful manufacturer, has come out with an ultra-compact iQ concept. Toyota believes the iQ represents the needs of inner-city motorists looking for a compact, reliable, short and environmentally friendly vehicle.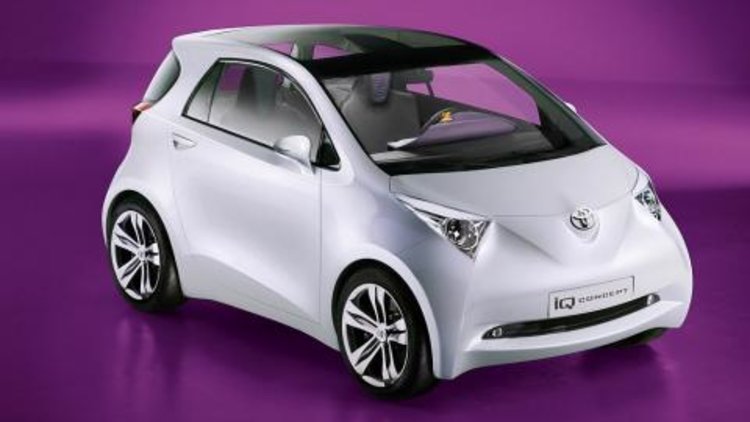 Best suited to the small streets of Europe, the iQ was developed at Toyota's advanced European design studio in the south of France. Less than three meters in length (770mm shorter than the Yaris and nearly 1M shorter than the new Mazda2), the IQ appears small from the outside, but it can seat four adults (or three adults and luggage space).
The exterior is nothing over the top, meaning there is a good chance Toyota will bring out a production model in the future, from the photos it's obvious the width of the vehicle is a great contrast with its short length.
Riding on 17-inch wheels, the iQ is far from a simple A->B car. From the inside, the mock snake-skin steering wheel trim, purple interior trim accents and purple styling themes carried over into the seats, door trims and dashboard make the iQ concept a friendly and touchable car.
Interior space is divided by a radical and intelligent 3+1 seating concept, with a dashboard that swoops away from the front passenger, this seat has been given extra freedom of movement.
With only two occupants the driver and passenger sit side by side, but when it's time for more company, the front passenger seat can be moved in a more forward position allowing more room and easier access to the rear area.
The instrument pod sits atop the main dashboard with a 3D, 3-in-1 display of speed, engine rpm and fuel status mounted above the steering column while controls for audio and navigation functions are on the steering wheel itself.
But it gets better, the car also comes with an integrated GPS system which sits within the driver's vision but is see-through when turned off! Meanwhile, a panoramic glass sun-roof ensures plenty of light and adds to the sense that passengers are not confined within a conventional compartment.