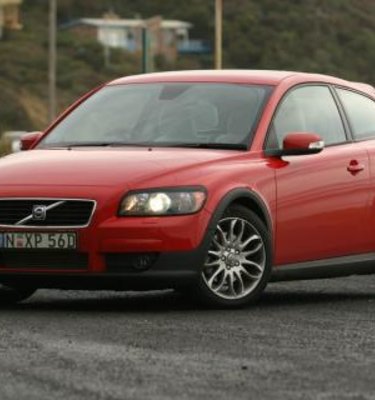 2007 Volvo C30 T5 Road Test
2007 Volvo C30 T5 Road Test
CarAdvice rating:
Recommended Retail Price: $42,450
Options Fitted: Laminated glass - $490, Premium sound - $930, 6 CD stacker - $795, Heated front seats - $315, Sports suspension - 20mm drop - $1500 and Surf-Pattern Centre Console - $476.75.
- by Paul Maric
Okay, so it's different, I'll be the first to admit that. Everything from the rear end, right through to the floral design on the floating console is unique and daring. Volvo's hope for the C30 was to break the traditional Volvo stereotype and break into a younger , more style oriented market. There was no need for a cardigan holder in the rear and banished was the family oriented design with seating for five.
Volvo's new C30 set out to make an impression and boy did it do a good job. There were remarks coming from every direction; the most common had to have been "That's pretty good for a Volvo!" So it was obvious that Volvo was successful in gaining attention, but what's this thing like to drive? I bailed up Volvo for the T5 model and hit the road to find out.
First thing's first. My vehicle was fitted with a 6-speed manual transmission. I'll go out on a limb here and say that this has to be one of the best manual transmissions available on the market. Not only can this 'box achieve fast shifts, it is also dead simple to operate and leaves the driver with confidence to row through the cogs.
The test vehicle was fitted with Sport Suspension which drops the car a further 20mm. Stick the C30 through some bends and the level of grip and composure boggles the mind. During some private track time, the C30 was able to out-corner a late model WRX, along with the big-boy from Holden's stable – the VE SS. Such was the steering precision that only minute movements were required to push the C30 through the desired line.
Under the bonnet, Ford fans will recognise the 2.5-litre, 5-cylinder turbocharged motor. Found in the XR5 Turbo, this little unit pushes out 162kW and a commendable 320Nm of torque. In gear response is remarkably accurate and rapid, laying testament to the precision engineering undertaken by Volvo.
Inside, you will only find four seats. "That's odd," I hear you say. In a way, it's actually quite intuitive. I'm sick of seeing cars that have five seats, despite the fact they could never actually seat five people in comfort. The C30 does away with the trivial shoulder rubbing antics experienced in some cars and simply has four seats that surprisingly seat four adults in absolute comfort. That's the way it should be.
Four models exist in the C30 range. Starting at $34,450, the 'S' model sits at the bottom of the range. Next up is the 'LE' model at $38,450, followed by the 'D5' at $43,950 and finally the 'T5' at $42,450. Unfortunately, stability control is a $2,190 option on all but the T5 model, a bit pricey in my opinion. With too many features to list, check out your local Volvo dealer for model specific options and features.
As with all Volvos, safety features are commonplace. Along with a five-star EuroNCAP safety rating, the entire C30 range comes fitted with driver and passenger dual-stage airbags; side impact protection system (SIPS) and an inflatable curtain (IC).
A bevy of interior designs can also be chosen to personalise your C30, along with a fully-functional iPod connector which can charge your iPod (available at year's end).
The Volvo C30 – especially in T5 form – offers a tremendous drive, along with offering substantial amounts of room and ample storage space. The C30 is also easy to park, with visibility in all directions above average. If you're a stylish individual who doesn't want just 'another' boring car, check out the Volvo C30, as it's anything but boring.
2007 Volvo C30 T5 Road Test