Mandy Turner, Mike Costello and Mike Stevens are live from Waverley Nissan for our first local outside broadcast!
In car news, a sweep of German models get a 5-star ANCAP rating, the 2019 Toyota Corolla has been confirmed for Geneva, Mazda 3 pricing and specs have been announced, and we cover the compulsory Takata recall.
Also, the Hyundai Kona EV, Lexus UX and Nissan Terra have been revealed.
Mike Costello reviews the Hyundai Nexo and Santa Fe after his recent trip to Korea.
We talk to Sarah Wray-McCann, Nissan Retail Experience Manager, about the roll-out of Nissan's new dealership platform. (See photos below!)
Our team attends Melbourne Cars and Coffee at Sandown Raceway and Mandy talks to four drivers about their rides.
Curt Dupriez compares the Volkswagen Mk7.5 Golf GTI Original and MkV Golf GTI, both in manual.
Hear a teaser of a special podcast episode next week for International Womens Day, where Mandy speaks to a group of women who work across a broad range of jobs at Holden.
Meet the podcast team! Next week, we're broadcasting from Subaru Interactive @ Docklands, so please feel free to pop by and say hi! We will be at 99 Lorimer St, Docklands VIC 3008 on Thursday 8th March from 9:30 am.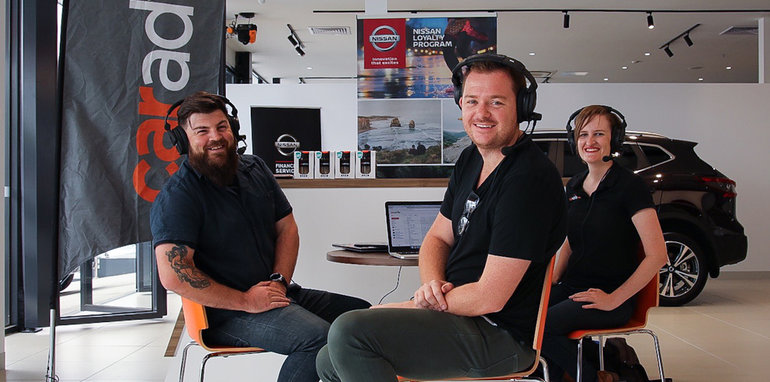 Check out the links below to listen in on this episode – and all previous episodes.
Subscribe to the CarAdvice podcast:
iTunes | Pocket Casts (Android, iOS, web) | Omny | Stitcher | TuneIn
You can also view a detailed list and description of episodes at caradvice.com/podcast, which you'll find under 'Car News' in the menu at the top of CarAdvice.com.
Catch all of our earlier podcast articles here.
Is there anything you'd like to hear about on the show? Tell us in the comments below. 
Nissan's dealership makeover
Nissan's new showroom design is called the Nissan Retail Concept, designed to "enable a flexible journey for every customer". It's the brand's first major showroom makeover since the early 2000s, and with this makeover, Nissan becomes the latest brand to introduce a more modern and comfort-focused layout to its dealerships.
"Nissan Dealerships nationally are in the process of being redeveloped to meet the varied needs of the customer," said Ian Moreillon, Nissan Australia's director of customer experience and franchise quality.
"The presentation of a Dealership can have a major influence on how a customer perceives the Nissan Brand. We are proud of our products and the re-design allows each nameplate to shine.
"The open floor plan encourages customers to take their time while browsing, feel more relaxed as they become familiar with our products, and engage with sales staff in comfortable, purpose-built surrounds."
Features of the new lounge areas include just about everything one should expect from a modern environment: free wifi, a "hospitality bar" (no booze, of course), work stations and charge points, and reclined seating.