Day Two at the IAA Motorshow in Frankfurt uncovered many more treats.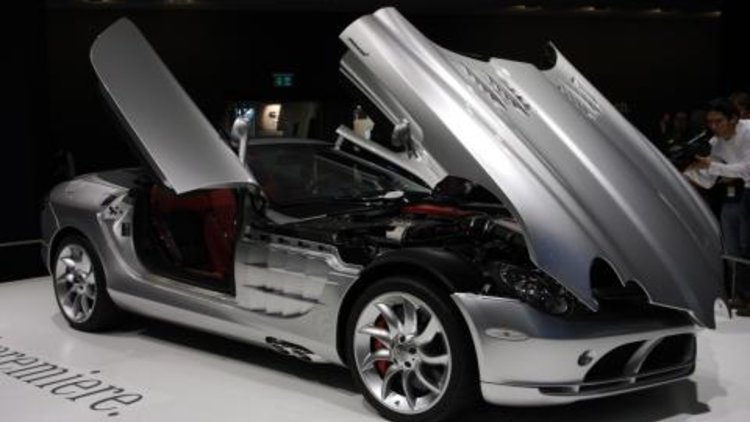 Mercedes Benz launched the SLR McLaren, C Class wagon, and F700 Concept Limousine to the world in an enormous exhibition hall dedicated to Mercedes products. Major construction was undertaken to create a huge multi-storey complex within the hall to showcase all of the products from the Mercedes Benz line up.
Radar lock was acquired on the Lamborghini Reventon whose sharp finish in matte gave it stealth fighter looks. A very limited number of these vehicles will be hand crafted by Lamborghini technicians thereby making this a very rare and sought after supercar.
Suzuki unveiled the stunning Kizashi Concept car in amongst their small car and big motorcycle lineup.
Up! Concept
Tiguan
Mazda launched its new Mazda6 and at first glance it closely resembles the previous model with subtle updates to headlight design and bump outs in the front wheel arches.
The Frankfurt Motorshow is not just about world premier launches of new vehicles. It also features many OEM suppliers and aftermarket tuners. A visit to some of the OEM suppliers provides an insight into the up and coming technologies and the companies behind each automotive brand.
Aftermarket tuners are a plenty in Germany, but not what we're used to in Australia. Instead of "doing up" sub $100K cars, these German artisans rework high end sports cars, supercars and even luxury cars to better suit the well financed customer. Some companies of note were Brabus (Merc tuners), Masonry (Aston Martin, Rolls Royce) and AC Schnitzer (BMW).
Tucked away in the back corner of the aftermarket hall was an example of the all-conquering Pagani Zonda F. Similar to the car in the CarAdvice Pagani competition, this car is about as hot and exotic you can get but the F denotes a Zonda constructed of a lot of carbon fibre. And by a lot, I mean the whole car. Check out the gallery, this thing is a work of art.
To see a full gallery listing of the Frankfurt Motor Show, click here.
Shaun Lay
CarAdvice From Frankfurt Motor Show Day 2