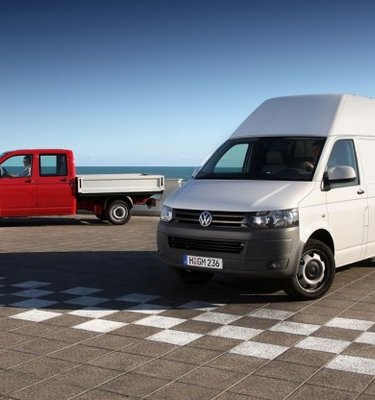 2010 Volkswagen Transporter, Multivan & Caravelle Review
Current Pricing Not Available
The rework makes a lot of sense from a cost perspective, and has helped Volkswagen pass on big savings to its customers. It's also certain to come as good news to the wallets of existing customers wanting to transfer expensive custom-made body modules from their existing Transporter to the new model with the cargo bay remaining mostly unchanged.

Among the improvements, new Transporter and People Mover models now feature: a 3.2 tonne admissible total weight; new infotainment programme; new climate control systems; antenna(s) integrated in exterior wing mirrors; gear shift indicator; new headlamps and tail-lights; new front mudguards, grille and bonnet; new fog lamps with integrated cornering light function (optional); new wet clutch seven-speed DSG transmission (optional); new-generation 4MOTION all-wheel drive (optional); regulated power steering pump; new-generation ESP; new front brakes with 17-inch alloy wheels; Hill Start Assist; new exterior mirrors; new steering wheel; new dash panel inserts; new fabrics; and new colours.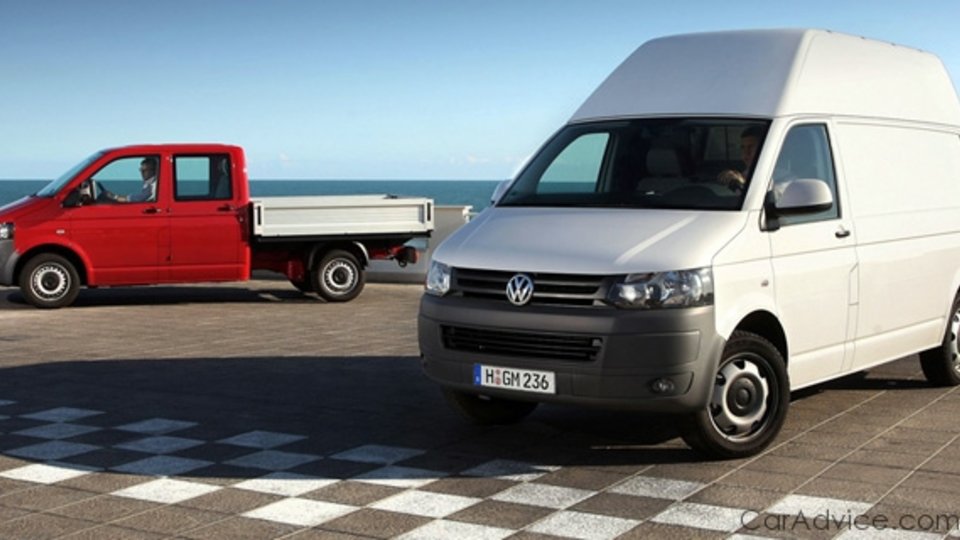 The newly revised ESP system on Transporter, Volkswagen Multivan and Volkswagen Caravelle now incorporates Hill Start Assist, Active Rollover Protection, Ready Alert Brake (prefill), Fading Brake Support, Hydraulic Brake Assist and a Brake Disc Wiper within the one program.

"The Volkswagen brand has always stood for excellent safety, but we have now made a clear statement with safety standards across the board," says Volkswagen Australia's Director of Commercial Vehicles, Mr Phil Clark.
"With the introduction of standard ESP across the entire range, every People Mover and Commercial Vehicle now represents an even more sensible safety choice. The Electronic Stabilisation Program plays a vital role in reducing accidents and therefore saving lives."
The system, among the best in the world for commercial vehicle applications, self adjusts according to load conditions and is joined by other electronic safety features including: Anti-lock Braking System (ABS); Anti-Slip Regulation (ASR); Engine drag torque control (MSR); Electronic Differential lock (EDS); seatbelt buckling warning in the instrument cluster and new front dual-piston caliper brakes (on 132kW TDI models).
Inside the revised cabin, high levels of safety continue with dual front, side head/thorax and (optional) full-length curtain airbags available. An integrated cornering/fog lamp, reversing camera (on models fitted with a top-hinged tailgate and RNS 510 satellite navigation only) and radar-based blind spot recognition system (integrated in the vehicle's wing mirrors) are also available as optional equipment.

Instead, the Volkswagen Transporter range is now offered with a choice of three 2.0-litre turbo-diesel units delivering 75kW, 103kW and 132kW outputs. Power delivery has been improved with more torque offered earlier in the rev range for greater flexibility and negligible turbo lag. Fuel economy has also seen a significant improvement, bettering the superseded model by as much as 16 per cent.
Of course fuel consumption figures will vary depending on configuration, transmission type and load carried, but to give you an idea of just how impressive the results are, Volkswagen's top-shelf 132kW TDI engine now uses just 7.8L/100km in the ADR combined-cycle test, a seven per cent improvement over the current 2.5-litre unit.

Internal cargo area on Transporter models now ranges from 5.8- to 9.3-cubic metres.

The new Volkswagen Mutlivan offers a spacious and flexible interior for up to seven passengers. The seats are removable and interchangable row-by-row meaning the three-seat bench can be moved to the second-row allowing a five-seat capacity and a larger cargo area.
Multivan is distinguished by unique headlamps and colour-coded bumpers, comes standard with the new seven-speed DSG transmission and is also available with an optional chrome pack, 17- or 18-inch alloy wheels and Volkswagen's RNS510 satellite navigation system. A long list of accessories are also available.

Driving the Caravelle, or indeed any of the new Volkswagen van range, is a no more difficult task than managing a large family wagon. Light steering aids the van's surprisingly maneuverable handling characteristics while the punchy diesel engines and strong brakes make keeping with fast-paced traffic a breeze - even when heavily loaded (some of our test vehicles were fitted with up to 560kg of ballast).

Volkswagen's new wet clutch seven-speed DSG is another impressive optional addition to the already well equipped range with the quick thinking transmission making almost imperceptible changes once on the run. The unit is certain to prove popular among commercial and passenger clientele alike with Volkswagen's General Manager of Service, Mr Phil Murray, explaining how the tough new TQ500 transmission can handle up to 600Nm of torque and almost double the amount of power currently handled.

The ride is very well settled and impressively quiet while the driver's seat is comfortable and fittingly supportive offering adjustment in all the usual directions and captain's chair-style armrests. The steering wheel is also adjustable for tilt and reach.

Volkswagen hopes the new generation of vans and people movers -- and their sharper pricing -- will see sales push well beyond the current annual figure of 2500 units, and once paired with Amarok utility models later this year, will represent the widest range of commercial vehicle offerings in the Australian market.

*Pricing is a guide as recommended to us by the manufacturer and does not include dealer delivery, on-road or statutory charges.
[gallery columns="4"]