UPDATE (10/1): Mazda Australia has officially confirmed the CX-8 will be launched Down Under, with the new three-row crossover to arrive sometime in the second half of 2018. See bottom of article for details.
---
The new 2018 Mazda CX-8 SUV, revealed in July last year as a slightly smaller and more sporty-looking alternative to the familiar CX-9, is on its way to Australia.
Mazda has yet to make an announcement and a spokesperson today could not offer confirmation – but an email newsletter, distributed late last year in support of the ZoomZoom magazine's Summer issue, declared the CX-8's Australia-bound status. A CarAdvice reader passed the newsletter along today.
Listed among news from overseas markets, the CX-8 is described as being ready for a December 2017 launch in Japan, where the CX-9 is not offered. The report is rounded out, however, with the key line: "The CX-8 will also go on sale in Australia and New Zealand."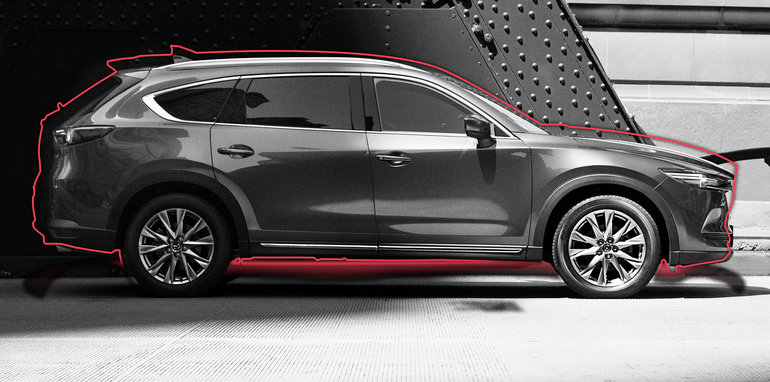 Above: The CX-8, against an outline of the CX-9, scaled as best we could with the details available
Before now, it was known only that the previously Japan-exclusive CX-8 had been confirmed in September as an option for the Australian market, should the company's local arm choose to take it.
At face value, it would seem unnecessary to offer the CX-8 in Australia when the existing CX-9 is of a similar size. But, with the CX-9 available only with a petrol engine, the CX-8 has one clear selling point: its powerplant.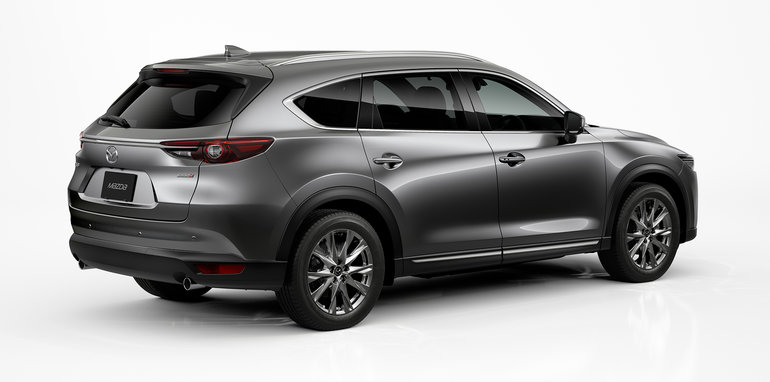 In the CX-8 is a 2.2-litre turbo diesel setup, instead of the 2.5-litre turbo petrol unit the rest of the world gets with the CX-9.
It's understood to be the same diesel available in Australia's CX-5 and Mazda 6, but with 140kW of power and 450Nm of torque instead of the 129kW and 420Nm tune offered here.
The CX-8's diesel therefore compares better with the CX-9's turbo petrol engine, which still offers more power at 170kW, but less torque at 420Nm (matching the local diesel mill).
The CX-8 might also be a compelling option for buyers looking for an option larger than the mid-sized CX-5, but not quite as big as the CX-9. That it sits lower and wears a more svelte and tapered look could also appeal.
Although the CX-8 and CX-9 ride on the same 2930mm wheelbase, the CX-8 is shorter overall: 4900mm to the CX-9's 5075mm. It is also notably narrower (1840mm to 1969mm), and not quite as tall (1730mm to 1747mm).
"It would give us a diesel seven-seat option – something that we don't currently have," Mazda Australia marketing boss Alastair Doak told CarAdvice at last year's Mazda technology forum in Frankfurt.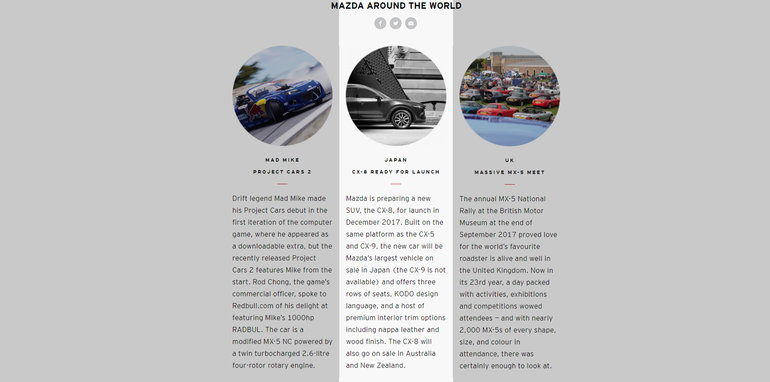 As with the newly updated 6, the CX-8 will feature Nappa leather upholstery for high-spec models, along with genuine wood highlights and – as Mazda has promised with a number of recent model updates – a quieter cabin than in previous offerings.
Australian details have not been confirmed, although Doak said in September that the CX-8 would be "more than 12 months away" from local showrooms if given the green light. Whether that timeline has changed, remains to be seen.
---
Update – Scheduled for local release in the second half of this year, the Mazda CX-8 has been officially confirmed by Mazda's local arm, with preliminary details also revealed.
The 2.2-litre twin-turbo diesel will be the standard engine – though outputs for our market are yet to be confirmed – along with the company's i-Activesense driver-assistance technologies standard across the range – presumably meaning all versions will get AEB and lane-departure warning amongst other systems.
"More and more, Australians are opting for larger SUV's to suit the demands of their busy lives; the Brand-New Mazda CX-8 Diesel is the perfect fit for those who need the versatility of seven seats and the economy that diesel affords," said Vinesh Bhindi, managing director for Mazda Australia.
---
MORE: CX-8 now under consideration for Australia
MORE: CX-8 revealed in Japan
MORE: CX-8 styling revealed
MORE: CX-9 news, reviews, comparisons and videos
MORE: Everything Mazda
Our thanks to CarAdvice reader, Abrar.