A newly facelifted 2018 Mazda 6 will debut at the Los Angeles motor show next week, where the company will also use the opportunity to debut a new turbocharged petrol flagship for the range.
The styling updates will bring the Mazda 6 further in-line with the brand's latest offerings like the new CX-9 and CX-5 SUVs, and Mazda has worked to refine the interior and exterior with new lines and more premium materials.
An example is the use of Japanese Sen Wood, often used in Japanese furniture, giving the Mazda6 a more premium feel that sits in line with the model's position in the line up.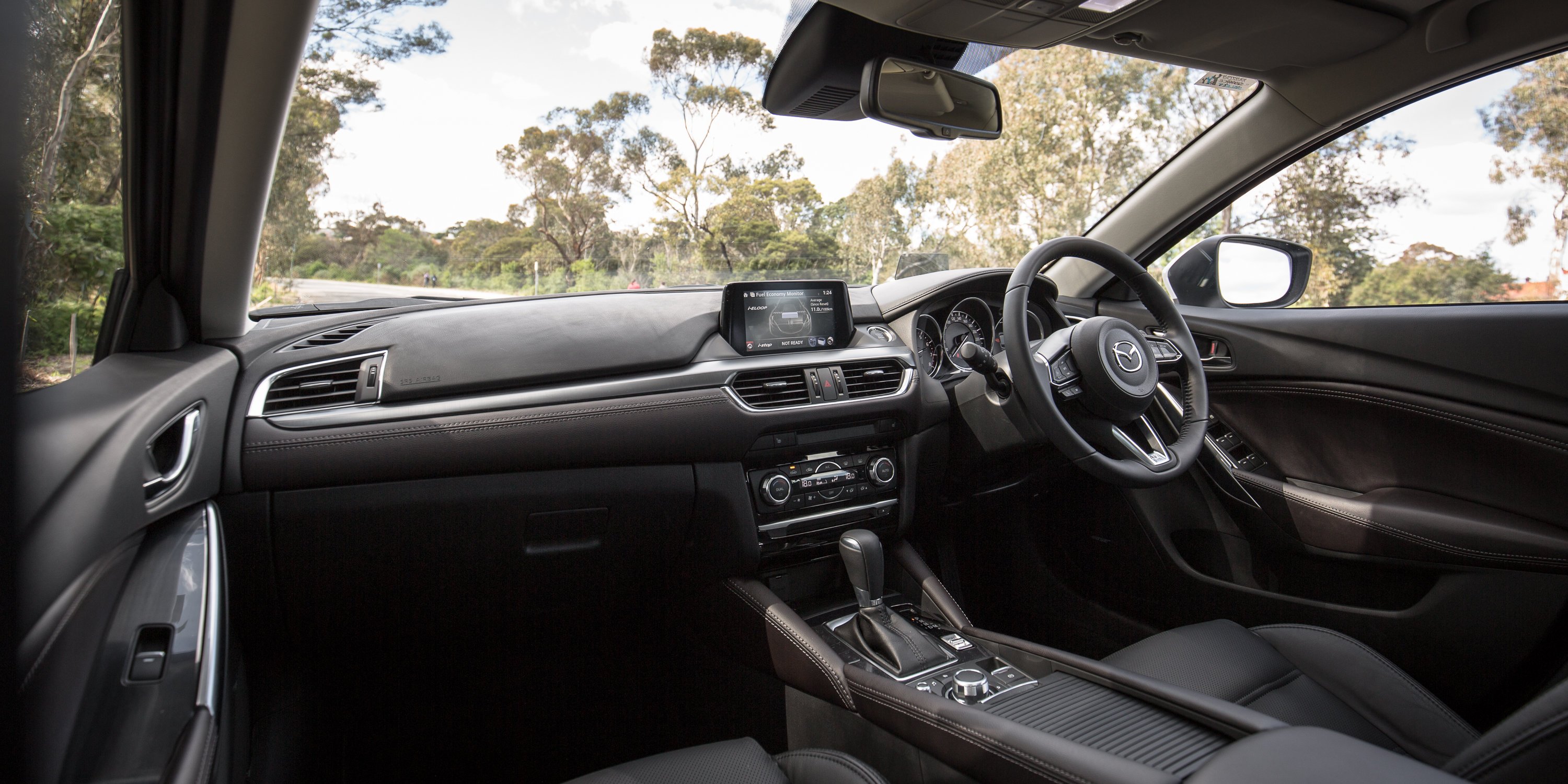 Above: current Mazda 6 dash (top), and the subtly redesigned dash (below)
Mazda will expand safety features across the entire Mazda 6 range, making Autonomous Emergency Braking (AEB) standard, in addition to the inclusion of stop/start radar cruise control, while the high grade Atenza model also picking up a 360-degree camera.
Headlining the changes for Mazda 6 are revisions to the naturally-aspirated four-cylinder petrol and the addition of a turbocharged four-cylinder petrol engine.
The Skyactiv-G 2.5-litre petrol engine picks up cylinder deactivation technology that's expected to reduce fuel consumption, while the addition of a Skyactiv-G 2.5T engine from the CX-9 will make this an appealing option for drivers after a sportier drive.
Above: current Mazda 6 face (top), and the new design (bottom)
While power and torque figures are yet to be released, we expect the directly-injected turbocharged four-cylinder petrol engine to produce 170kW of power and 420Nm of torque, mated to a six-speed automatic gearbox.
The current Mazda 6 was released in 2012 and this latest update makes it the vehicle's third revision since launch. It's expected to arrive in Australia during 2018.
Mazda will also use the 2017 Los Angeles motor show to showcase the updated CX-5, the Vision Coupe concept, the RT24-P prototype race car, along with its current line up of cars and examples of the brand's Skyactiv-G engines.
MORE: Mazda 6 news, reviews, comparisons and videos
MORE: Everything Mazda
---
Podcast
Listen to the CarAdvice team discuss the Mazda 6 turbo below, and catch more like this at caradvice.com/podcast.
2018 Mazda 6 turbo flagship confirmed for Los Angeles motor show