Everything old is new again, or so they say. And Nissan has announced it's bringing back a motorsport classic for next weekend's 'Retro Round' of the 2017 Supercars Championship.
The blue Calsonic-liveried R32 Nissan GT-R of the 1990s dominated Japanese Group A racing and quickly became an icon of the sport, and for Nissan as a whole.
With this history etched into the minds of racing enthusiasts the world over, Nissan Australia has revealed that the world-famous livery will make a return to racing at the 161-lap Sandown 500, in the form of the #23 Nismo Nissan Altima Supercar of Michael Caruso (pictured below) and Dean Fiore.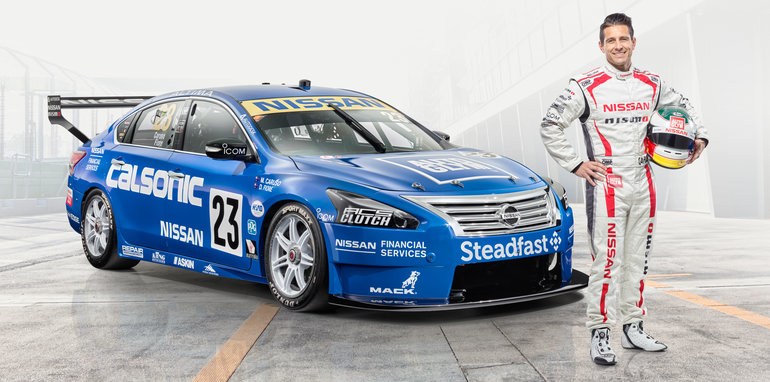 Dominating the Japanese Touring Car Championship (JTCC) with an unheard of 29 victories from 29 starts, the famed Calsonic R32 Nissan GT-R – the original of which still resides at the Nissan Heritage Museum in Japan – also claimed four championship titles between 1990 and 1993.
Achieving similar success in Australia, the R32 Nissan GT-R – unsurprisingly dubbed 'Godzilla' – took out the country's biggest race, the Bathurst 1000, twice, in both 1991 and 1992, as well as the Australian Touring Car Championship thrice, between 1990 and 1992.
Marking the 48th time Melbourne's Sandown Raceway has hosted an Australian Touring Car or Supercars event (the most of any Australian venue), the Wilson Security Sandown 500 gets underway September 15-17.
Click on the Photos tab above for more images.
Tell us what you think
What's your favourite racing livery? And what is the best racing livery of all time? Let us know in the comments below.
MORE: Altima Supercar gets 25yr anniversary livery for Bathurst
MORE: Altima news, reviews, comparisons and videos
MORE: Everything Supercars
MORE: Everything Nissan