Currently in Frankfurt for the Motor Show (which starts in a few hours), CarAdvice's agent, Shaun Lay, managed to get himself out to the ring.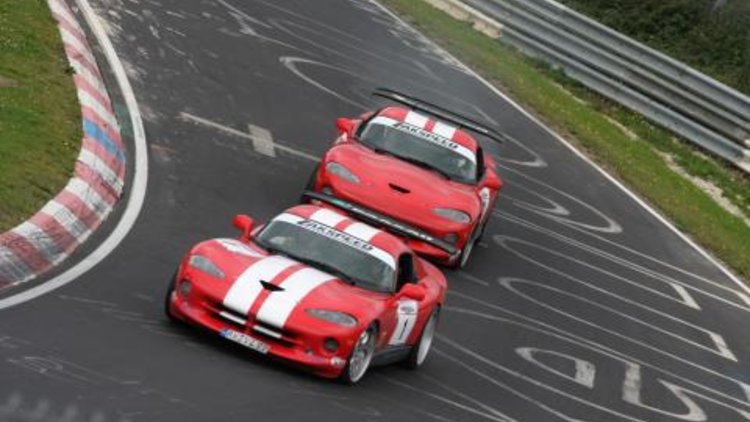 The Nürburgring is the duck's nuts of open to public race tracks in the world. The Ring, as it more affectionately known among enthusiasts, is located in Germany about 53 minutes south of Bonn and 1 hour 50 minutes west of Frankfurt.
It was originally built back in the day for Adolf Hitler and has about 20.8 km of relatively narrow, challenging but fantastically constructed bitumen. For the official spiel on the track click here.
A map of the track does it no justice. Sure you see all the sweeping bends, tight hairpins and long S curves but nothing prepares you for the change in elevation, crazy cambers, and technical nature of this circuit. It is a must for any enthusiast to get around this track at least once in their life.
If you're planning on making a visit take note of the schedule on the website for track usage and the below points.Although the Ring is a public road, insurance companies generally don't cover you for driving your vehicle on the ring. This pretty much rules out a hire car, and if you do crash and hit a barrier, you're responsible for the repair costs to the barrier plus the tow truck and any enquiries with the local police.
You'll be driving in Germany so if you're in a slow car or have faster traffic behind you, keep right. On your first lap, take your time and use it as recon to become familiar with the technical nature of the course. This is not a go kart circuit by any means.
An effective means to signal your intentions is to use your indicators often to alert those behind of your intentions. This is important if you intend to move on/off the racing line. Follow these simple rules of thumb and avoid the risk of annoying other drivers and an accident. Repair bills for fast 911s are never cheap.
Another popular option is to book a Ring Taxi ticket. Get driven around the Ring in a M5 by a pro. Get online early as tickets sell out well in advance. Expect to pay around 180 € for a taxi – up to 3 passengers. This website is in German but email them and you'll get a reply in English.
For those who want to watch rather than drive or ride shotgun down the track, there are many spectator points along the 21 km of circuit. These corners are easily accessible by normal roads. Just stand, watch and listen to some of the cars fly around the track. Weekends are busy – enthusiasts from all of Europe and UK make the trip to put their machines to the test.
Those who enjoy riding their mountain bikes are rewarded with scenic trails offering further views along the entire Ring.Weapons of choice were Porsches, BMW M3s, Lotus Exiges, Audi RS4s and S4s. This tells you a fair bit of the demographic that buys each brand.
That said, there is also those devoted Japanese car owners. Impressive to see Honda S2000, Honda Civic/Integra Type R, Subaru WRX, Lancer Evo, Mazda MX-5 benchmarking themselves against their European brothers and putting up a good fight.
Of course, the most important question, did we lap the ring? Of course.
After gawking at all the hot cars sitting in the carpark and flying around the track, we decided it was time to do a lap in a friend's Volvo V40 (don't ask). €19 bought us one lap of the famed track.
Although it took us 15 minutes, we thought it was great value for money. The faster cars do it in around 10 minutes so we got an extra 5 minutes of fun!
It was quite surreal going around the track and getting blown away by Porsches, M3s, RS4s, kit cars and motorbikes. Never mind the funny stares from the spectators on the start line.
Under full acceleration in the V40, it felt like we were standing still when the 911s flew past us. The best thing is that most of the drivers are just like you and me (albeit with fatter wallets) that love driving hard in their own cars.
The Nürburgring - A Beginners' Guide