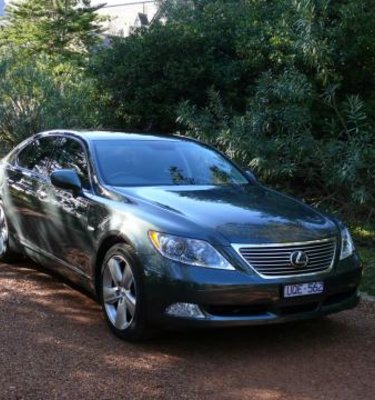 2007 Lexus LS460 Road Test
2007 Lexus LS460 Road Test
"Lexus's brand statement has always been "The Pursuit of Perfection". With the LS460 they have already arrived"
Test Model: 2007 Lexus LS460
Car Advice Rating:
Options Fitted: "No Options Available" – you won't see these words in any of the equivalent sized German car brochures. The LS460 spec we get here in Australia is fully stacked with what are mostly options in markets such as the United States.
Recommended Retail Price: $184,874
Note: The widely reported Intelligent Park Assist feature (the car parks itself) – will be available in all LS460's bound for the Australian market, built from August 2007. The retail price of the car however, will increase slightly to $186,200.
Lexus also build a long wheelbase version called the LS460 L and a super Hybrid with an LS600h badge.
The LS460 L gains an extra 121.9mm of length although, we can't be sure when Lexus Australia will add this car to the LS line up, and what price it might be.
We especially hope that the LS600h makes it to our shores, given its 5.0-litre V8 powerplant, mated to a high output electric motor. With all of 327kW glued to the tarmac, via its all wheel drive set up; this should be something very special. We're not certain on the price, but expect a little north or south of $250,000 and probably still a bargain.
I raved about the GS450h in a previous review, and I'm about to do it again with the latest and fourth generation Lexus flagship, the LS460. It personifies the term "State of The Art" at least in the automotive world.
The biggest downside with Lexus was the overtly bland styling of the cars, despite the overwhelming economic benefits of ownership when compared with German or English luxury car brands.
While I can't deny the luxury equivalents from Audi and Mercedes Benz (I can't include the current BMW 7-series – still too much Bangle) are beautifully styled cars, the Lexus LS460 with its evolutionary L-Finesse design cues and features such as integrated exhaust outlets, represents a huge gain in that department too. It's a way more slippery shape compared with the LS430 it replaces.
Lexus has always stood for top end luxury motoring, but it was mostly about more for less, when matched against the more expensive offerings from Germany.
With the introduction of the LS460, it's still about more for less, but the big Lexus is now on the front row of the grid.
The LS460 represents literally billions of development dollars in the pursuit of the world's best car. At $189,400 it may seem like a lot of money to some but be assured, it's as good a bargain as you will ever get in the automotive world.
Lexus has been collecting awards right from its debut in 1989. And not just any awards, mostly those rated by consumers and owners of these cars.
In 2004 and 2005, the US brand Consumer reports (since 1936) named the LS430 as the "Best Car We Ever Tested". The LS430 was also the most reliable luxury sedan in the mighty J.D. Power's and Associates Initial Quality Survey in every year of production. Moreover, in 2006, the LS430 blitzed the J.D Power's Vehicle Dependability Survey with no little or NO problems after three years of ownership!
And you'll like the audacity of this statement by Jim Press, former (just been head hunted by Chrysler) President of Toyota Motor Sales USA who said in a press conference last year that "a five-year-old Lexus LS is more problem free than a brand new car from either of the leading German competitors" A big call I know, but probably more true than false.
Try finding a good deal on a second hand Lexus – there aren't any. Most Lexus owners have been through years of high-cost, high-maintenance ownership with other makes and generally hold on to their cars until new Lexus models arrive.
The LS460 is already a winner with the world's motoring press, picking up the 2007 Car of the Year, Luxury Car of the Year and World Car of the Year in New York this year. Just to make sure there was no bias with the voting, the panel included 44 automotive journalists from 22 countries.
The LS460 began with a clean sheet of paper. This is an entirely new car from Lexus. New platform, body, engine and interior – its all leading edge stuff.
For a not so large V8 engine, this Lexus is quick. It's faster than the 6.75- litre V12 powered Rolls Royce Phantom from 0-100kph and probably just as quiet or I dare say, quieter.
The superbly engineered 4.6 litre V8 is good for 280kW at 6400rpm and a very useable 493Nm at 4100rpm, making for a rapid launch. 0-100 sprints will take 5.7 seconds flat, and top speed is limited to 250km/h. It's just that it doesn't feel that quick. Let me explain.
When I first collected the car from Lexus Australia, I hit the starter button and gently touched the accelerator and immediately thought they had given me the wrong car.
So quiet was the engine at crawl speed, I was convinced that they had given me the keys (not in the literal sense as there are no keys – just a smart card you leave in your wallet) to the LS600h (hybrid).
So sure of this, I put the car into park, got out and checked the badging, only to see that I was in fact in the correct car, the V8 powered LS460. Astonishing, no noise, no vibration, nothing!
My reference to Rolls Royce earlier was not so left of field as you might expect. Reading through the press kit for the LS460 is what I can only imagine Rolls Royce would like to read about their own cars. No disrespect intended.
Such is the level of build quality and craftsmanship with each and every component and system on board this car, that I can only assume that the LS460 was built with complete disregard for things such as, project budgets.
For instance, each engine is assembled in a dedicated and sanitised room under the watchful eye of a master craftsman (Takumi) who personally fires up every unit on a test bench. Then, armed with a stethoscope, he can detect even the slightest variations in engine note under light load conditions. You would need a stethoscope or similar, just to hear this engine under normal conditions at idle!
And then there's the paint shop. I'm also fairly certain that the robotic paint system for this car could be programmed to produce a perfect replica of the Mona Lisa, if programmed to do so.
There is no chance of even the slightest variation in paint colour or hue on any LS460. Temperature, humidity and paint jet volume are monitored down to the micron. Once the foundation coats are completed, the car is water polished and then hand polished prior to the clear coat process.
I could write a paper about each and every build process and system for the LS460 but that might get boring, so I'll move on.
That's not to say that the LS460 is completely devoid of character. When you have reason to plant the right pedal, she moves all right, with a distinct but silky growl. Accelerator response is instant and power is more than adequate.
You've got to remember that the LS460 was in Japanese showrooms in September 2006 and October in the US, with what is the world's first eight-speed automatic gearbox. Does it work? You bet. There's oodles of torque across the entire rev range and gear changes are almost imperceptible at low to medium speeds.
The big Lexus weighs in at 1945kg and that's clearly not class leading, despite extensive use of weight saving materials. But, for a large sedan with an encyclopaedic inventory of automotive luxury, coupled with sports car performance, 11.1 litres/100kms on a combined cycle is groundbreaking stuff.
It's probably fair to say that most LS460 owners won't be attending track days or even the occasional high-speed punt through a twisty mountain pass. But just in case they do, the Lexus won't mind a bit.
Selecting Sport mode on the centre console will substantially alter the settings on the Adaptive Variable air Suspension, allowing drivers to get the power down with minimal body roll and pitch into high speed corners.
On the other hand, going with comfort mode, offers an infinitely compliant ride for all aboard over some of Sydney's most atrocious roads.
Front suspension is a complex system of upper and lower double joints, while the rear is a five-arm multi link set up made from forged aluminium to reduce weight and strengthen rigidity. The overall effect is increased driver feedback at the wheel.
Steering is quick and well weighted, thanks to a sophisticated speed-sensitive Electric Power Steering working in concert with Variable Gear Ratio Steering.
The LS460 is a large car - 5029mm says so. Though it doesn't drive large. More like driving a medium sized car. Car parks and tight city streets are especially easy with its 10 parking sensors and rear view camera whenever you select reverse. This system actually shows you guide lines as to where to steer the car when reversing.
Brakes provide phenomenal stopping power for a car of these dimensions. I suppose I shouldn't be surprised, but there's good and there's damn good, and these are of the later variety.
One look behind the five spoke alloys reveals all. Four-pot aluminium calipers front and rear, provided fade free stopping after some intensive bend-to-bend blasting over a 50kms stretch.
There's a neat trick called "Brake Hold" which when activated, means that when you come to a stop in traffic for instance, there's no need to hold your foot on the brake, Brake Hold does it for you. When you need to move off, just hit the accelerator and away you go!
There are just too many electronic and mechanical highlights to mention in this review so we'll ask Lexus if they will allow us to post the Press kit as a PDF file for those interested.
That said – there are a couple of standard entertainment features in the LS460, which are, reason enough to buy this car.
If you're into music – then be prepared to be transported into the Frank Gehry designed Walt Disney Concert Hall in Los Angeles, said to be one of the most acoustically accurate halls in the world. Such is quietness and acoustics inside this car.
Listening to the 19 speaker Mark Levinson system belting out "nessun dorma" by the late great Lucianno Pavarotti is soul seducing. LA Audio File rated this system as the benchmark of factory mobile audio sound systems and for good reason. You can dial up the volume to dangerous levels and the sound will hold up without distortion.
If you're interested, the 19 speakers are arranged as such:
Six titanium cone speakers across the dash
A woofer in each front door
Three speakers in each rear door
Four satellite speakers in the rear roof pillars
A woofer in the rear parcel shelf
There's still not that many digital cinemas around today, usually two or three in each multiplex. The audio/visual experience is sensational but, I sincerely doubt whether it beats sitting in the rear of the LS460 and watching an action movie such as "The Bourne Ultimatum" (got it from Singapore).
The fully electronic roof mounted LCD screen is huge. It's 23cm and by far the largest I have ever seen in a car or SUV. The viewing experience, enhanced by the fifteen-channel 450-watt amplifier and 19 speakers, is better than any movie house or private screening you have ever been to. I kid you not!
Oh, and don't worry if you or the kids don't quite slam the doors shut properly on the LS460, they are self closing. If any of the front or rear doors have been left ajar, electric motors will pull the doors shut within 0.3 seconds without any sound whatsoever.
The boot is also electric and can be opened from inside the car or remote fob, but you need to hit a button on the boot lid to close it. It may seem over the top, but when dropping kids off to school etc, its hugely practical.
I've got to be a little careful what I say here with regards gender, but for all those folks who find parallel parking difficult, then the feature "Intelligent Park Assist" is your guardian angel. Just pull up as you normally would, hit a few buttons on the touch screen, then put the car into reverse. The car will then park itself, while all you have to do is regulate the speed with the brake pedal and stop the car when the manoeuvre is completed. Some might find it easer to just park the car manually!
It's obvious that safety in the LS460 has equal billing to that of luxury and entertainment.
High impact energy absorbing capability is built into the body shell of the car, along with a huge number of other structural crash resistant platforms far too complex and numerous to list.
There are 10 airbags, including twin-chamber SRS for both driver and front passenger. Driver and front passenger knee airbags, front and rear side airbags and full-length side curtain airbags. I doubt very much whether you could squeeze any more bags into this car.
And that's only the half of it. Active safety systems on board the Lexus flagship reads like a Wikipedia Glossary of automotive safety terms and its all controlled by the Vehicle Dynamics integrated Management (VDiM): Electronically Controlled Braking (ECB), Anti-Lock Brakes (ABS), Electronic Brakeforce Distribution (EBD), Traction Control (TRC) and Vehicle Stability Control (VSC) to name just a few.
"The LS460 may well be the best car in the world in its class. It's also some $70,000 less than one of its closest rivals"
By Anthony Crawford
2007 Lexus LS460 Road Test