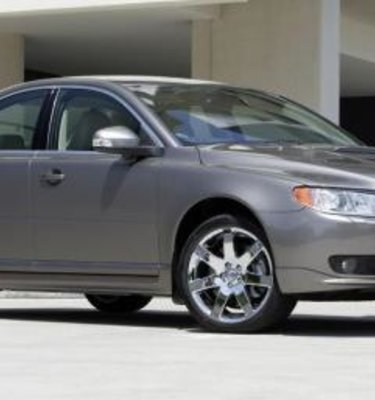 2007 Volvo S80 V8 Road Test
2007 Volvo S80 V8 Road Test
CarAdvice rating:
Recommended Retail Price: $95,950 (plus ORC)
Options available:
Sunroof - $2150 - why not!
Active Cruise Control, $2950 - worth it
Clean Zone Interior Package, $250 - worth it
Metallic Paint, $1350 - needs to be standard
Volvo SatNav, $3590 - a little expensive.
BLIS, $1200 - worth it
- by Alborz Fallah

Picking up the Volvo S80, I couldn't help but to feel as though I was going to have a boring and slow week, sure Volvo had booked me into the top of the range 4.4-litre V8 All-Wheel-Drive variant, but still, it's a Volvo, how much fun can it be?
You'd think I'd learn after falling in love with the C30 T5, that Volvos are not all destined for 20km/h-below-the-speed-limit-highway-merges or random and unpredictable lane changes, but no, a small part of me still felt a little embarrassed by the thought of driving around in a Volvo.
Thankfully, that small part was quickly put to death by the sound of the Yamaha built V8 and Volvo's latest weapon in the fight against soccer mums, bling wheels.
Honestly, there are no words that can capture the feeling of driving a V8 S80, but imagine this, cream leather seats with a beautifully crafted interior that give everything you could ask for, coupled to Volvo's relentless quest for the latest in-car technology and occupant safety... attached to a jet engine.
It's hard to imagine that a big Volvo sedan can accelerate so hard that it can leave you with neck pain, but the S80 does just that.
In my entire week with the S80, I only turned on the stereo once to test the sound system, why? Because the sound of the V8 is truly mesmerising, with 232kW and 440Nm, it sounds more like an Aston Martin V8 Vantage than an HSV R8, but best of all, it goes like a rocket.
Volvo claims the V8 S80 goes from 0-100km/h in 6.5 seconds, but unlike other manufacturers, Volvo seems to understate its figures, testing revealed 0-100km/h in just 6.2 seconds, and those 6.2 seconds of acceleration, are pure bliss.
The S80 offers three different settings:
COMFORT – sedate, comfortable ride quality
SPORT – controlled body movements, faster steering response
ADVANCED – firm damper control, maximum road holding
There is no denying that Volvo has struck gold with the V8 S80, not only is it powered by an engine that you can listen to for hours on end, but it's mated to an All-Wheel-Drive setup, ensuring phenomenal handling. It should come at no surprise that the S80 was crowned New Zealand's Car Of The Year.
I headed up my usual mountain road to put the S80 through its work out. As per usual, the winding roads were full of AWD turbos and bikes, and having seen the Volvo badge, many were quick to overtake me (safely), anticipating my slow climb up the mountain.
Of course they were too busy making Volvo jokes to see the small AWD V8 badges, but it only took a few minutes before they realised this Volvo was not on its way to pick up the kids.
The way the S80 drives, you'd almost think Volvo had started by designing a race car and then decided to fill it with luxuries. The AWD system is a work of art, even your grandmother will look like the Stig in this car, just point the car in the right direction and the gadgets will do the rest.
Braking is taken care of by ventilated 336x28mm single-piston discs for the front and solid 302x12mm discs for the rear. The S80 is mated to a six-speed auto, while Dynamic Stability & Traction Control takes care of any unexpected surprises. Fuel economy is 11.9L/100km for a combined city/highway cycle.
The S80 is enhanced by every bit of safety technology imaginable. There are too many to list, so I'll name a few interesting ones.
My favourite is Volvo's Personal Car Communicator (PCC). Instead of your usual remote central locking, the S80 comes with a slightly larger remote control that can do a whole variety of truly amazing things.
Firstly, like most European cars, the key (if you want to call it that, there isn't actually a key so to speak) simply needs to be near the car and you can unlock the doors by simply pulling the handles and start the car by pressing the start button.
Walk away a few meters and if you're unsure about the car, just have a look at the key, the LEDs will tell you if it's locked or not.
But wait, there is more, a whole lot more, you can press a button on the remote control and the S80 will switch on all of it's exterior and interior lights.
If you're paranoid, you can find out from a distance of up to 100 meters whether or not the car is locked, unlocked, broken into, and best of all, using an internal heartbeat sensor, you can find out if someone is hiding in your car! (The PCC will flash red). James Bond technology in a Volvo!
The S80 also comes with Volvo's Intelligent Driver Information System (IDIS). IDIS works by monitoring the level of throttle, braking, steering and even indicators and wipers to determine whether or not the driver is hard at work concentrating on the job, if inputs pass a certain threshold, the system limits all incoming phone calls and SMSs to limit distractions. Needless to say, I missed a few calls going up the mountain.
Then there is Volvo's $2,950 optional Adaptive Cruise Control (ACC), which uses a radar sensor to help the driver maintain the distance to the vehicle in front. For example, on a long trip you can program the S80 to keep 10 meters away from the car in front and you can pretty much forget about touching the brake and accelerator pedals. Extremely useful.
Let's not forget BLIS ($1,200 option), Volvo's award winning blind-spot checking system that uses tiny camera's in the car's side mirrors to warn of a vehicle in the driver's blind spot. A feature that should be mandatory on all cars.
Saving the best till last, Volvo's collision warning with brake support will not only warn you of an imminent crash, but it will also brake for you incase you don't act fast enough. This system did provide a few dramas with quick overtakes as the car was positive it was about to have an accident, while all I was trying to do was get past the person infront.
As with most Volvos, if safety is a concern, the S80 has all the bases covered with standard features such as:
ABS anti-locking brakes with EBD, EBA
Driver and passenger dual-stage front airbags
Inflatable Curtain (IC) front, rear seats
Side Impact Protection System (SIPS)
SIPS airbags, front seats, protect head and chest
Front safety belts, automatic height adjustment and belt tensioner
Three-point pyrotechnic pretensioner seatbelts, head restraints (all seats)
Whiplash Protection System (WHIPS)
Dynamic Stability Traction Control (DSTC) w/yaw sensor w/yaw sensor
From the inside, the S80 comes with IAQS (Interior Air Quality System) which Volvo claims reduces the amount of particles, pollen, gases and certain unpleasant odours in the air that enters the passenger compartment.
For an extra $250 you can opt out for the Clean Zone Interior Package (CZIP), an advanced system that automatically ventilates the passenger compartment for about a minute once the car is unlocked.
Safety and air quality systems aside, you really have to admire what Volvo has achieved with the interior of the S80, from exquisite leather seats to a practical and useful layout of all the controls, plus an absolutely superb 12-speaker stereo system, you have to force yourself to find a fault.
Standard features include Active bi-xenon headlights, dual zone electronic climate control, power adjustable driver and passanger seats, heated front seats, retracting side mirrors, rain sensing wipers and 18-inch "Venator" alloys (but optioning out the bling chrome wheels is a must).
Comparing the interior to a German car, I actually managed to turn on the stereo, program the cruise control and activate a variety of the car's gadgets without consulting the manual.
Throughout the car there are lashings of superb brushed aluminium and wood inlays, which along with some very fluid lines, lift this car to a position well and truly alongside more expensive offerings.
In fact, my only issue with the S80 was the six-speed automatic transmission, leave it in D and it goes like a rocket, but push the gear stick to the left for some manual shifting and the party is spoiled. Once instructed, it takes nearly a second for the car to change gears and you really feel as though you can do it faster manually!
The S80 range starts at $71,950 for the 2.4-litre diesel and goes all the way to $95,950 for the 4.4-litre V8 (model tested).
Comparing it to its German rivals (BMW 5 Series and Mercedes-Benz E-Class), the S80 is an unbeatable package offering not only high levels of comfort and safety, but also remarkable amounts of power as well as good looks and excellent driving dynamics.
2007 Volvo S80 V8 Road Test