BMW's latest installment in its iconic M Division is one step closer today with pricing officially announced for its eagerly anticipated BMW M3.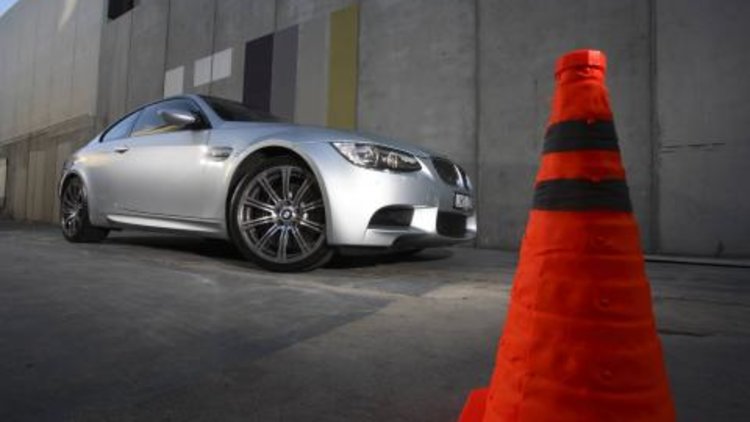 This new M3 will go on sale on October 11 - immediately after its debut at the Australian International Motor Show - will be the first-ever to sport a roaring V8 instead of the usual straight-six.
Developing 309kW at 8,300rpm, the new high-revving V8 engine features eight individually controlled throttle butterflies, normally found on race cars and each weighing just 22 grams, for faster response and additional performance, as well as variable double-VANOS camshaft control.
The insane 8,400rpm redline is in super car territory, only 100rpm shy of the ferocious V8 belonging to the Ferrari F430. Weighing 15 kilograms less than the six-cylinder engine in the former model, the 4.0-litre V8 continues the BMW M tradition of high-revving engines and lightweight engineering.
With some 85 per cent of the engine's peak torque available throughout the enormous speed range of 6,500rpm, the new M3 accelerates from zero to 100km/h in just 4.8 seconds through a six-speed manual gearbox interacting with a brand new final drive. Being a BMW, naturally power is sent to the rear wheels.
The highly dynamic driving experience of the new BMW M3 is the result of 50/50 front-rear weight distribution, partly thanks to its carbon fibre-roof (the first production car in its segment to feature one), serving to reduce the weight of the car by 5kg and lowering its centre of gravity.
In case it matters, average fuel consumption for the high-performance BMW M3 is a respectable 12.4 litres per 100km - if you want to save the world, leave the Prius at home and ride a bike.
Ensuring that power is used and not wasted, especially during fast cornering, the new BMW M3 benefits from the class leading Variable M Differential Lock, providing up to 100 per cent locking action.
Due to the increased demand for air by the naturally aspirated V8 engine, the intake air plenum is located under the power dome and receives air from behind the kidney grille, front air dam and left side of the bonnet. At maximum speed, the V8 engine requires around 17 cubic metres of air per minute.
Highlights of new standard equipment, compared to the previous model, includes the new V8 engine, Novillo leather upholstery, Electronic Damper Control (EDC), MDrive, Adaptive Headlights, High-beam assist, Voice recognition, Comfort Access system for keyless entry and starting with Start/Stop button, front as well as rear Park Distance Control (PDC), BMW Assist, sunroof (available at no additional cost), heated front seats, Brake Force Display, as well as metallic paintwork.
Pricing and options
M3 Coupé six-speed manual: $157,000
Electric sunroof – glass: No Cost Option
Electric rear roller blind: $550
BMW Individual High End audio system: $1,900
19-inch forged M light-alloy wheels: $3,800
New BMW M3 Revs Up For October Launch