Mercedes-Benz has today released a new E63 AMG sports saloon that is more powerful, more fuel efficient and less expensive than the model it supersedes.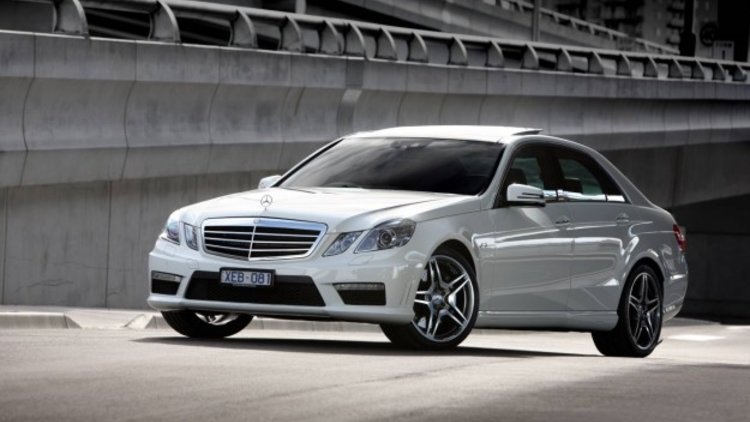 The E 63 AMG inherits the 386kW/630Nm 6.3-litre V8 from the SL 63 AMG roadster – a car that costs around $175,000 more.
And it matches it for performance, racing from 0-100km/h in 4.5 seconds and easily reaching the 250km/h electronic limitation.
Better still is its efficiency, consuming 12.7 litres/100km – a 15 percent improvement over the previous model – which is achieved by on-demand fuel and alternator management measures, regenerative braking and reduced in-engine friction courtesy of the AMG-exclusive twin-wire arc spray coating process on the cylinder walls.
The AMG SpeedShift MCT 7-speed sports transmission also makes a decisive contribution to fuel economy, with a wet start-up clutch running in an oil bath replacing the previous torque converter.
The transmission is equipped with four drive modes: 'C' (Controlled Efficiency), 'S' (Sport), 'S+' (Sport plus) and 'M' (Manual), with gearshifts in M mode performed in 100 milliseconds.
In C mode it shifts gears gently and the transmission control unit is programmed to perform early upshifts to keep engine speeds as low as possible.
The newly developed AMG Ride Control sports suspension features steel spring struts on the front axle and air springs at the rear, making the front end more responsive and the rear automatically level at a constant height, irrespective of the load.
A new electronically controlled damping system gives drivers the choice of 'Comfort', 'Sport' and 'Sport plus' modes in a further attempt to make the E 63 AMG the car for every situation.
Also new is the 56mm-wider front axle track and a tubular stabiliser, as well as the control arms, wheel bearings, hub carriers and elastokinematics for improved grip and stability through corners.
The three-stage ESP from the C and SL AMG derivatives and 360mm brakes further enhance the E-Class's performance credentials.
Carbon-ceramic brakes that are around 40 percent lighter will be optional behind the 19in alloys at a later date in Australia.
A long list of active and passive safety features includes Attention Assist drowsiness detection, Pre-Safe anticipatory protection, lane-keeping and blind-spot assist, intelligent lighting, crash-responsive head restraints and eleven airbags.
Night view, autonomous cruise control and automatic emergency braking are all optional.
Outside the E 63 has been subjected to the standard AMG treatment with tinted headlamps, side sill panels and rear apron with a black insert, bootlid-mounted spoiler and chrome-plated twin tailpipes.
The luxurious interior scores soft nappa leather on the seats, dashboard, doors, armrests and centre console and Alacantra in most other places.
The Mercedes-Benz E 63 AMG sedan is on sale for $234,900 ($4056 less than the previous model) with delivery underway.
Pricing is the Manufacturer's List Price and does not include dealer delivery and on-road costs. Consumers should contact dealers for drive-away price information.
Mercedes-Benz E 63 AMG launched in Australia