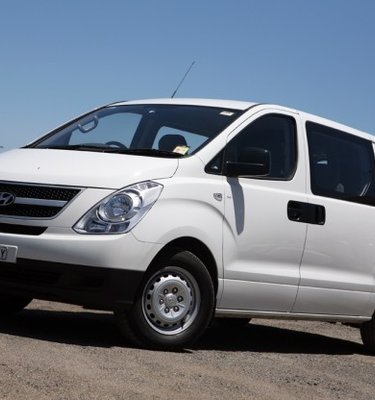 Hyundai iLoad Crew Van Review & Road Test
Model Tested:

2009 Hyundai iLoad H1 Crew Van; 2.5-litre, four-cylinder, turbo-diesel; five-speed manual; van - $36,490*
Options Available:
Metallic Paint $375; Rear Barn Doors $550; ESC with Traction Control $700
CarAdvice Rating:
Hyundai's i-Series vans have forced a serious re-think on the way we view the humble white van. No longer do we need to endure dull driving dynamics, weak performance and sub-par safety levels because, as I rediscovered this week, this Turkish-built Korean commercial ticks all the boxes expected of a modern work vehicle - and then some.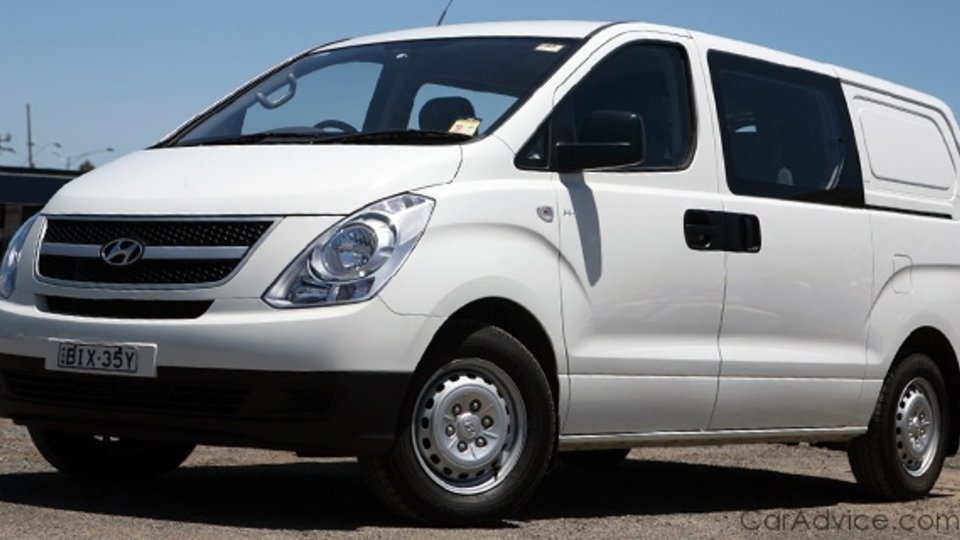 With the engine upfront cabin heat transfer is minimal, an issue often found in older cab-over-engine designs, and despite the large passenger area on offer, heating and cooling remain effective, thanks primarily to the sealed bulkhead between the passenger and cargo compartments.
The passenger compartment boasts twin sliding doors, a real bonus in tight parking situations, and offer pop-out style windows for ventilation and added visibility. The doors also click conveniently in place when open to prevent accidental closing and jammed fingers when parked on an incline. The mechanism is simply released by pulling on the handle as you slide the door shut. Child locks and child seat mounts are also featured.

Up back a large cargo area, measuring 1,585mm (L) x 1,620 (W) x 1,350mm (H) - and 1,260mm between the wheel arches - also features six heavy-duty tie-down hooks and a thick urethane matted floor. A generous 1,130kg payload is also on offer which, coupled to a 2,000kg (braked) towing capacity, makes the Crew Van's trade-tough carrying capacity extremely competitive against similarly spec'ed rivals. A back-saving loading floor height of 605mm makes life easy when jumping in-and-out while also allowing 190mm of ground clearance for no-nonsense access to rough building sites.
In fact the only real issue I found with Crew Van's cargo area this week was not in its size or practicality, but in the large top-hinged tailgate that doesn't open quite high enough to stop you hitting your head. Fortunately more practical barn-type doors are available as a cost option.

The five-speed manual gearbox, mated to a light clutch, offers an excellent ratio spread with a shorter first gear for getting heavy loads on the move. Fuel economy is outstanding with this week's return of just 8.6/100km - just 100ml more than the ADR average - surprising even myself given the amount of weight carried while moving heavy farm machinery this week.
Confident disc braking and pliant strut front / multi-link rear suspension make for a settled and comfortable ride, atypical to that of most commercial vans. That said the otherwise tactile steering does become a little light, and road feel slightly nervous, at highway speeds when cornering a heavily loaded rear.

Disappointingly the Crew Van's centre seatbelts are of the lap variety while the front centre passenger also misses out on a headrest.

If I could add to the Crew Van's standard equipment list I'd opt for the inclusion of standard cruise control, Hyundai's Bluetooth enabled head-unit and a redesigned key, as the current one has an annoyingly positioned side lock/unlock button that is too easily activate when turning the ignition or accidentally in your pocket. Steering wheel mounted audio controls might also have been a nice idea.
Otherwise the Crew Van is pretty hard to top. It's safe, comfortable, affordable, frugal and boasts an impressive five-year/160,000 kilometre warranty, and when it comes to a commercial vehicle, who could ask for anything more?
For more on Hyundai's i-Series commercial vans, click on this link.
Ratings:
CarAdvice Overall Rating:
How does it Drive:
How does it Look:
How does it Go: