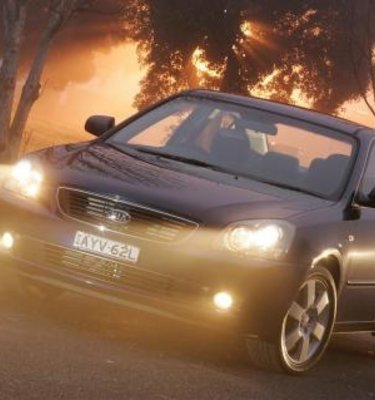 2007 Kia Magentis Road Test
2007 Kia Magentis Road Test
CarAdvice rating:
Recommended Retail Price: From $25,990 to $31,490 (V6)
Model tested: Kia Magentis 2.7-litre V6
Like it or not, Kia is not what it used to be, the Korean manufacturer is no longer simply the cheaper version of its sister company Hyundai. After a period of uncertainty and quality issues, Kia has finally come of age.
The company released its mid-sized sedan (Magentis) last year to take on the likes of the Mazda6, Toyota Camry and Holden Epica.
From the outside, the Magentis isn't what you'd call sexy, but it's not bland and boring either. Observing one drive by, you'd be hard pressed guessing it was a Kia, the front headlights posses a subtle yet assertive stance, while the rear seems a little too similar to its Japanese rivals, which is a good thing.
To start with, Kia has gone the whole nine yards and provided buyers with every safety technology in its arsenal. The entire Magentis range comes with anti-lock brakes (ABS) with electronic brakeforce distribution (EBD) and emergency brake assist (EBA), electronic stability program (ESP) with traction control, dual front airbags, side airbags and curtain airbags, as standard!
Don't be quick to dismiss this as a marketing ploy, the level of safety you get with the Magentis, a car that starts from just $25,990, is remarkable, and the ratings prove it. The Magentis has earned the highest possible safety rating - five stars - for all seating positions in the frontal and side impact crash tests conducted by U.S. authorities.
But safety is only half the story, the base model 2.4-litre four-cylinder Magentis also comes with 16? alloy wheels with 205/60 tyres (and full-sized spare); MP3-compatible CD/radio with steering wheel controls; power door mirrors and windows; cruise control; remote central locking with immobiliser; automatic headlights; and a five-function trip computer.
The Magentis I picked up for the review was the top of the range 2.7-litre V6 (138kW – 247Nm). Priced at $31,490, in addition to the above, it came with full climate control with air quality monitoring system; 8-way powered driver's seat; full leather interior (steering wheel and shift knob); 17? alloy wheels with 215/50 Michelin tyres (and full-sized spare); front fog lights and dual chrome tailpipes.
If you haven't got the point already, I'll just spell it out for you, you get a lot of car for the money when you buy a Magentis. But as I am sure you know, it's not all about the standard features and safety, you have to love the car you buy, and that means it has to drive well, be comfortable, cheap to maintain, reliable etc…
With ESP turned on, you'd have to do something extraordinary to get the Magentis out of line, although body roll is slightly evident around corners, the Magentis manages to hold on around even the hardest bends, but this is more a byproduct of its technical gadgetry than a well balanced chassis.
The Kia is by no means a driver's car, push it hard, and it will stop you, it simply cuts power to avoid traction loss. Let's face it, you are not going to buy this car for enthusiastic driving. For everyday driving, the ESP enabled Magentis will make safe drivers out of even the soccer mums.
If you want to compare it to the competition, the Magentis is on par with the Mazda6 as the best handling car in its class.
Power delivery in the V6 is smooth with a nice and even spread of torque, although I think the 5-speed auto could do a better job of using the 138kW and 247Nm. 0-100 is 9.1 seconds for the V6 auto, while the base model four-cylinder 5-speed manual (119kW - 221Nm) is interestingly, 0.1 of a second faster!
Fuel economy ranges from 8.1L/100km for the four-cylinder manual (8.6L for the auto) to 9.3L/100km for the V6 auto.
The interior is a little lackluster with the use of some relatively cheap looking stuff, the door handles for example, there is no need for plastic chrome door handles, it looks good for about 12 seconds before the tackiness factor sets in. Same goes for the plastic around the gear stick.
On the whole though, the interior feels well made, the steering wheel is comfortable to hold with the controls placed appropriately for easy use, the driver's instrument cluster definitely gets my vote with a very modern and easy to read display.
The 8-speaker setup in the V6 is not too bad, but the MP3/CD/Tape player fails to inspire, a tape deck? It's 2007 isn't it? As for the seats, I have to admit, for me, it was a case of sitting on top of the seat and not inside the seat itself.
The leather is nice, but it's not very practical if you fall out every time you go around a corner.
The powered driver's seat is certainly a nice feature, although one has to be a little worried about reliability of the electrics in a few years time.
There is a load of room to store nearly everything. With clever use of space and a massive boot, the Magentis can fit the everyday needs of most growing families.
When it comes to buying time, you have to ask yourself, what are you looking for in a car? Do you care that the Magentis is not the most powerful car in its class? Do you care that it hasn't won any beauty contests?
More importantly, do you value safety? High levels of standard equipment? Kia's five-year/130,000kms warranty and excellent value for money? If so, don't miss out on the Magentis.
Always make up your own mind, but drive the Magentis before you fork out thousands more for an inferior car.
Alborz Fallah
2007 Kia Magentis Road Test