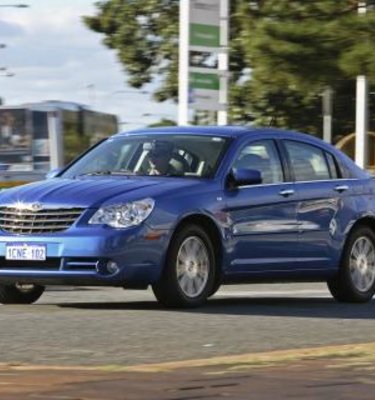 2007 Chrysler Sebring Touring Road Test
2007 Chrysler Sebring Touring Road Test
CarAdvice rating:
Recommended Retail Price: $33,990 - $37,490.
Options Fitted: None.
Chrysler has been wooing Australian audiences with the 300C for several years now. With an ambition to sway Aussie buyers to their American built bruisers, Chrysler has released a mid-sized sedan which is set to take on the likes of the Mazda6, Camry and Epica.
From the outside, it's not a bad looking vehicle. The base model (Touring) being test driven comes standard with 17" alloy wheels which bring out the vehicle's easy going and stylish nature. Swept around headlights and a streamlined bonnet give the Sebring an upmarket look and feel, slotting it into the mid-sized category with vigour.
At first, I thought I was actually driving the top-of-the-line 'Limited' version. Leather seats, heated seats and an auto-dimming mirror had me convinced. But, surprisingly I was in the base 'Touring' model.
Although it's loaded with features, the Sebring is seemingly made entirely of plastic. It's more a case of buying a heap of plastic and getting some free car, opposed to vice versa. Everything from the dashboard to the arm rest is plastic, so it's certainly in no short supply.
Plastics aside, the interior is very spacious and accommodating for people of all sizes. The standard sound system is very powerful and does a great job of handling all types of music. The front cup holder can also be heated or cooled, going hand in hand with small trips to the local coffee shop.
Under the bonnet, a 2.4-litre, 4-cylinder engine developed in conjunction with Hyundai produces 125kW and 220Nm of torque. A 4-speed smooth shifting automatic gearbox with manual override delivers the power. The Sebring returns an above average fuel economy of 8.9-litres/100km. Although the interior road noise suppression is above average, a lot of noise still manages to come from the engine bay, making it a relatively noisy environment when the engine starts piling revs onboard.
The brakes, and response from the engine is very good. The Sebring also feels quite confident through corners, retaining composure and compliance when attempting corners with gusto. The steering is direct, while also retaining feedback. The steering wheel itself could do with a slightly better design though, as it's tricky to hold at the 'quarter to three' position with confidence.
Starting at $33,990 for the Touring model, the two model range ends at the Limited, priced at $37,490. Standard Touring features include: Automatic climate control; 17" alloy wheels; auto dimming rear view mirror; cruise control; heated/cooled cup holder; central locking; heated and foldable exterior mirrors; AM/FM CD player with MP3 compatibility; fog lights; power windows; leather seats; heated front seats; power driver's seat and tyre pressure monitoring system.
The Limited model receives (in addition to the Touring): 6-disc DVD MP3 CD player; headlamp washers; sunroof; 18" alloy wheels and 6-speaker Boston Acoustics sound system.
Safety features include: Electronic Stability Program (ESP); Brake Assist (BAS); Electronic Brake-force Distribution (EBD); driver and passenger airbags; driver and passenger side airbags; curtain airbags.
Starting at $33,990, the Sebring Touring offers very good value for money. An artillery of features, along with very generous interior and boot room would make the Sebring a wise purchase. If you can put the myriad of plastic to one side, the Sebring out-values its Japanese competition quite considerably.
If you are in the market for a new mid-sized sedan capable of moving the family around in style and comfort, check out the new Sebring, the size and features are bound to leave you surprised.
2007 Chrysler Sebring Touring Road Test