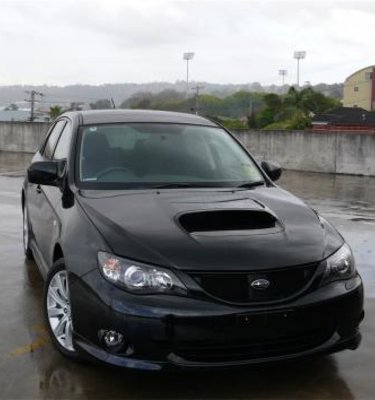 2008 Subaru Impreza WRX First Steer
2008 WRX 5 Door Hatch First Steer
"Subaru's new WRX looks better in the metal than in any of the published photos you might have seen lately. Sure it goes, but its way more friendly than the outgoing model and should appeal to an infinitely broader market"
Subaru has been punished lately as spy shots of the 2008 WRX hatch hit computer screens and magazines around the world.
It's a vastly different looking car to previous sedan and wagon versions of the REX, but there may just be method in this madness.
I've just spent some time behind the wheel of an Obsidian Black Pearl WRX and it's not all bad. Incidentally, the range of exterior paint jobs includes some previous colours and some new. Choices such as; Spark Silver Metallic, Dark Grey Metallic, Lighting Red, Satin White Pearl and WR Blue Mica should all be popular.
I like the front of the car, a lot! The bonnet scoop is now more an air intake and is way more stylish than the hard-core, boy racer look of previous models. It still looks aggressive but not in any offensive kind of way.
I can't say the same for the rear of the car. Too much like a standard run of the mill hatchback. The purists won't like it but thousands more punters will, I can assure you.
Enough chat though. You want to hear how it goes right?
If you're expecting the usual Boxer engine burble when you fire up the 2.5L intercooled turbo – then you will surely be disappointed. There's none of that. The engine note at idle isn't even mildly warm. In fact, if you were blindfolded and started this car, it's doubtful you would even pick the brand, let alone the actual model.
Nothing wrong with that at all, especially if you're going after a slightly wider market than the dufduf set.
With 169kW and 320Nm – the specs appear to be the same as the 2007 model, but not quite. Peak power chimes a little earlier at 5200rpm and maximum pull kicks in at a more pleasing 2800rpm, as opposed to 3600rpm.
The shift into first is silky smooth as is the clutch take up. I stand on the pedal and race through the gears nudging 6000 before swapping each of the five forward ratios. It's fast, no question. There's minimal turbo lag too, but I can't get over how quick and easy the shifts are. Anyone, and I mean anyone could drive this car, mums included. It's almost too easy!
Next up, three or four chicanes at close to the general speed limit. Okay, maybe just a little higher. Steering is accurate, although boost is too much, at least for the dufdufs and me.
Dropping the right pedal further into the second and third chicane, produced noticeable body roll although, the car kept its line and was not unsettled. I suspect the new Vehicle Dynamics Control (VDC) was functioning properly. Nonetheless, at these rather moderate speeds during these routine manoeuvres, I would have expected little or no load transfer lean.
The suspension seems substantially more compliant than previous WRX models, as speed bumps and light potholes are barely noticeable. This is a car you could live with 24/7.
Brakes are superb, pedal feel is nicely progressive and requires less effort with new Brake Assist function.
There's a decent size air diffuser too but I'm disappointed to see just one exhaust outlet – this car deserves two pipes - if only in the name of 'go fast' styling.
Although the interior and ergonomics remain similar to the outgoing model, the quality of materials used has been upgraded. There are polished aluminium accents throughout the car, mainly on the fascia and door trim although the seats and seat fabric look identical. Nothing wrong with that either, as they offer good support and comfort.
The sports leather steering wheel has a superb feel with audio and cruise buttons now standard.
Instrumentation layout is again similar but switchgear materials have been improved. There's a 6 disc in dash CD Changer with better than average audio quality although I can't be sure of actual power or number of speakers. iPodians will rejoice given the MP3 direct input in the centre storage box along with a 12V input for GPS systems or other.
Rear cargo room is substantial with 40/60 split fold rear seats opening up even more space for bikes, boards and kid's stuff. There's a high quality cargo cover with an aluminium cross bar to keep prying eyes at bay.
Front side door pockets are large and you also get a decent sized bottle holder.
You'll notice an odd hook like feature at the top of the rear seat back. It's for the middle rear passenger's height adjustable three-point lap and shoulder seatbelt.
"It may not be the hard core street fighter it once was, but gut feel tells me that at $39,990 we'll see a lot more REXs on the road than ever before"
By Anthony Crawford

2008 Subaru Impreza WRX First Steer