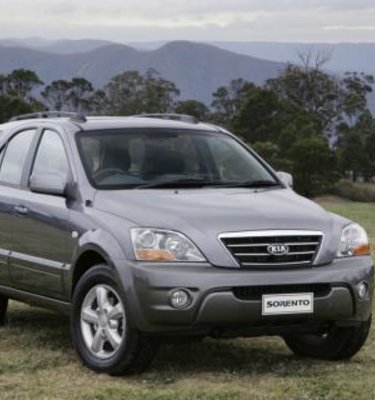 2007 KIA Sorento CRDi and 3.3 V6 First Steer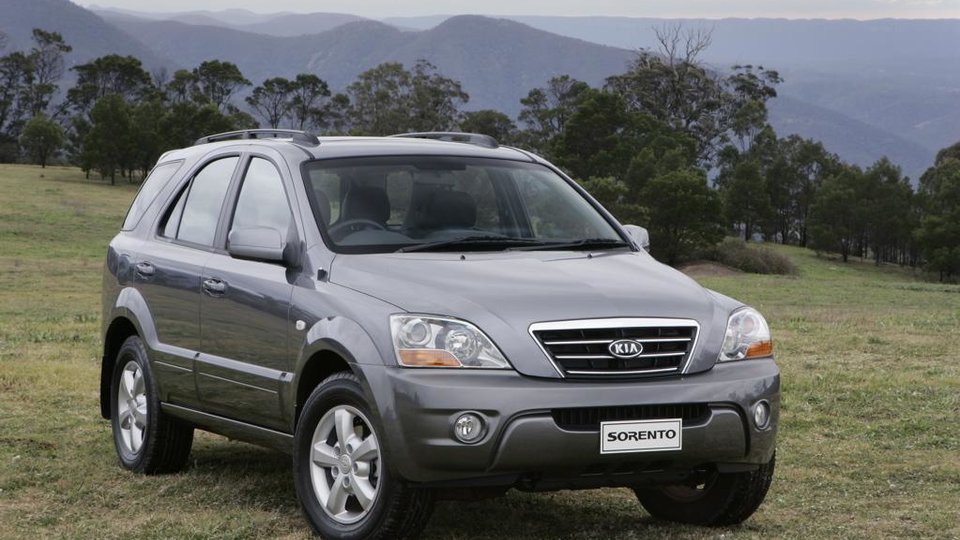 Overtaking in a medium/large SUV – no problem. Roll-on acceleration is equally impressive, with 60-100km/h taking all of 4.9 seconds.
It's the same engine that lives in the Santa Fe but surprisingly, the Sorento felt quicker all round and perhaps even quieter inside the cabin.
The five-speed auto gearbox (with a sequential shift option) is standard kit on all but one of the Sorento range, which adapts to your driving style and provides a car like driving experience with smooth, rapid shifts in either transmission mode.
With 208mm of ground clearance and reasonable approach and departure angles, deep creek crossings and rock-infested tracks proved little or no obstacle for the Sorento, while comfort levels remained high.
Sophisticated double wishbones with coil springs and gas shocks are employed up front, while a rigid axle five-link system with coil springs and gas dampers at the rear, allows for plenty of wheel movement and disperses shock impact effectively in most cases.
On the tarmac, the 3.3-litre V6 rides like a well-heeled luxury car with very little body roll through the bends and a surprisingly comfortable cabin.


Steering is also well weighted and responsive, as are the ventilated disc brakes on both ends of the Sorento.
Parking in tight spaces and general suburban manoeuvring won't be a problem either. With a turning circle of 11metres, it betters both the Honda CR-V and Mazda CX-7 soft-roaders.
Our EX-L badged Sorento had an upmarket Black woodgrain finish on the centre console and door trim, along with good quality leather trim with red stitching. Switchgear is well laid out and easy to operate. Chrome look accents provide a generally upscale look to the interior while all the usual luxury kit is on board.
Dual-zone climate control, Power windows and mirrors, Electric tilt/slide glass sunroof with shade, Cruise control with remote buttons on the leather stitched steering wheel (no audio control buttons though) and power driver's seat round out the A-list features.


Audio is via a six-speaker CD unit with MP3 capability which is reasonable but there isn't an iPod or MP3 input – and there should be.
Bare with me for a minute if you will, I want to give Garrett a plug, not that he needs it.
Cliff Garret started his business with $5000 he borrowed in a tiny one-room office in LA in 1936. He worked mostly in the aviation industry where he pioneered the pressurised cabin in the WW2 Bomber, the B29 Superfortress, along with a host of other technical innovations.
Turbos came later. In 1980 he built the awesome Vector W8 with twin Garrett turbos and 600hp with a top speed of 240mph. He clearly understood Turbo technology. Today, Garrett has a team of over 500 engineers working on engine boost products, which are highly regarded in the auto industry.
Vector W8
The Garret Motorsports Group boasts an impressive list of victories to their credit:
• Team Audi – Le Mans Hat Trick
• Team Audi – first diesel victory at Le Mans in their R10 in 2006
• Top 3 positions at Le Mans 6 consecutive years
• 11 CART championships
• 5 Pikes Peak overall victories
• 4 World Rally Championships
• 6 World Rally Manufacturers Championships
• 1st 200 mph (320kph) streetbike ¼ mile pass
Sorry about this digression, but what I mean to say is, that KIA have used the best Turbocharger in the business – utterly reliable and more boost when you need it.
It shows. The Euro-1V complaint (yes its green too) puts out a reasonable 125kW of power at 3,800rpm and a whopping 392Nm @ 2,000rpm. Better still, stand on the pedal, and you get 290Nm from just 1300rpm right through to 4000rpm, making for an infinitely flexible ride on any terrain you care to tackle.
You'll notice that you're in a diesel powered SUV when you first start the vehicle, but once your moving through the gears – you can't pick it, such is the refinement of this package.
Fuel consumption for a sizeable 4X4 auto SUV weighing in at 2121 (kerb weight) is a remarkable 9.4 litres per 100kms (combined city/hwy) although the base model LX with 5-speed manual, is said to deliver 8.5 litres/100kms and can travel up to 940km on a single tank of diesel.
Safety is an important issue in SUV's these days, given their general popularity amongst families with children. Sorento gets driver and front passenger airbags across the range, with side curtain airbags standard on only the EX-L variant. Not ideal really, we'd like to see them standard across the entire range.
"With over 700,000 sold as of January 2007, the Kia Sorento is already a global success. The new 3.3-litre V6 and 2.5-litre CRDi will add volumes to this number"
By Anthony Crawford