That's it, another big motor show wrapped up – well, the press days, at least. If you happen to be heading for the city of love, you've got until October 16 to drop in and get a look at the best the 2016 Paris motor show has to offer.
CarAdvice was represented on the floor by Alborz Fallah, James Ward, Paul Maric, Matt Campbell, Mike Costello and Rob Margeit. The gents brought back plenty of news for automotive fans and buyers in Australia, and for the full list of everything seen and heard, you can check out our links below.
(And be sure to catch our walkthrough tour of the event above!)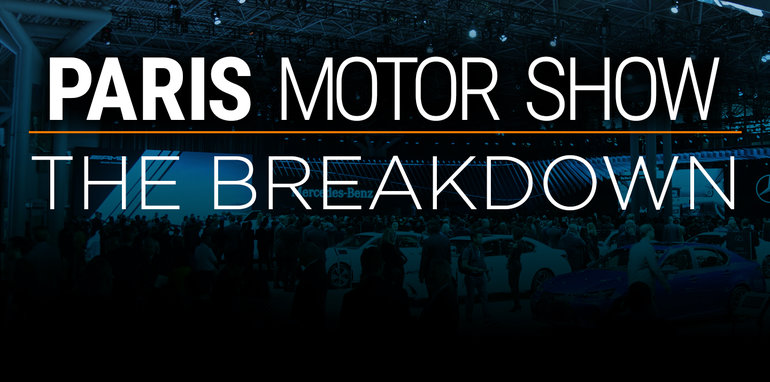 ---
New models revealed
2017 Audi A5 Sportback, S5 Sportback revealed for Paris
2017 Audi Q5 revealed ahead of Australian debut
2017 Audi RS3 sedan revealed with TT RS five-pot
2017 Bentley Flying Spur W12 S revealed ahead of Paris debut
2017 Ferrari GTC4 Lusso T unveiled with turbocharged V8
2017 Hyundai i30 revealed, Australian debut set for second-quarter next year
2017 Kia Rio detailed ahead of Paris premiere
2017 Kia Rondo facelift unveiled
2017 Land Rover Discovery revealed in Paris
Mercedes-Benz E-Class All-Terrain revealed ahead of Paris debut
Mercedes-AMG GT C Roadster revealed
2017 Nissan Micra revealed in Paris
2017 Peugeot 5008 unveiled: first large seven-seat SUV headed for Paris
2017 Porsche 911 GT3 Cup race car unveiled
2017 Porsche Panamera E-Hybrid unveiled, Australian order books open
---
Concepts revealed
2018 BMW X2 previewed with new Paris motor show concept
Citroen CXperience revealed: stretched Paris concept could hint at new C6
2017 Honda Civic Type R previewed in Paris
Hyundai RN30 high-performance concept revealed
Lexus UX concept reveals compact SUV plans in Paris
Mercedes-Benz Generation EQ revealed: Electric SUV debuts in Paris
Mitsubishi Ground Tourer GT-PHEV concept revealed ahead of Paris debut
Renault TreZor concept previews next-gen styling at Paris motor show
Volkswagen I.D. concept revealed in Paris
---
News from the show
Ford, Volvo, Rolls-Royce and others skipping Paris motor show
Audi's driverless future is coming sooner than you think
BMW 'becoming a technology company'
BMW M performance brand open to electrification and autonomous driving
Hyundai N Performance cars 'must be track going', two variants to launch with i30
Hyundai i30 N to be produced in Czech Republic
Hyundai boss confirms testing already commenced on 280kW hot hatch
Hyundai completes development on eight-speed DCT with N Performance potential
2018 Hyundai hydrogen vehicle to use bespoke chassis, right-hand drive confirmed
No Australian tuning for Hyundai's new N performance cars
Jaguar XF Sportbrake confirmed, arriving in Australia in 2017
Kia GT Stinger RWD sedan set for early 2017 unveiling, green light for Australia
2017 Kia Rio details: three variants, 1.4-litre only at launch; 1.0 turbo to follow
2017 Kia Rio gets Australian suspension upgrade
2017 Maserati Ghibli, Quattroporte: Australian debut set for November
Mercedes-AMG hypercar confirmed: hybrid drivetrain, F1 technology to feature
Mercedes-AMG hypercar power not merely 'inspired' by F1 engine: it very much is one
Mercedes-EQ electric SUV will launch in Australia by 2020
Porsche 911 hybrid still on the cards, but not a priority
Porsche manual models still relevant, brand claims
Porsche Mission E could spawn electric vehicle range, including an SUV
Porsche Panamera two-door coupe 'definitely has a market'
Porsche Panamera performance hybrid coming, four-cylinder ruled out
'Pay How You Drive' is here and could save you $$$
2017 Renault Zoe removes last "psychological barrier" to electric vehicles
Renault Alaskan ute no certainty for Australia
Renault Australia aiming to triple sales, looking to growth in passenger market
Renault Clio RS.16 tipped for production, Australian launch has potential
Ssangyong LIV-2 concept will make production debut in 2017
Skoda working on smaller crossover to sell alongside Kodiaq and new Yeti
Mercedes-Benz utility details to be revealed in October
Nissan's takeover of Mitsubishi close to completion
EV demand will force infrastructure improvement, says Volkswagen
PHEVs an illogical end point, says Volkswagen
Volkswagen to launch $40k electric car with 600km range in 2020
Volkswagen diesel emissions saga: Company claims its culture has changed, as EV focus intensifies
---
Videos
▶ 2016 Paris motor show: Hits and misses
▶ 2017 Hyundai i20 World Rally Championship car (WRC) Walk Around
▶ Hyundai RN30 Concept – 2016 Paris Motor Show
▶ 2017 Isuzu D-Max Fire and Tipper – 2016 Paris Motor Show
▶ 2017 Peugeot 3008 and 5008 SUV – 2016 Paris Motor Show
▶ 2017 Kia Rio – 2016 Paris Motor Show
▶ 2017 Land Rover Discovery – 2016 Paris Motor Show
▶ BMW M Division – 2016 Paris Motor Show
▶2017 Mercedes-AMG GLC 43 Coupe – Paris Motor Show 2016
▶ 2017 Mercedes-Benz E-Class All-Terrain – Paris Motor Show 2016
▶2017 Mini Clubman John Cooper Works – 2016 Paris Motor Show
▶2017 Opel Ampera – 2016 Paris Motor Show
▶ 2017 Skoda Kodiaq – 2016 Paris Motor Show
▶ Smart Stand – Paris Motor Show 2016
▶ 2017 Suzuki Ignis – 2016 Paris Motor Show
▶ 2017 Volkswagen Passat and Golf GTE – 2016 Paris Motor Show
---
Galleries
2016 Paris Motor Show Gallery – part one
2016 Paris Motor Show Gallery – part two
2016 Paris Motor Show Gallery – part three
And there's more to come! Stay tuned for additional coverage to surface this week.