In parallel with their focus on biofuels and hybrid technology, Volvo has created a unique version of the C30 called simply 'Efficiency' which achieves a claimed fuel consumption below 4.5L/100 km, and CO2 emission below 120g/km.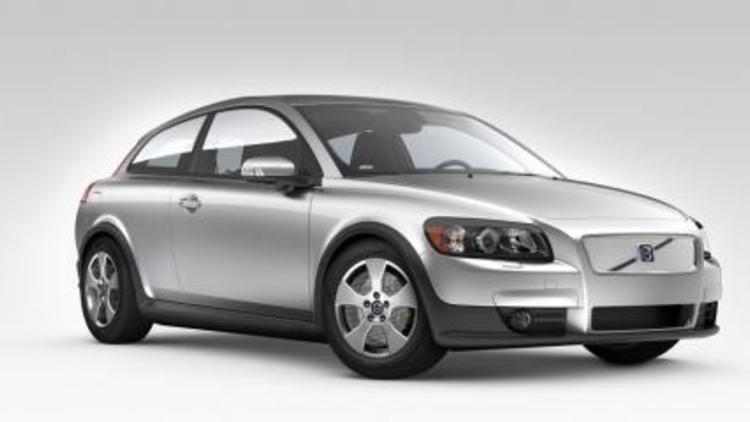 To achieve these astonishing results, Volvo has made many small changes to the standard C30 which all adds up to a big difference in fuel consumption.
A new rear roof spoiler, reduced chassis height, a new rear bumper, underbody panels, optimised engine cooling and aerodynamically optimised 16-inch wheel rims make the Efficiency as slippery as possible through the air. Closer to the ground, it is fitted with a new generation of low friction tyres whilst subtle changes have been made to the gearing ratios in 3rd, 4th and 5th gears.
There are also many subtle changes to the drivetrain such as new low-friction transmission oil, optimisation of steering servo assistance and engine management optimisation all contribute to the incredibly low fuel consumption.
Additionally, Volvo will also be introducing a Powershift gearbox that reduces fuel consumption by approximately 8 percent. It consists of two manual gearboxes that work in parallel and are controlled by separate clutches. There is no disruption in torque delivery during gear changes with the result being smoother, quicker gear changes.
"This is a science of small adjustments and gains. Many systems and details in a car model have been dimensioned to suit all engine variants, from the smallest diesel to the most powerful petrol unit. This gives possibilities for fine adjustments to individual engine variants, particularly the smallest alternatives," Magnus Jonsson, Senior Vice President Research and Development at Volvo Cars.
Next year, Volvo Cars will introduce an improved Volvo C30 1.6D with a 1.6-litre turbodiesel engine (78kW) in Europe. Through the process of fine tuning, Volvo Cars' experts reduced official fuel consumption figures by more than 0.4 L/100km from 4.9 L/100km in the current 1.6D.
Now that we have bored you with all that fuel talk, have a read of our Volvo C30 T5 review, a C30 which is all about power and handling.
Volvo C30 Redefines 'Efficiency'