A big thank you to all of you who entered the Pagani Zonda competition. After reading over 10,000 entries, we have narrowed down the results to three finalists.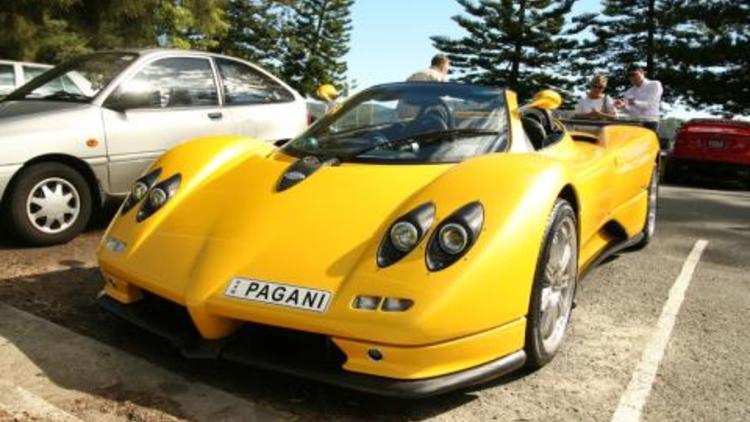 In order to decide who gets an all expenses paid plane trip to Sydney and a ride in a Pagani Zonda, the most expensive car in Australia ($1.5 million), we ask you, our loyal readers, to vote for your favourite entry.
Entry Number One:
Mmmmmm, Let me ponda. Full throttle in a Pagani Zonda.

Anyday, considering i own a Honda
I would even contemplate leaving my wife Rhonda

An hour in the Pagani Zonda
I'd like to be seen with someone blonda

No seriously i would
Just give me an hour!

So the question still remains, what would i do to plant my arse in a Pagani Zonda?

Well i would hitchhike to central Africa and meet the president of Rawanda.

I would even air freight myself to South America and wrestle a yellow anaconda.

I love supercars, Lamborghini countach, Ferrari enzo, Porsche carrera GT and lets not forget in 1976 Aston Martin released the lagonda. No, no, no, no. These are no match for the Pagani Zonda.

Upon it's release in 1999 i have become increasingly fonda of the Pagani Zonda.

Im an enthusiastic exotic car buff dont you think being a passenger is a little rough, and let's be completely honest one hour will not be enough

Oh well it's better than my honda, i can guarantee i will enjoy every moment in the PAGANI ZONDA.
Entry Number Two
Please give me a ride in that flash car,
it looks pretty cool and hot on the tar,
I can see the cameras shrinking behind,
heading down the highway while letting it unwind,

If I got a ride in that yellow beast,
I'd wear a t-shirt ad that said at the very least,
"buy one now and you won't be sad",
"in fact it's guaranteed that you will be quite glad"!

I could even go as far to carry a sign,
just in case the sales are slow and not real fine,
reality, I'm guessing, says you don't need my help,
the Zonda is a beauty unlike King Isand Kelp,

So do the right thing and pick me to ride,
I'm sure we could get it into a four wheel slide,
Seven litres siting under the bonnet,
needs very little attention to turn into a commet!
Entry Number Three
To feel 21 in a car like that
Hey isn't that where life is at
To go for a ride and be someone I'm not
Hey I could be Paris Hilton and pretend I'm .......hot
The car is so fancy I bet it goes fast
And a day in Sydney "oh what a Blast"
Come on please pick me I'm well behaved and good
And with loads of imagination I'd look good draped over the "hood"
Vote now for your favourite entry (voting ends on the 28th of August):
VOTING IS NOW CLOSED

Pagani Zonda Competition Finalists